Nitrate-free cured bacon to hit British shelves for the first time
Fruit and spice extracts have been used to replicate the cured flavouring of bacon in the UK for the first time, removing cancer-causing nitrates from the meat.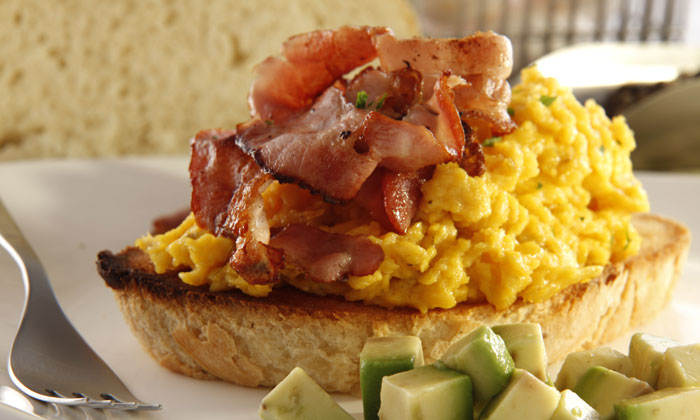 A HEALTHIER BREAKFAST: The product is the result of 10 years of research
A British company has created a new cured bacon product free from carcinogenic nitrates, expected to hit UK shelves on January 10.
Finnebrogue Artisan's Naked Bacon has been praised by a food scientist and a politician as a 'brilliant British success story'.
Currently a leading sausage and venison supplier to UK supermarkets, it has worked with Spanish chemist Prosur to develop a new way of flavouring traditional British bacon without nitrites – something that has never been done before.
The flavour is produced from natural Mediterranean fruit and spice extracts, following ten years of research and development.
It is currently being used in continental style hams in the European Union, but this will be the first time the technology has been applied to British bacon and available to UK consumers, following a £14 million initial investment from Finnebrogue.
Juan de Dios Hernandez Canovas, Chief Executive of the Spanish company Prosur which developed the new technology, said: "We are delighted to have an exclusive partnership with Finnebrogue to bring bacon made without nitrites onto the UK market for the first time.  
"Our processing technology and natural flavouring mean nitrites are no longer required in processed meats.
"It has been a privilege to work with Denis Lynn and his team at Finnebrogue.  We are both on a mission to make food as safe as it can possibly be – and we have done it together with traditional British bacon."
The purpose of adding nitrites is to give cured meat its characteristic pink colour, texture, some flavour and also to help as a preservative.
The World Health Organisation (WHO) has said bacon cured with nitrites is as dangerous as asbestos and smoking, as nitrites produce carcinogenic nitrosamines when ingested.
They have estimated that 34,000 bowel and colon cancer deaths per year worldwide are directly attributable to diets high in processed meats – and warned that eating two rashers of nitrite cured bacon per day increases the risk of contracting bowel cancer by 18 per cent.
Professor Chris Elliott, who ran the Government's investigation into the 2013 horsemeat scandal and now chairs the Institute for Global Food Security at Queen's University Belfast, said: "Many forms of processed foods have come under the spotlight over recent years for their unhealthy attributes. Processed red meat in particular has been a focal point.  
"Finnebrogue have used a combination of innovation and natural fruit and spice extracts to come up with a bacon that is made without the need for added nitrites. Nitro containing compounds, used in the manufacture of traditional bacons, are known to cause the formation of chemicals that have negative health impacts.
"To have a bacon produced naturally, that doesn't require such chemicals to be added or formed during processing, is a very welcome development."
Naked Bacon has been developed by the Northern Irish artisan food manufacturer, Finnebrogue. It will be the UK's only bacon to be completely free from nitrites, preservatives, E numbers and all allergens.
Neil Parish MP, the chairman of the House of Commons Environment, Food and Rural Affairs select committee, says it is great news for the British food industry. He commented:
"Making bacon without nitrites – and reducing the risk in the famous full English breakfast – is a remarkable feat of food technology and a brilliant British success story.
"This is further evidence that the British food industry is going from strength to strength. UK firms like Finnebrogue are leading the way in producing some of the best food anywhere in the world."
Kirsty Adams, Marks and Spencer Product Developer, said: "We know that our customers care about their health and are increasingly looking for healthier options for themselves and their families. We have worked closely with Finnebrogue throughout their innovation on Nitrite Free bacon, to ensure our own brand recipe is a fantastic tasting bacon without compromise on flavour – as our customers would expect.
"We are very excited to be the first to launch an own brand with a back and streaky bacon, and will be looking to follow this up with cooked hams in the very near future."