YouGov poll suggest recycled bottles are favoured by consumers
The research suggests consumers are becoming more aware of sustainable packaging as they call for more packaging to both be recyclable and made from recycled material.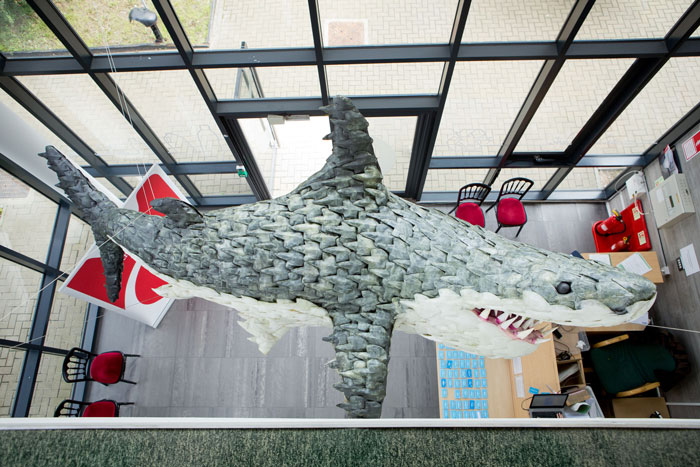 FISH OUT OF WATER: 'Bruce' the Great White Shark of Dagenham
Half of British consumers would favour a drink in recyclable packaging over a less sustainable alternative.
This is according to research conducted by YouGov and released by Veolia, a resource management company, who are opening a recycling facility in Dagenham this week.
British consumers were asked whether they would opt for a new drink, of similar price, quality and flavour, in a recyclable bottle over their original drink purchase if its packaging was unrecyclable. Of the 2000 respondents, 51 per cent said they would. Furthermore, 30 per cent considered recyclable packaging 'important' when choosing a drink. By comparison, 26 per cent said the brand was important and 9 per cent were interested in the aesthetics of the bottle.
Veolia say this reveals that whilst innovations in packaging represent incredible breakthroughs in technology that keep food and drink fresher for longer and perishables undamaged, the lifecycle of the packaging is becoming increasingly important. 
Estelle Brachlianoff, Senior Executive Vice President of Veolia UK & Ireland, said: "In the UK we fail to capture 44 per cent of all of the plastic bottles we use but imagine if we collected and recycled all of these. This would save approximately 300,000 tonnes of materials and we'd be well on our way to being a truly sustainable society.
"I'm a firm believer that the solution to making all plastics easily recyclable and increasing the percentage of recycled material in packaging lies in collaboration. And as the public's awareness of packaging and recycling continues to rise we hope to see more of the supply chain working together to solve the packaging puzzle –  and our doors are open to any manufacturer wishing to discuss how we can recycle packaging more easily by working together."
The inaugural of the Dagenham Plastics Facility on September 21 was attended by Rajesh Agrawal, Deputy Mayor of London for Business, signifying the importance of Veolia's new site in the UK's plastic recycling industry and an important investment for London. 
Mr Agrawal, Deputy Mayor of London for Business, said: "London continues to be the leading destination for European companies looking to scale up. There are many opportunities for businesses in London's outer boroughs and Veolia's investment in Dagenham will bring jobs and prosperity to the area. Clearly, London remains open to talent, investment and business from around the world.
"The Mayor is committed to helping Londoners recycle more and waste less, as we aim for 65 per cent recycling by 2030. This facility is an example of the circular approach to using resources Sadiq has adopted. By taking London's plastic bottles and reprocessing them in the capital we're keeping valuable resources circulating and creating value in the local economy. What's more, this research is encouraging news and shows that messages about reducing the amount of materials we waste are changing consumers' attitudes."
Veolia's Dagenham Plastics Facility produces approx. 10,000 tonnes of high quality food grade HDPE pellets annually. Recycling this material requires 75 per cent less energy to make a plastic bottle than using 'virgin' materials, and this equates to conserving enough energy to power around 20,000 homes and saving 10,000 tpa of carbon emissions annually.