Brits stall on spending despite landmark single digit grocery inflation
Grocery price inflation has reached single digits for the first time since July 2022 and now sits at 9.7 percent, latest data reveals.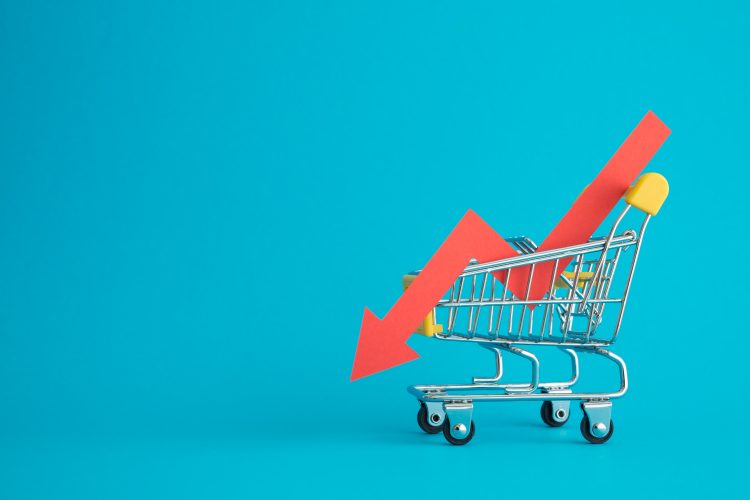 According to latest data from Kantar, grocery price inflation has made another drop and now stands at 9.7 percent for the four weeks to 29 October 2023.
This is the first time the figure has been in single digits since July 2022, with take-home grocery sales over the same period rising by 7.4 percent compared with last year.
This single digit figure comes after 16 months of grocery price inflation having double digit growth, something Fraser McKevitt, Head of Retail and Consumer Insight at Kantar, defines as a "big milestone for the British public and retailers"
"While the drop to 9.7 percent is positive news and something of a watershed, consumers will still be feeling the pinch.  We're only seeing year on year price falls in a limited number of major categories including butter, dried pasta and milk," continued McKevitt.
This announcement comes just after the British Retail Consortium (BRC) revealed that British consumers had "stalled on spending", with food sales increasing by 7.9 percent on a total basis over the three months to October. The BRC has highlighted that this is below the 12-month average growth of 8.5 percent, suggesting that consumers have been cutting back on their overall spend on food in the month leading up to Christmas.
"Retail sales growth slowed as high mortgage and rental costs further shook consumer confidence. Many households are also delaying their Christmas spending in the hopes they can grab a bargain in the upcoming Black Friday sales," said Helen Dickinson OBE, Chief Executive of the BRC.
Sharing her view of the spending stall in the food and drink sector, Sarah Bradbury, CEO of IGD, said: "October's food and drink sales enjoyed a slight increase in volume and value sales compared to last year, but value sales were slightly down on September's performance.
As the country enjoyed warm weather at the start of the month the market benefitted with a slight increase in footfall. Further good news came as inflation continued to fall against the steep increases seen a year ago, with shoppers benefitting from reduced prices, particularly from discounts offered by retailer's loyalty schemes."
Bradbury noted that shopper confidence "remained the same" in October and it did in September, and is at its highest level since December 2021.
"As inflation fell again, more shoppers expect food prices to fall in the year ahead up to 12 percent, compared with 8 percent last month and 3 percent in October 2022. However, some 67 percent expect prices to rise in the year ahead and IGD's food price inflation forecast is for prices to rise, albeit at a slower rate, indicating there are still challenges ahead for the industry," continued Bradbury.
Kantar data found that, during October, shoppers across the UK were opting for own label lines, which have grown ahead of their branded counterparts every month since February 2022. In the four weeks to 29 October, there was an eight  percent sales boost of own line supermarket products, suggesting consumers are frequently opting for cheaper food and beverage items when in store.
However, McKevitt explained that "the picture may well change as we go headlong into the festive period, when shoppers typically turn more to brands.
"The gap between own label and branded goods is at its narrowest since spring last year.  Branded sales increased by 6.7 percent in the latest month, raising the distinct possibility that they will push ahead by Christmas."
Looking at specific items, Kantar data revealed that the average price of a standard bottle of sparkling wine fell from £7.46 in August to £6.86 in October, marking a drop of eight percent. Meanwhile, with many adult taking part in Sober October, Kantar has highlighted that the prices of low-alcohol beer have risen more quickly with volume sales of low-alcohol beer up by 16 percent during the month compared to October 2022.
Turning his attention to festive food shopping, McKevitt noted that "the fight for shoppers' Christmas spend looks set to be fierce between the retailers this year.
"When it comes to where people shop, Brits definitely aren't loyal and some of the traditional shopping demographics and stereotypes have been thrown out of the window.  The typical customer walking through the doors of the discounters is now representative of the country as a whole, with 54 percent of Aldi and Lidl's sales coming from the more affluent 'ABC1' social group – close to the national average of 55 percent.
"Discounters are making their mark in frozen items and fresh groceries like meat and veg, with these categories constituting a higher proportion of their sales than the traditional retailers," continued McKevitt.
During October, Lidl was found to be the fasted growing retailer with its sales over the 12 weeks up by 14.7 percent and share up by 0.4 percentage points to 7.6 percent.  Meanwhile, Aldi sat beside Waitrose as one of only two grocers to increase its number of shoppers year on year, welcoming 207,000 more customers than last year. 
Meanwhile, Sainsbury's was found to be the fasted growing "traditional supermarket" during October and had 10.1 percent increase in sales compared to the same month in 2022.
With grocery price inflation now in the single digits and the festive season just around the corner, it's highly probable that food and beverage sales in the UK will experience an upswing in the upcoming weeks. This positive outlook comes in spite of the temporary slowdown in sales rates reported by the BRC in October 2022. The shift from double-digit to single-digit grocery price inflation represents a notable milestone. Over the past year, New Food's updates on the cost of living crisis have consistently highlighted the impact of double-digit inflation rates on both retailers and consumers.
But will grocery price inflation continue to drop in the last two months of the year? Stay updated with New Food to find out.