Nescafé launches "coffee shop at home"
With Brazilian consumers keen to have their home coffee as good as their local café, Nescafé Dolce Gusto has launched NEO, its next generation 'Coffee Shop at Home' experience with home-compostable pods.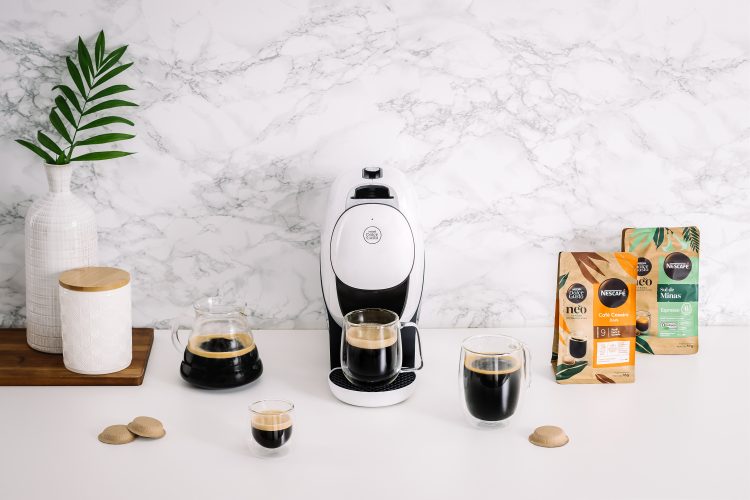 Nescafé Dolce Gusto launches NEO. ©William Gammuto | Muto
Coffee is among one of the most consumed beverages worldwide, with around 42.6 litres per person and per year being drunk.  
Convenient forms of coffee such as pods, capsules and instant, consumed in the home, have become popular with the masses, but according to Arnaud Deschamps, Head of Nescafé Dolce Gusto, coffee shops remain the fastest growing segment.
In an effort to recreate the coffee shop experience, Nescafé Dolce Gusto will be launching its next generation machine and pods for the home this December, starting with Brazil.
Coffee shop culture and paper pods
Following five years at Nestlé's R&D Center for Systems in Switzerland, Nescafé Dolce Gusto NEO has been developed – a machine that combines three brewing methods into one device.
The proprietary SmartBrew Technology enables users to create espressos, americanos and drip-style coffees.
According to Nescafé data, presented at the launch event earlier this week, 70 percent of people in Brazil expect their home coffee machine to deliver the best results with minimal efforts.
Unable to see it with the naked eye, each pod actually comes with a code imprinted onto the packaging; this code instructs the machine as to what kind of coffee the consumer wants. So all they have to do is insert the desired pod and press a button.
More data revealed at the launch event showed Nescafé's reasoning behind the multi-enabled machine and its Brazil starting point; as many as 93 percent of people in this region associate coffee-shops with high quality drinks, and 84 percent believe it to be important to serve high quality coffee to their guests.
The three brewing methods have been curated by the experts at Nescafé to mimic coffeeshop quality, so the machine acts differently depending on the type of pod popped in. However, users can tweak recipes to suit their personalised tastes via an app – an important attribute according to Nescafe, which found 69 percent of those in Brazil see this as an essential.
The app is also linked to a loyalty programme and once connected to a machine will automatically note down the customer's usage, automating the rewards process and allowing tailored recommendations.
"Nestlé is a relentless innovator in the coffee category," commented David Rennie, Head of Nestlé Coffee Brands. "We are continuously looking to bring consumers new experiences, variety and quality in their coffee, in a sustainable way."
The pods have also been created with sustainability in mind – a key driver for most consumers. Typically, pods haven't had the best press when it comes to the environment; in 2021, an article from The Independent reported that nearly 30,000 end up in landfill each month, taking 500 years to decompose.
As such finding a way around this without compromising on shelf-life was a vital part of the puzzle for Nescafé. And it wasn't easy – it took the team testing more than 200 material structures for NEO before finding the right solution.
The final result is a paper-based pod that is certified for composting, both home and industrial, by TÜV Austria, an international certification body.
The new pods are made from 1g of paper, certified by Forest Stewardship Council (FSC) suppliers, with a compostable biopolymer lining – thinner than a human hair. The lining help protects the coffee quality and freshness from oxidation. Overall, by weight, they use 70 percent less packaging than current capsul
es, whilst maintaining a 12-month shelf life, unopened, and two-month shelf life, opened.
The coffee machine is also made of 50 percent recycled plastic (for non-food contact parts) with the thermoblock (which heats the water) made of 85 percent recycled aluminium. It is designed to be more convenient to dismantle and repair, with an A++ energy class rating, and a switch-off eco-mode.
"In a time of rapid change, we see increasing expectations about coffee variety, versatility, personalization, and sustainability, with no compromise on quality and taste. With NEO, we have designed a 'Coffee Shop at Home' experience that aims to meet the expectations of today's most passionate coffee lovers. Every aspect of NEO has been carefully considered – the machine technology, the user interface, the coffee and our first home-compostable paper-based pods. NEO represents the long-term future of our brand," commented Deschamps.
NEO is launching in Brazil this year, but the team said they're hopeful to expand to more countries in time.
The new paper-based capsules are entirely produced in Nescafé Dolce Gusto's factory in Montes Claros, Brazil. Montes Claros is the first Nestlé factory to receive Nestlé's internal sustainability certification 'Triple Zero' for three dimensions: zero water, waste creation and greenhouse gas emissions. Nestlé plans to invest more than CHF50 million (R$300 million) in Brazil's Montes Claros factory to support the NEO launch.