Big names collaborate to promote regenerative farming
Levy UK + Ireland has partnered with Quorn Professionals, RegenFarmCo, and Yorkshire Water to educate the food industry on regenerative farming practices.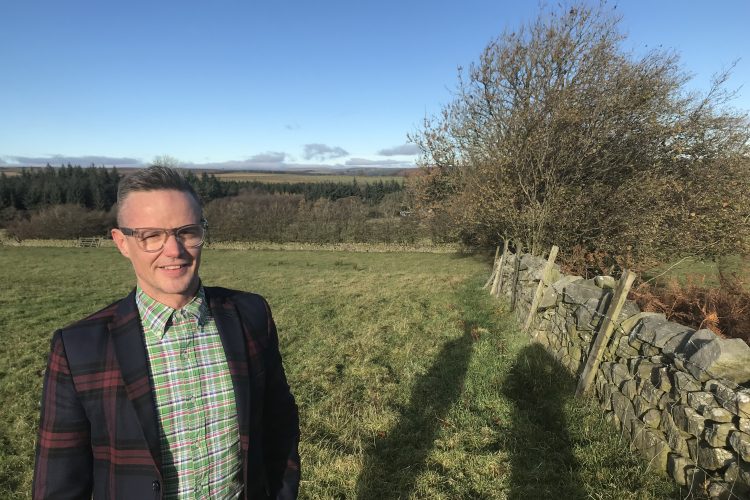 Dr Vincent Walsh, Head of Farm Innovation at RegenFarmCo, at the Biohub site in Harrogate, Yorkshire
A partnership has formed in the food industry with the aim of food industry collaboration regarding the regenerative farming initiative.
Levy UK + Ireland, the sports and hospitality sector of Compass Group UK and Ireland, will sponsor a demonstrator farm to educate current and future generation of chefs and farmers about sustainable farming practices.
Commenting on the collaborative project, Jon Davies, Managing Director at Levy UK + Ireland, said: "It's important for us to safeguard the future of farming. For us, this centres around eco-friendly practices and partnerships that promote local, plant-based produce.
"Through investment in regenerative agriculture, it is our hope that we will be able to foster a closer working relationship between farmers and chefs, who will work in partnership to provide outstanding quality, sustainable produce to visitors at our partner venues."
The collaborative project, 'Biohub at Ings Farm', will also be supported by Quorn Professionals, RegenFarmCo, and Yorkshire Water. Biohub at Ings Farm is a project that Levy UK + Ireland hopes to use to grow its own produce that can be served at its partner venues across the UK.
What is Biohub at Ings Farm?
The project will be based near Harrogate, Yorkshire, on a 92-acre plot of land that will be developed into a biological platform of social and ecological activity.
The farm will be used as a learning hub for all companies involved in the project, whereby training can be carried out for the next generation of farmers and chefs. This hub will be centred around the latest developments in sustainable farming, resource management, and the diversification of food production systems.
Exciting times ahead for Biohub partners
To carry out the design and management of the farm, RegenFarmCo, a specialist regenerative agriculture consultancy, will be working closely with Levy UK + Ireland, Compass Chefs, culinary teams, and their supply chain, to develop the sustainable crops and ingredients which will be used on future menus.
When asked about the future of the UK farming sector, Dr Vincent Walsh, Head of Farm Innovation at RegenFarmCo, stated: "Whether addressing the climate crisis, improving our food security, or responding to changes in consumer behaviour, the way we manage our land and grow crops needs to change.
"It's projects like the Biohub which will help ensure the farm to fork journey becomes genuinely sustainable."
Through collaboration between food businesses, landowners and farmers, Walsh believes a "more integrated, circular approach to the food supply chain" can be achieved.
Quorn Professionals, the food service division of the meat-free giant Quorn, is reportedly going to be taking an active role in the Biohub scheme, alongside landowner Yorkshire Water. "Doing nothing has never been an option for us at Quorn. As the pioneer of meat-free, it's a privilege to support this pioneering project alongside the partners, leading the way as pioneers together. Saving the planet one farm at a time," explained Ellie Janes, Foodservice Lead for Nutrition and Sustainability, Quorn Professionals.
Yorkshire Water will also be including the project as part of its Beyond Nature® programme. This programme is an environmental initiative that aims to help tenant farmers practise a sustainable and biodiverse approach to land management and agriculture.
Let Biohub commence
Enabling works are already underway on the Biohub site and employees from both Levy UK+ Ireland and Quorn Professionals are expected to be taking in part in an extensive programme of land preparation and tree planting this November.
Commenting on future Levy UK + Ireland's vision for the project, Davies said, "the Biohub at Ings Farm will play an integral role in our sustainable food strategy going forward", with the company's  long-term sustainability strategy involving reaching Climate Net Zero by delivering locally-sourced, plant-forward and in-season menus.