Sugary children's yoghurts "misleading", according to Action on Sugar
Action on Sugar is calling for food manufacturers to "act more responsibly" in the way they market yoghurts high in sugar, which are often aimed at children.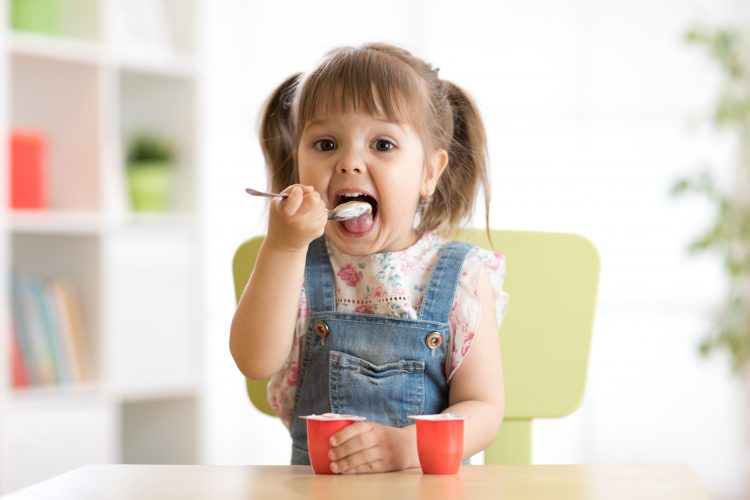 More than half of yoghurts marketed towards children contain more than the recommended daily intake for added sugar, with some containing more than five teaspoons of sugar, according to researchers from Action on Sugar based at Queen Mary University of London.
New data analysis (which surveyed 100 children's yogurts) has revealed one in 20 (five percent) of products which featured cartoon animations, characters and designs deliberately to target children were rated low (green) in sugar. 63 percent of all yogurts provide a third or more of a four to six-year old's maximum daily intake for added sugars (19g) per serving.
Action on Sugar named Nestlé Rolo Mix-in Toffee yoghurt as its so-called "worst offender", with 5.5 teaspoons of sugar per serve (22g) – that's as much sugar as 16 Malted Milk Biscuits , followed by Nestlé Smarties Vanilla Flavour yogurt, with four teaspoons of sugar per serve (16.5g).
The group of experts is now calling for government restrictions on using child friendly packaging, and nutrition and health claims on yogurts (high or medium in sugar) to stop "misleading" parents.
"Clever marketing techniques such as advertising, promotions and packaging are powerful tools to get children hooked on the sweet stuff from a young age and for life," said Katharine Jenner, Campaign Director at Action on Sugar.  
"Whilst the Government's Obesity Strategy is taking bold steps to tackle unhealthy advertising and promotions, they now need to ensure food companies only use cartoons and health halo statements on their healthier products, allowing parents to see more of what is good for their children."
Action on Sugar claims that some of these products, despite being high in sugar, can display on-pack health claims on calcium and protein, which it says creates "a distorted health halo" that can distract parents purchasing the product.
There are calls from the group for manufacturers to act and think about the way they market products high in sugar to children, as the UK's campaign on obesity continues to be waged.
"With ten children out of every class of thirty leaving primary school either overweight or obese, it is imperative that food companies act more responsibly and commit to reformulate sugar, salt and calorie reduction instead of foisting unhealthy products on us that contain child friendly packaging with misleading nutrition and health claims," added Graham MacGregor CBE – Chairman of Action on Sugar, Professor of Cardiovascular Medicine, Queen Mary University of London.