Lidl ordered to stop selling Hendrick's lookalike by judge
Lord Clark ruled that Lidl "intended to benefit" from a rebrand of its Hampstead Gin, which led to William Grant and Sons (which produces Hendrick's Gin) taking legal action against the discounter.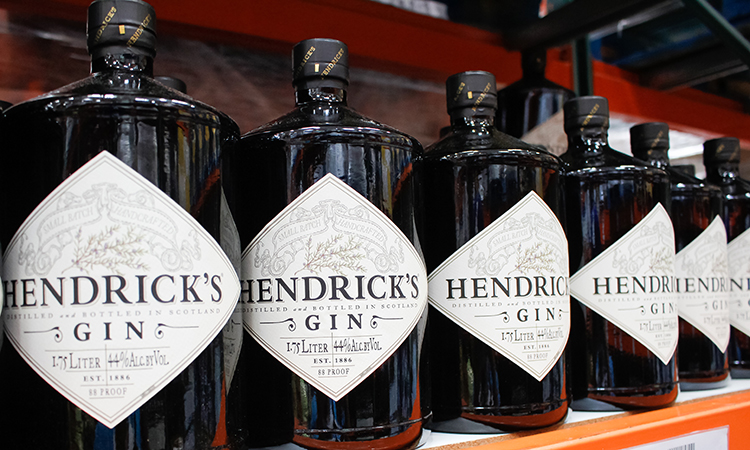 Lidl's Hampstead Gin was deemed too similar to Hendrick's famous black bottle design
Supermarket Lidl has stopped selling a brand of gin after a judge ruled that the Hampstead Gin bottle was too similar to Hendrick's, a premium brand produced by William Grant and Sons.
According to The Independent, Lidl changed the shape and design of its bottle late last year, which led to William Grant and Sons beginning legal action against the discounter, which has won awards in the past for its own-brand spirits.
Lord Clark, who presided over proceedings at the Court of Session in Edinburgh, made an interim judgement in favour of Hendrick's, after finding that the two products were sufficiently similar enough to cause confusion among consumers.
"Notwithstanding the existence of some measure of dissimilarity, having regard to a comprehensive assessment, there is a sufficient basis to argue visual and conceptual similarity between the mark and the sign," his written ruling read.
"Bottle shape and colour are often intended to be distinguishing features of gin products.
"I accept that the more distinctive the mark the greater is the likelihood of confusion and that the Hendrick's mark relied upon is quite distinctive and recognised on the market.
"I do consider that there is sufficient material, from the information put before me, to infer (for the purposes of a prima facie case) that there was a deliberate alteration of the get-up of the Hampstead product to seek to cause at least an association with Hendrick's.
"The defenders also have another get-up to sell the product, which is not challenged, so it is just the sales of Hampstead in this particular get-up that are stopped."
In addition, he said that "whether or not there was a deliberate intention to deceive, there is a sufficient basis for showing that there was an intention to benefit. It is difficult to view the re-design, including the change in colour of the bottle, as accidental or coincidental.
"I therefore conclude that there is a reasonable prospect of success on the part of the pursuer in showing a change in economic behaviour or a real likelihood of such a change by customers who buy from Lidl."
It appears that there is a real precedent emerging within the food and drink industry. Discounters, such as Lidl and previously Aldi, which choose to sell products similar to higher-priced alternatives, can perhaps start to expect legal action in the coming months.
"It's another case of the caterpillars," said Laurie Bray, senior associate and trade mark attorney at European intellectual property firm, Withers & Rogers.
"Hendrick's was concerned that consumers would confuse the two products, because the design of the bottles was too similar. The company provided evidence to the court in the form of social media messages to show that some consumers thought there might be an association between the two products.
"Coming on the back of the recent Colin the Caterpillar case involving M&S and Aldi, it is clear that there is a pattern emerging. Low-cost retailers that are intent on producing own brand copies of premium-branded products should expect to face legal challenges in the future."