Cuthbert in the dock – M&S launch legal proceedings against Aldi
Marks and Spencer claims Colin the Caterpillar's trademark is being infringed by Aldi's Cuthbert – while the discounter has published a cheeky response.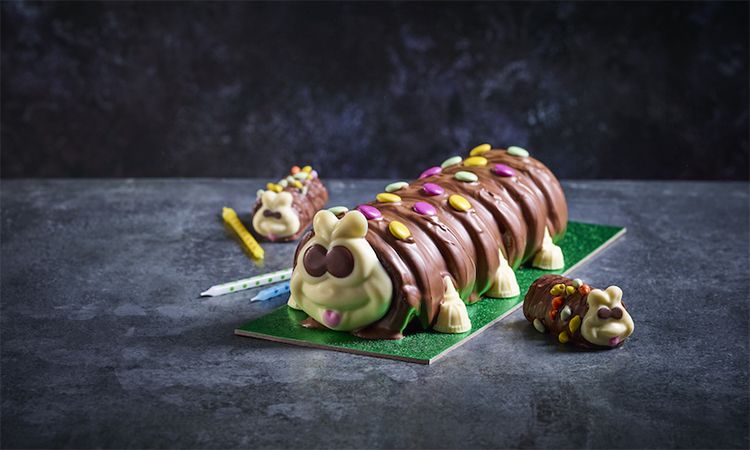 Marks and Spencer sought legal action to defend Colin the Caterpillar Credit: M&S
There have been some mammoth copyright cases throughout the years: Star Wars vs. Battlestar Galactica, Dyson vs. Hoover, and of course, Vanilla Ice vs. Queen and David Bowie.
The latest equally compelling legal case to have gripped the UK in the past couple of days is that supermarket Marks and Spencer (M&S) has brought legal proceedings against fellow retailer Aldi, as a result of the discounter's celebration cake named Cuthbert the Caterpillar, which M&S says is too close to their famous Colin the Caterpillar design.
According to the BBC, M&S claims Aldi's Cuthbert infringes its Colin the Caterpillar trademark and "rides on the coat-tails" of M&S' reputation. An intellectual property claim has therefore been lodged with the High Court.
Colin has been on the nation's shelves for decades, and has largely gone unaltered, aside from some seasonal variations and a new incarnation named Connie. M&S essentially claims that Cuthbert's design is sufficiently close to Colin's that it may create confusion among customers as to which product belongs to M&S.
 "Because we know the M&S brand is special to our customers and they expect only the very best from us, love and care goes into every M&S product on our shelves," a spokesperson said.
"So we want to protect Colin, Connie and our reputation for freshness, quality, innovation and value."
In response, Aldi tweeted "This is not just any court case, this is…#FreeCuthbert " – a rather cheeky play on M&S' famous slogan used in its TV adverts.
This is not just any court case, this is… #FreeCuthbert

— Aldi Stores UK (@AldiUK) April 15, 2021
It's important to note that other UK supermarkets have their own caterpillar creations. Waitrose stocks a cake named Cecil, while Tesco offers Curly and Asda Clyde the Caterpillar.
It's not the first time that Aldi has been the subject of copyright infringement cases – the discounter was accused of selling sausages too similar to Heck's products, while makeup artist Charlotte Tilbury won a case against Aldi after a product was deemed to have infringed on Islestarr's (the company which owns the Charlotte Tilbury brand) copyright.
"M&S is concerned that this could be a classic case of mistaken identity as far as shoppers are concerned and they have decided to take action to clear things up," said Mark Caddle, partner and trade mark attorney at European intellectual property firm, Withers & Rogers.
"Colin the Caterpillar is linked to the retailer's 12-year tie up with Macmillan Cancer Support, and 10 percent from the sale of each cake goes to the charity. By taking this legal action, M&S is seeking to protect its own revenues and those of its charitable partner.
"Colin the Caterpillar has been very popular in the UK market, which could aid M&S' case. The High Court's decision will rest on whether it thinks Cuthbert is too close to M&S' branding and whether Aldi is seeking to benefit commercially by bringing a confusingly similar product to market.
"This will be an interesting case to watch – the battle of the caterpillars."