Free school meals parcels criticised by Rashford and Starmer
Food parcels have been issued in certain areas instead of the vouchers, with some taking to Twitter to express outrage over the amount of food provided.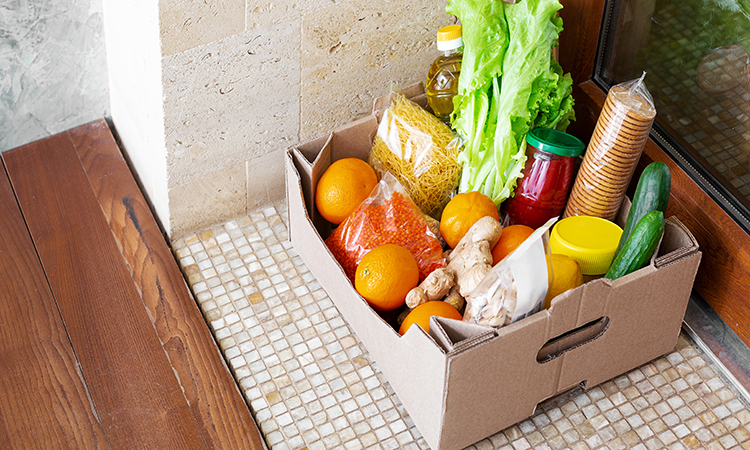 Controversy has erupted in the UK over food parcels distributed to parents whose children would normally receive a free school meal.
Instead of a £30 voucher, in some areas food hampers are being handed out to families eligible for free school meals while schools in the UK remain closed. Some images shared on social media however claim that the amount of food supplied is not sufficient, with one mum suggesting she could buy a similar amount of produce for just over £5.
#FreeSchoolMeals bag for 10 days:

2 days jacket potato with beans
8 single cheese sandwiches

2 days carrots
3 days apples
2 days soreen
3 days frubes

Spare pasta & tomato. Will need mayo for pasta salad.

Issued instead of £30 vouchers. I could do more with £30 to be honest. pic.twitter.com/87LGUTHXEu

— Roadside Mum (@RoadsideMum) January 11, 2021
The Twitter user, who goes under the handle @RoadsideMum, claimed that she could have bought the food displayed in the 'hamper' for £5.22 from supermarket ASDA, despite the supposed value of £30. In another tweet, she claims the parcel was delivered by private firm Chartwells, though the company has since responded. "Thank you for bringing this to our attention, this does not reflect the specification of one of our hampers," a tweet from Chartwell's read. "Please can you DM us the details of the school that your child attends and we will investigate immediately."
Then imagine we expect the children to engage in learning from home. Not to mention the parents who, at times, have to teach them who probably haven't eaten at all so their children can…

We MUST do better. This is 2021 https://t.co/mEZ6rCA1LE

— Marcus Rashford MBE (@MarcusRashford) January 11, 2021
Premier League star Marcus Rashford, who has campaigned for free school meals throughout the pandemic, shared another image of a suspected food parcel issued to another family, though it is unknown where this was issued. He questioned how well children can learn from home with this level of nutrition and demanded "we must do better. This is 2021".
The images appearing online of woefully inadequate free school meal parcels are a disgrace.

Where is the money going?

This needs sorting immediately so families don't go hungry through lockdown.

— Keir Starmer (@Keir_Starmer) January 12, 2021
Labour leader Sir Keir Starmer expressed his discontent, calling it "a disgrace" and asked: "where is the money going?".
Aside from the amount and value of food provided, questions have been asked over the method of distribution, which in many cases involves parents queuing up at their child's school to collect the food parcels. One Twitter user refused to participate, saying she felt as if she was "from a poorhouse waiting in line with a label round my neck".
My daughter's school is doing food parcels instead of giving parents vouchers. I've refused to go to the school to collect a parcel knowing she won't eat most of it and feel as if I'm from a poorhouse waiting in line with a label round my neck ☹️

— Shelly Kenny (@indiemaid68) January 11, 2021
There is support from some corners for the new scheme however, which according to some Twitter users will ensure that the free school meals scheme delivers food to tables, rather than extra cash to parents. Concerns that parents will use vouchers meant for food shopping for other goods have been present since the voucher scheme began. Twitter users @injiduducu and @Sapper211A expressed fears that food vouchers, rather than parcels, could be spent on cigarettes and alcohol. 
Unfortunately some parents sold their vouchers or used to buy alcohol and cigarettes, hence encouragement to provide food. This is ridiculous though.

— inji duducu (@injiduducu) January 11, 2021
https://twitter.com/Sapper211A/status/1348922898841481217
Conservative Party MP Simon Clarke accused many on Twitter of "whipping up a storm" and criticised some for not "waiting for the facts before jumping in".
There are a lot of people seeking to whip a storm up on Twitter tonight. Too much to hope in age of instant outrage to wait for the facts before jumping in. DfE are likewise investigating. https://t.co/XxExbHgSzx

— Simon Clarke MP (@SimonClarkeMP) January 11, 2021
The Department for Education insisted it was investigating the matter, maintaining that it is "clear guidelines and standards for food parcels, which we expect to be followed."
We are looking into this.

We have clear guidelines and standards for food parcels, which we expect to be followed. Parcels should be nutritious and contain a varied range of food.https://t.co/ZBdJZqxdfK https://t.co/9sfxHPX9RJ

— Department for Education (@educationgovuk) January 11, 2021