Salmonella strains evade plant defences, posing food safety risk
Types of bacteria are circumventing plant defences, causing an increased risk of foodborne illnesses, researchers have warned.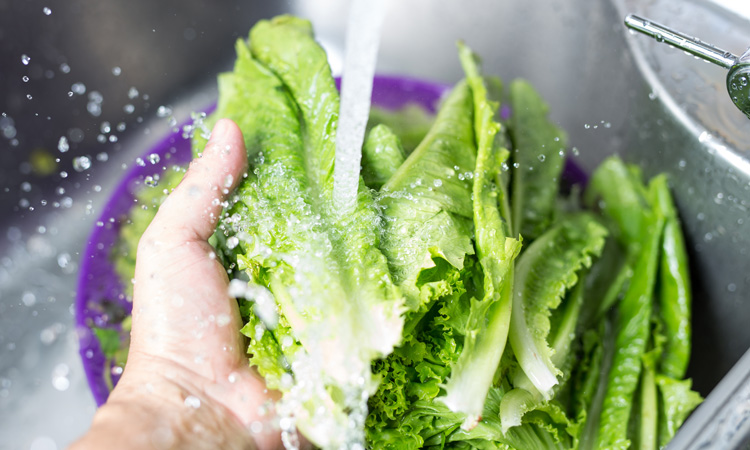 In light of the coronavirus (COVID-19) pandemic, researchers from the University of Delaware have been studying how pathogens can jump from plants to people in a bid to reduce the risk of a future mass pathogenic outbreak.
Opportunistic bacteria – Salmonella, Listeria and E. coli, for example – often 'piggyback' on raw vegetables, poultry, beef and other foods to gain entry into a human host, causing millions of foodborne illnesses each year, but researchers Harsh Bais and Kali Kniel have found that wild strains of Salmonella can gain entry another way. They discovered that Salmonella can circumvent a plant's immune defence system, getting into the leaves of lettuce by opening up the stomates, the plant's minute breathing pores.
Stomates open and close naturally allowing the plant to cool off and breathe, and they close when threats from drought or plant bacterial pathogens are detected. However, Bais and Kniel have shown that some strains of the human pathogen salmonella have developed a way to reopen closed stomates. The plant is said to show no symptoms of the invasion and once inside, the pathogens cannot be washed off.
"What's new is how the non-host bacteria are evolving to bypass plant immune response," Bais said. "They are real opportunists. They are absolutely jumping kingdoms…When we see these unusual interactions, that's where it starts to get complex."
Bais and Kniel and their collaborators have studying this plant problem for a number of years and they have said that they are particularly focusing on the "trojan horse" methods that bacteria such as Salmonella are using to elude plant immune systems and find their way to new human hosts.
They are looking at an assortment of irrigation methods that can carry bacteria from waterways, ponds and reclaimed water to the surface and root systems of plants and have developed recommendations for increasing plant defences to reduce impacts on the world's food supply.
"The food industry works tirelessly to make the product as safe as they can," Kniel said. "But even then, we are growing these products outside, so they're accessible to wildlife, wind, dust and water that may transmit microorganisms. It's a tough situation.
"This project [with Bais] has mutant Salmonella strains and that allows us another angle on the molecular biology side," Kniel said. "The individual mutations are important for the Salmonella structure and the regulation of stress. We can see the ability of the Salmonella to internalise into the plant. When we used mutant strains, we saw big differences in the ability to colonise and internalise – and that's what consumers hear a lot about. You are not able to wash it off.
"We can also look at which genes or part of the organism might be more responsible for the persistence on the plant – making it last longer and stronger. That is so important when you think of food safety issues."
The researchers are carrying out further tests and are hoping to answer the following questions:
Do these bacteria die off more easily when they are in the sun?
Does a lot of moisture or humidity allow them to grow?
How much do they interact with the plant?
Related organisations
Related people