From barks to bonbons
When a Devon confectionery company was put into receivership it looked like the end of a long heritage of fudge and toffee manufacture in the region. Just when everything appeared to be lost, rescue came from a very unlikely source. Ravi Sharma, Director of Bristows of Devon, explains how the company and its quality brands have been re-energised.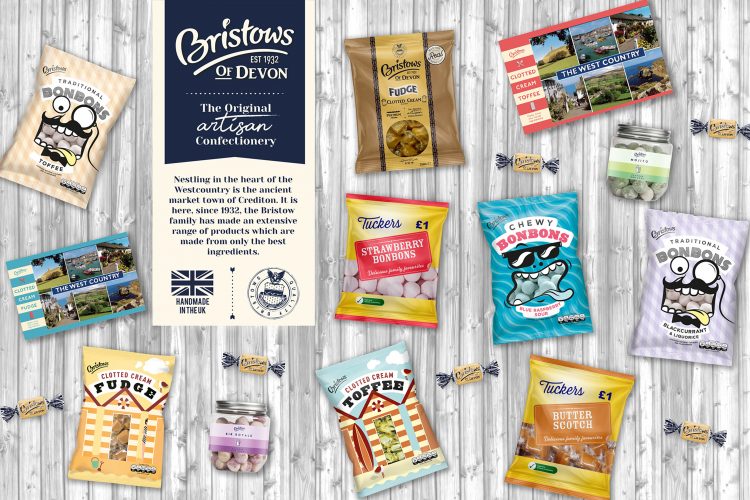 Artisan confectionery maker, Bristows of Devon, is based in Crediton, in the South West of England; an area long associated with afternoon tea, family holidays by the sea and of course, clotted cream fudge. The company has been making confectionery since 1932 when Charles Bristow founded the business, later buying Cleaves sugar confectioners, who had been manufacturing in the area since 1870.
Being rooted in a small town meant that whole families, including husbands and wives, worked in the factory. So, when news came that the firm – then called Crediton Confectionery – was to be dissolved last year, the future looked bleak.
That was until the company came to the attention of myself and my brother, Sunny Sharma. Earlier that year we had purchased Vital Pet Products – a pet product wholesaler servicing thousands of pet shops around the country. Our business portfolio also included Pet Brands – an award-winning pet accessories company that exports its branded products to 58 countries around the world and also makes own-brand pet products for the likes of Tesco, Ocado, Amazon and Next. The vision was to create a vertically-integrated pet products business.
One of Vital's depots is situated in nearby North Tawton, so when we learned about the collapse of a local confectionery company our first thought was to purchase the plant and machinery assets, and adapt them to make pet treats. We also acquired the freehold of the site to allow for future expansion.
The company was the only one in the world to produce a dual-coloured bonbon and the only remaining UK supplier of toffeecentred bonbons. The skill required to produce two flavours and colours right the way through the sweet takes years to perfect.
It quickly became apparent, however, that the business still had a lot to offer as a functional operation – and this surprised us. There were strong brands in Bristows, Tuckers and Pollards that had a long lineage. The company was the only one in the world to produce a dual-coloured bonbon and the only remaining UK supplier of toffee-centred bonbons. This may not sound impressive to the uninitiated, but the skill required to make bonbons with two flavours and colours right the way through, producing a solid, consistent bonbon, takes years to perfect. The local community of skilled people was therefore key to the success of Bristows.
Our family history in the textile industry has given us an understanding of innovation and what makes a brand successful, and instilled an appreciation of craft and skill. Our underlying belief in British manufacturing meant that we recognised the value of the company and what it could offer.
Looking closely enabled us to identify where improvements could be made and where group synergies could help build the business. We had been presented with a major opportunity to contribute to the continuation of British manufacturing in an area where employment might be hard to come by and where there was an especially skilled workforce, so the redundant workers were invited to reapply for jobs.
The company was renamed Bristows of Devon, allowing a centuries-old company that had weathered many storms to rise once again. Frank Bristow was even brought back as an Executive Chairman, continuing that family connection the stretched all the way back to the 1930s. He has since been hard at work reviving hundred-year-old recipes and recording the company's history for posterity.
The wonderful scent of vanilla and fudge wafting from the factory is helping to revive memories of the company's hey day in the local community, which has a growing and vibrant food scene, with regular festivals and celebrations of local ingredients. Bristows is also mindful of its heritage, ensuring the famous West Country cream used in its clotted cream fudge is sourced locally.
Following a £1.2 million investment in the site, the company is back in full-scale production. Floors have been re-laid, gantries repaired and new pots and lids purchased. The factory recently won an outstanding BRC A-rating – the highest it has ever attained – and has also gained RSPO supply chain accreditation to reflect its use of sustainable palm oil.
There are already more than 36 flavours of sweets available in Bristows of Devon bulk jars and branded bags. Varieties include the traditional chewy bonbons for which the company is well known – including the very latest on-trend flavours of blue raspberry sours, bubble-gum and strawberry milkshake. The classic Tuckers brand comes from nearby Totnes, where another local sweet company operated and was acquired many years ago.
As well as the core luxury bonbons, toffee and fudge, the company is investing in new product development. Our first new range of 'mocktail' bonbons showed how the best of artisan handmade tradition could be blended with new flavours that reflect current trends.
It's a big departure from the traditional toffee bonbons and postcard-fronted boxes of fudge that are still beloved in seaside towns around Britain. But those core products have a place too – with expats in North America currently clamouring for a taste of home with Rhubarb and Custard bonbons in particular, and general demand for chewy bonbons across the U.S..
As well as group synergies in finance and HR, the company is benefitting from additional warehousing across the group, which allows more stock to be held to improve responsiveness and delivery times. There is also expertise in export within the group, which helps meet the strong demand for liquorice flavours from Scandinavia, while Germans love Bristows fudge, and in France there is a preference for traditional bonbons.
The companies in the group have a great deal of knowledge when it comes to developing own-label products and meeting the needs of its customers. There's also a real passion for developing Bristows of Devon heritage brands evidenced by new product development going on behind the scenes with anticipated launches next year.
There are some exciting plans that will help the company connect with the tourists who flood the area every summer; introducing the brand to new audiences and creating advocates who have experienced the brand and can appreciate the authenticity of its 'artisan handmade, locally-produced' credentials.
Sunny explains that this is important to modern consumers, saying simply, "It's our point of difference. We're proud that our products are made by hand by skilled people, in a place that's rooted in the community and forms an important part of our industrial heritage. It's absolutely genuine. And while we appreciate that tradition, it's also great to see this area become a foodie destination and to make that part of the next chapter of our story."
Yet Bristows' story doesn't end here, as it took another turn in August this year when the parent company, Paramount Retail Group, was approached by administrators with the offer to buy confectionery company, Crawford & Tilley. Purchase of this company would bring a portfolio of products – including hard boilings such as fruit drops and humbugs, as well as lollipops – that were completely complementary to the Bristows range, and the chance to save 35 jobs over two sites in the small English towns of Hadfield and Thrapston.
We're proud that our products are made by hand by skilled people, in a place that's rooted in the community
A pre-pack sale was agreed over a frantic week that enabled production to be maintained, customer orders to be fulfilled, and people to remain employed. Business efficiencies helped control costs with services and technology being easily extended across the whole group.
Having experts already in place in operations, HR, quality assurance, finance and sales meant that this time round there was an efficient process; bringing in the senior management team to evaluate what needed to be done, complete all the necessary checks promptly and prepare action plans. Members of the Bristows team have been able to work alongside staff at Crawford & Tilley to help them follow a similar path and identify the areas where improvements can be made.
We found that we didn't always need confectionery-specific knowledge to see what needed to be done. For example; shortly after acquisition it was discovered that when the Crawford & Tilley plants merged as a business some years previously, the lollipop machinery was moved to the Tilley's factory in Hadfield. However, no one had the necessary skills to operate the highly specialised machinery at that site, so we arranged to move it back to the original Crawfords site, where the plans are to ensure it is used to capacity.
Two months after acquisition, the company is already recruiting – including re-engaging staff who have previously worked at the sites. Commercial Director Nigel Moult, is now at the helm, helping us to determine the future strategy. The intention is to fully support the confectionery business with its own team of directors who can focus more fully on the needs of the sector.
Together, the two companies can provide a range of premium confectionery to meet the needs of customers and build brands with great credentials. They sit perfectly within the Paramount Retail Group portfolio, with a passion for people, sustainable business and British brands at their heart. The delicious products from Bristows of Devon and Crawford & Tilleys turned out to be all about the bite, not the bark. Mark the names: it will be exciting to see what they unwrap next.
About the author
Ravi Sharma is director of confectionery manufacturers Bristows of Devon and Crawford & Tilley, leading wholesaler, the Vital Pet Group and pet accessories company, Pet Brands. He also directs Q Retail Stores, a homeware mail order business and Sharma Investments, a national commercial investment company and sits on the decision maker panel of financial directors for the Bank of England.