The nerve centre of quality produce distribution in the UK
Garin Auld uncovers the secrets of London's leading wholesale fresh produce market and what sets it apart.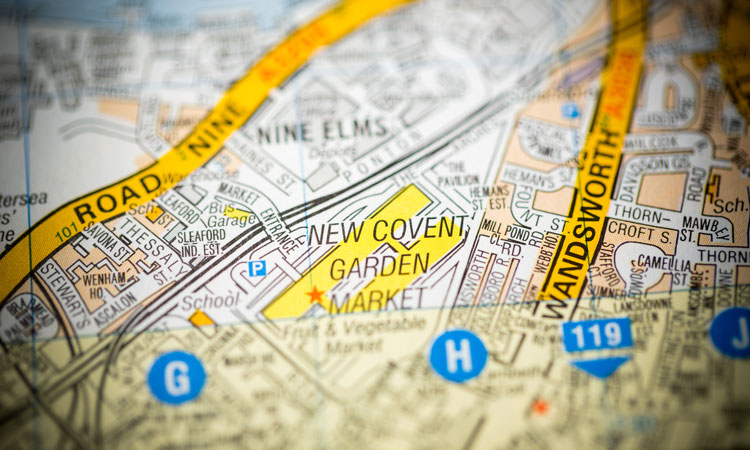 New Covent Garden Market (NCGM) is undoubtedly a London institution. Based on the south bank of the River Thames, it is the largest wholesale market in the UK and integral to the supply of healthy, nutritious and beautiful food, drink and flowers to millions of Britons.
Located two miles from the centre of London, the market is known as the "home of fresh", providing a vital link that connects retail and catering businesses across the South East of England with growers of Class 1 seasonal produce from the UK and across the globe. NCGM is also simply known as 'the Garden' to many who work and shop there; its wholesale fruit and vegetable and flower markets stock an astonishing 650 varieties of fresh varieties at any one time, diligently sourced from every corner of the globe. The market is the undisputed leader for premium quality fresh produce and flowers, a fact reflected in its annual turnover of roughly £650 million.
In a unique twist, NCGM is both London's oldest and newest wholesale market. With several hundred years of history in its original location in central London's historic Covent Garden area (now a luxury retail destination that's also home to the Royal Opera House and London Transport Museum), the market moved to a purpose-built location at Vauxhall's Nine Elms in 1974 and will celebrate 50 years at its present location next year. The Nine Elms site is currently being redeveloped and, when completed in 2027, will boast the newest and best wholesale market facilities in the country.
Quality at any price
So what makes NCGM different? Put simply: if you want it and it's in season then you'll find it at NCGM. Produce from the best growing locations around the world sits alongside the very best from UK farmers and growers. It's not just the product that sets the market apart though.
"When you come here, you don't just get the crème de la crème of product – you get passion, knowledge and belief in the fruit and vegetable business," says Gary Marshall, Chair of Covent Garden Tenants Association, who emphasises the continuing importance of NCGM to the independent retail trade. Gary owns Bevington Salads and says good service, continuity and quality are the hallmarks of the market. "You work with people who really know what they're talking about. The service level is so high that it can be easy to take it for granted. We become your eyes and ears – that is instilled as an ethos across this market."
NCGM's customer profile is a broad non-supermarket community that demands a full range of top-quality products. Around 80 percent of the fruit and vegetables sold by NCGM traders is destined for the catering and hospitality sectors in the South East. The rest will be sold into a variety of distribution channels, including secondary wholesalers, independent retail, the corporate sector, hospitals, prisons and schools.
Keeping the wheels in motion
Alongside ensuring excellent supplies of seasonal produce, good relationships with customers and suppliers continue to be a critical feature of the market's success.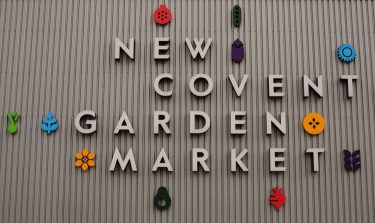 "Wholesalers at New Covent Garden Market recognise and value their role in the supply chain and, more importantly, the responsibility they have to be as supportive as possible to their partners, both up- and downstream," says Jo Breare, NCGM's General Manager. This responsibility was brought sharply into focus earlier this year when supermarkets experienced empty shelves due to extreme complications in their fruit and vegetable supply chain. "The empty shelves were not, as some tried to claim, solely the result of import challenges," said Breare, "although the UK supermarkets are not necessarily the preferred destination now that we're not part of the EU. Neither were higher prices the result of growers and suppliers lining their pockets; they were reflective of both tough market conditions and prolonged weather patterns that were as extreme as most people could remember."
While multiple retailers were experiencing significant shortages, other parts of the fresh produce supply chain – wholesale markets in particular – could still buy products that were short elsewhere because they were prepared to pay the necessary higher costs. "Yes, the prices for some products reached historical highs," explained Breare, "but they were dictated by the climate, the trading conditions and reflected the commercial principles of supply and demand, a trading environment that tenants at NCGM businesses are used to operating in.
The cost of premium
"One misconception about UK wholesale markets is that they are an outlet for rejected or class II products," said Breare. "Growers and suppliers need to build an understanding of what a modern wholesale market needs. NCGM is the prime location in London for high‑end customers – the vast majority of Michelin‑star restaurants buy their fresh produce from us – and our traders want to buy high-quality product. Their success is based on selling premium produce at the right prices and making a fair margin for the entire supply chain."
Always looking to the future, NCGM is now halfway through its multi‑million‑pound redevelopment (while remaining trading) to consolidate the site's 57 acres onto a single, state‑of‑the-art 37-acre site consisting of the two new wholesale markets, retail units, and the Food Exchange building, supporting new startup businesses.
Thinking beyond chemicals for sustainable fresh produce sanitation
Tony O'Reilly, NCGM's Project Director, explains how the design, implementation and phasing of the redevelopment works had to ensure the effect on tenants' business operations was kept to an absolute minimum. "At the start of the process, we decided to break the redevelopment, that would see areas of the estate demolished, into stages to create space to build new areas. The relevant tenants would then be moved into the new areas, to create further areas that could now be demolished and then built upon. The new layouts are more efficient for parking, stockkeeping, etc, and we've received fantastic feedback."
The Food Exchange office space is already fully occupied and provides a dynamic and inspirational home to a heady mix of businesses, which will play a big part in future food innovation and production. The first-floor hosts Mission Kitchen, an 18,000-sqare foot shared workspace for independent food businesses that offers flexible access to commercial kitchens, co-working space and inspiring events for London's next generation of food innovators. Almost two years old, it has well over 100 members and that number is growing by the month, helping NCGM to continue to develop its global image for decades to come.
Facts about New Covent Garden Market
1961 was the year an Act of Parliament created CGMA to look after and manage New Covent Garden Market. CGMA is accountable to the Department for Environment, Food and Rural Affairs (Defra) but does not receive any direct government funding.
1974 saw New Covent Garden Market establish its new home at Nine Elms, moving from Covent Garden in Westminster. The location in Nine Elms is ideally placed to allow its community of leading fresh produce and startup food businesses to deliver value to London's foodservice and hospitality industries.
The market's redevelopment will create a modern wholesale horticultural market that aims to meet the future needs of tenants and their customers.
More than 200 businesses call New Covent Garden Market home, employing approximately 2,500 people.
An average of 15 years is the amount of time a wholesale tenant has been at New Covent Garden Market.
The total area of the fruit and vegetable market is 378,518.01 square feet, with 22 primary wholesale tenants and 58 catering tenants.
The total area of the flower market is 56,984 square feet, with 26 tenant businesses.
Mission Kitchen is a 16,000-square foot production-standard kitchen for London's small and ambitious food businesses, located in New Covent Garden Market's Food Exchange building.
The market recycles 100 percent of its organic waste, which is transferred to an anaerobic digestion facility. All other waste – paper, wood, plastic, glass and metal – is recycled (95 percent) with the remaining 5 percent used as waste to energy. Nothing goes to landfill.
About the author
Garin Auld is a Londoner born and bred, and a journalist with many years' experience working in internal communications within the retail and wholesale sectors for Covent Garden market Authority.
Related topics
Related regions