Are bugs the future of pet food?
Is insect-based food the best thing for pets, humans and the environment? New Food finds out.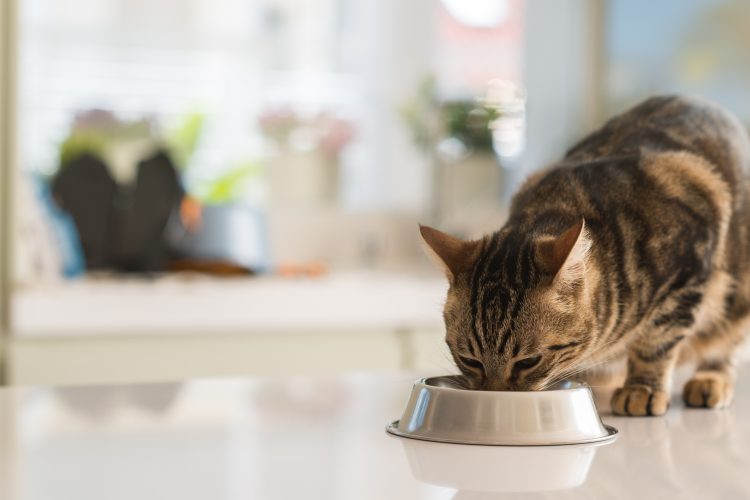 Over the last decade, the number of homes with more than one dog has increased by five million, compared to a 4.8 million increase in the number of families with only one dog. In addition to this, according to Statista, the share of households owning a pet in the UK  reached an unprecedented high of 59 percent in 2020/21, likely as a result of the coronavirus pandemic and increased time spent at home. 
As more people welcome animals into their homes, they're also seeking the perfect food for their companions; as such, pet food as a market has gained more significance and further dominance on the supermarket shelf. 
New Food spoke to Lovebug, a pet food company that produces insect-based cat food, on what consumers are looking for and why insect-based food may be beneficial for their pets. 
Bugs as pet food
Lovebug was launched by the pet care company Mars Petcare, in collaboration with sustainability entrepreneurs, Futerra, and has been developed and endorsed by the Waltham Petcare Science Institute.
Commenting on the launch of Lovebug, Deri Watkins of Mars Petcare and Solitaire Townsend of Futerra said it "marked an important milestone in the journey for pet parents looking for delicious and nutritional food with a smaller environmental pawprint".
The duo believe that along with making sustainably choices for themselves, pet owners are also looking to make sustainable choices for their pets – and this is one of the main drivers for Lovebug. According to Lovebug, insects use up 80 percent less land than beef per kilo of protein. Moreover, the bugs are fed on 100 percent surplus veggies and plants –  thereby reducing food waste – and are also sourced from a farm powered completely by renewable electricity. In addition, Lovebug products carry sustainable packaging credentials – being fully recyclable and plastic-free.
The idea of insects as a food source is gaining more traction and although it may be some time until humans in Western societies accept them, we are seeing movement. It's fair to say that the plant-based sector is probably a more popular choice when it comes to sustainable-driven food choices, but the pet sector could be a good way for the bug trend to gain further momentum. "Cats are obligate carnivores, so they are unable to live off the plant-based diets," Lovebug told New Food. 
The main ingredient in Lovebug is black soldier fly larvae, and this provides the product's main source of protein. It also contains maize and wheat, which the company states says offers carbohydrates and fibre.
"The black soldier fly larvae used in Lovebug is a great option for a number of reasons…[including the fact that] they can be reared on a wide range of food industry by-products that would otherwise go to waste."
Insects have been proven to have the same nutritional value as traditional protein sources like chicken, beef and fish, are protein packed and a source of amino acids and macronutrients.
Furthermore, "unlike beef, dairy or fish, insects are hypoallergenic, meaning that they're great to animals with sensitivities," Watkins and Townsend claimed. 
"With insect-based pet foods, the risk of intolerances being triggered is considerably reduced, meaning stomach and digestive issues are less of a concern. It's taken years of research, development, and a huge amount of passion to create Lovebug to make sure it's healthy for cats as well as the planet."
What consumers want
In a survey made up of cat owners, Lovebug found that sustainability is important to the vast majority (86 percent), while two-fifths of pet owners said they have already made changes to their purchasing behaviours to be more sustainable (eg choosing sustainable products or avoiding excess plastic).
As well as environmental credentials, Watkins and Townsend told New Food that "there are lots of things to consider when choosing food for your pet. In terms of the brand itself, you should always check whether they employ a nutritionist who has appropriate qualifications".
Secondly, the duo noted the importance of making sure the recipe was "developed by an experienced pet food formulator that has expert knowledge on the nutritional value of the raw materials and design of nutritionally complete and balanced foods". They added that it's also important for the pet food manufacturer to have good quality control processes in place during the manufacturing to ensure animal and owner safety.
Concluding, Lovebug stated: "Humanisation is one of the key trends driving changes in the pet food sector, and this includes an increased focus on our pet's health, as well as an awareness of the sustainable impact pet food can have on the environment. We've seen human diets explore the benefits of insect-based protein and when it comes to our pets we're mirroring this trend, looking at how we can use insects most effectively in their diets."
Biographies

Deri Watkins has been with Mars for over 20 years and during his time he gained extensive business experience working across multiple product categories including – Chocolate, Food, Ice Cream and more recently Petcare.
He has previously been Managing Director of Mars Petcare UK which makes some of the best loved pet food brands including Pedigree, Whiskas and Dreamies. Before this, Deri worked as the Global Chief Customer Officer for Mars Petcare, leading the customer and ecommerce strategy for the global business.
 After graduating from Swansea University, Deri started his career on the Pepsico Graduate Scheme working in various sales roles. He then joined Mars, and in his tenure has worked in sales, marketing, general management and strategy roles. 
Solitaire Townsend is the Chief Solutionist & Co-Founder of Futerra. She has been a passionate change-maker for over 30 years. As co-founder of Futerra she advises governments, charities and brands including Google, IKEA and the United Nations on imagining a better future, and making it happen.
With Futerra offices in London, Stockholm, New York and Mexico City she admits that making the world a better place is a damn good business plan. You can watch her TEDx talks online and read her in the Guardian, Huffington Post, Forbes and more often as @GreenSolitaire. Solitaire was named 'Ethical Entrepreneur of the Year' in 2008 and more recently was Chair of the UK Green Energy Scheme, a member of the United Nations Sustainable Lifestyles Taskforce and a London Leader for Sustainability. Her new book The Happy Hero – How To Change Your Life By Changing The World is out now).
Related topics
Related organisations
Related people