The sector that refuses to melt – why the future is bright for ice cream
Zeilca Carr, CEO of the Ice Cream Alliance, assesses the damage caused by the COVID-19 pandemic to the ice cream sector and looks ahead to a brighter future.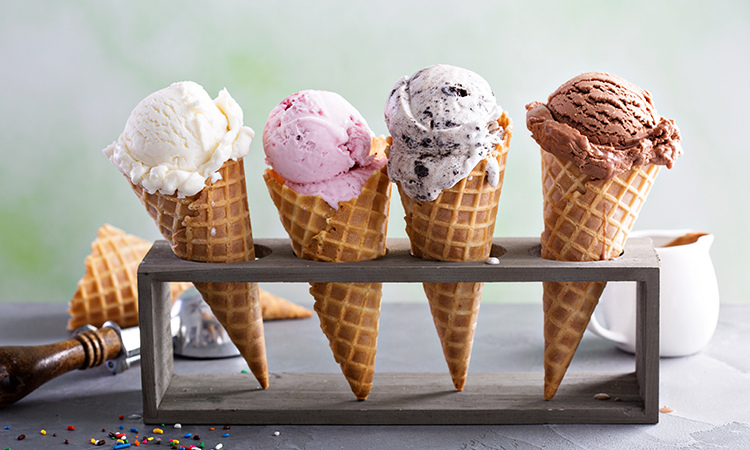 In common with all sectors of the hospitality industry, sales of ice cream via parlours, vans and in the wider hospitality sector have been badly hit during the pandemic. To find out the extent of the problem, the Ice Cream Alliance (ICA), the trade body for the UK ice cream industry, surveyed its members in March 2021.
Goodbye sales
Ice cream parlours and vans lost a total of £289 million in income in 2020. That is just the tip of the iceberg when you add lost ice cream sales in cafes, restaurants and hotels, and the economic impact to businesses along the supply chain – manufacturers, flavour houses, wholesalers and many others.
The survey also revealed that 90 ice cream parlours have closed in the last 12 months, and that 800 vans (called mobilers in the sector) ceased trading over the same period.  However, the UK government's Furlough Scheme has been a life saver for many businesses, with up to 62 percent of staff furloughed at some point during the pandemic.
This impact on revenue has had knock-on effect on jobs too. We estimate that nearly 7,000 jobs were lost in parlours and vans – and again, these figures do not include redundancies in cafes, restaurants and hotels, or along the ice cream supply chain.
The turnover figures above represent a decline in income of 40 percent for parlours and 32 percent for ice cream vans.  So, why did mobilers fare slightly better?
Not all bad news
During the pandemic and the various lockdowns, the numbers of people going to parks and other outdoor areas boomed. Although mobilers were largely banned from trading by local authorities for the first eight weeks of the pandemic, since then they have been able to ply their trade, with many occupying pitches in parks. A few respondents to the ICA survey even reported a better year in 2020 than they experienced in 2019.
The ICA's Mobiler of the Year 2021, who was announced just last month, is one such operator. Jimmy Robinson operates out of Craigavon in Northern Ireland and has pitches in several parks around Lurgan and Belfast. These public spaces have been busier than ever before and this was reflected in his sales.
The UK staycation
There is also the prospect of a boom in UK 'staycationing' (that is, holidaying in one's nation rather than abroad), indicating a better year for all sectors of the hospitality industry – ice cream parlours and mobilers included. But how big will the boom be?
Research company Mintel undertook a survey of 2,000 internet users in October 2020; its findings were that "domestic holiday sales this summer are expected to reach a 10-year high" with "the nation's holidaymakers set to spend an estimated £7.1 billion holidaying at home this summer, an impressive 22 percent increase from 2019 when Brits spent £5.8 billion".
Others agree with this prediction – for example, The Caravan and Motorhome Club described the pent-up demand for 2021 as "like a cork popping from a bottle". 
The Great British Ice Cream Staycation campaign
To help our sector maximise its sales in 2021 to a sizeable staycationing population, the ICA has launched its Great British Ice Cream Staycation campaign and is encouraging businesses of all types and sizes to get involved. 
The campaign is all about reminding people what a delicious, fun, happy and affordable treat ice cream is and what iconic childhood memories it generates.  This is all reflected in our strapline – 'ice cream smiles, today, tomorrow and always'. Of course, it is also about supporting our members and the ice cream industry to safeguard their survival, and help them recover from last year's losses.
The Great British Ice Cream Staycation is not about dictating to businesses how to market their products, it's about harnessing creative flair and providing the sector with the tools – across digital marketing, PR and influencer marketing – to help maximise sales and bounce back from a truly challenging 12 months. We are providing marketing materials, guides and templates free to everyone who wants it – not just to ICA members.
A bright future for ice cream
We are very positive about the future. Before the pandemic hit, ice cream parlours were one of the few sectors that were growing on the UK high streets, with growth of 20 percent year-on-year. There is no reason why that growth cannot start again.
Mobilers had been reinventing themselves with more focus on events work, ranging from weddings to corporate dos, rather than just plying the streets – and we hope to see this return as the UK's Covid roadmap unfolds. 
We also saw a roll-out of the world's first commercially available electric powered ice cream vans – using batteries and solar power.
All this is illustrative of an industry that is both creative and progressive, which had reached a total of over £1.5 billion of sales per annum (across all hospitality sectors and food retail) pre-pandemic. 
Although hospitality was negatively affected by the pandemic and subsequent lockdowns, food sales increased during the same period, and this will have gone some way to mitigate declines in other sectors. It should also help the industry bounce back this year. Fingers crossed!
About the author 
Zelica Carr is CEO of the Ice Cream Alliance, a trade association representing all aspects of the ice cream industry.