Traceable beer
Following the launch of its blockchain secured beer, Downstream business owner, Shane McCarthy, discusses traceability and honesty with New Food.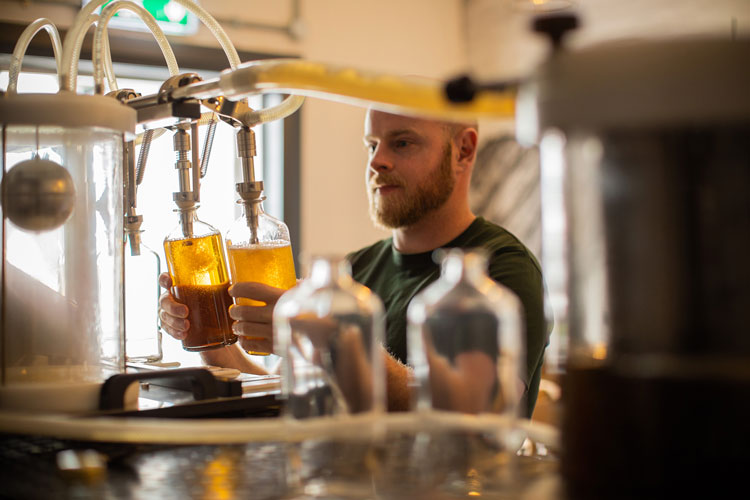 The origin of our food and drink has progressively become more important to the consumer, as have the contents of what we are putting into our bodies. Today's customer demands (and rightly so) for safe, honest products with clear and detailed labels.
Here, New Food interviews Shane McCarthy, the Founder and CEO of Ireland Craft Beverages, which recently created "the first beer to use traceability technology". Over the past 12 months, the Irish beverage distributor has begun a new partnership with Micro-Focus – a leader in the space of transparency – to integrate blockchain into its offering.
"Transparency has always been a key factor for all consumers, it may be that it has become more of a priority over the years due to mistrust from large brands," McCarthy explained. "People are now more mindful, due to climate change responsibilities and, of course, the current pandemic. Both have driven consumers to be much more socially aware of where their food and drink comes from."
McCarthy has a background in financial tech and has been following blockchain for many years. "It was a no brainer to use the same technology in food and beverage," he said.
How does blockchain beer work?
By scanning the QR code on a can of Downstream with a phone camera, consumers can verify their products and find out other details, including ingredients, tasting notes, calories, carbon footprint, and even when that particular batch was brewed and packaged. At the same time, producers benefit by having a secure way to record real-time activity and prevent fraud.
In the most basic terms, blockchain is a secure database that records a product's journey. It has received significant notice due to claims that it is tamper-proof. Using this technology, McCarthy explains that the producer can include as much or as little information as regulatory possible.
Additionally, with more emphasis than ever on transparency and further requirements being demanded from product labels, the scanning element is a crucial space-saver. "There's only so much you can fit!" McCarthy pointed out.
People are now more mindful, due to climate change responsibilities and, of course, the current pandemic.
He continued: "Large fulfilment centres can have access to a master QR code that will verify tens of thousands of cans within one shipment, ensuring they are all accounted for and none have been fraudulently removed or damaged. It also holds large benefits for Government customs and excise duties – this is something we are looking to implement."
Blockchain was first rolled out in 2009, initially as a tool for cryptocurrency, but we are starting to see its use cases broaden. "I can envision it being more widely used in the near-future.
New technologies tend to grow exponentially very quickly, and I believe we are getting close to this with blockchain – the same way it happened with the internet and cloud computing.
"Regarding how it may be implemented in the future, there are multiple new and developing cases across various industries that are seeing some big successes.
If I could predict the way in which we will see it advancing within the food and beverage market specifically, it would be in the form of smart contracts within smart devices. By this I mean a watch or phone that is able to automatically scan products to verify its safety."