Coronavirus: How is industry coping?
Five experts from leading food and beverage companies share their lessons and solutions in the fight against coronavirus…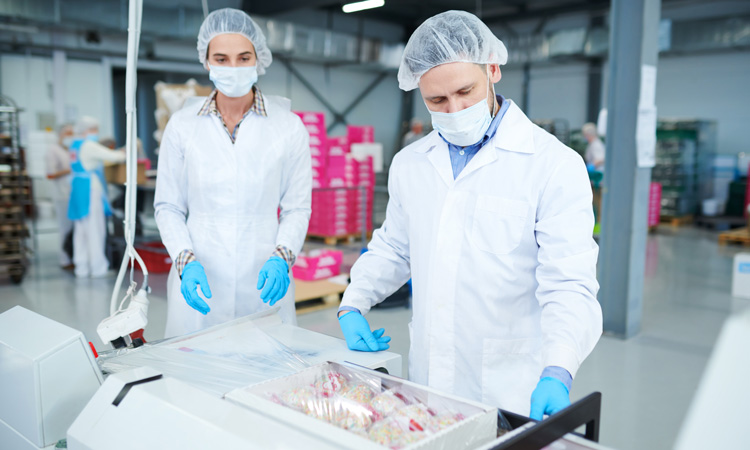 Across the world, the food and beverage industry has adapted and reacted to what has now become something familiar to us all. The novel coronavirus (COVID-19) has seen a shift in supply and demand, and food and beverage organisations have adapted their production lines in an attempt to meet the changes. Here, we hear from five industry experts about how their respective companies have responded and what they have learnt as a result.
Speakers  

Euromed is a producer of standardised botanical extracts and natural active substances for the pharmaceutical, nutraceutical, food and cosmetic industries.
Quotes by Andrea Zangara, Head of Scientific Communications & Marketing

Glatt Ingenieurtechnik GmbH designs, plans and implements production facilities worldwide. The company's core competencies are particle design based on proprietary process technologies such as powder synthesis and fluidised bed for food, feed, chemical and fine chemicals, as well as processes for the production of biotechnological and chemical active ingredients for sterile and non-sterile dosage forms.
Quotes by Jan Kirchhof, Senior Sales Manager, Glatt Process & Plant Engineering

GoodMills Innovation GmbH is a manufacturer of natural cereal-based ingredients for the food and baking industries.
Quotes by Michael Gusko, Managing Director

Kaneka Pharma Europe is a global pioneer in the production of natural coenzyme Q10 and the only supplier of pure, natural ubiquinol, the most active form of CoQ10.
Quotes by Filip Van Hulle, Senior Manager

Omya International AG is a leading global producer of calcium carbonates and a worldwide distributor of specialty additives, premium services and solutions for the food, nutra- and pharmaceuticals as well as personal care and household industries.
Quotes by Stefan Lander, Vice President Consumer Goods, Group Sales & Marketing
What measures does your company take to ensure the health of employees?
Zangara (Euromed): Euromed gives the highest priority to the health and wellbeing of its employees, valued customers and service providers. We have been closely monitoring the ever-increasing global distribution of coronavirus. We are following recommendations by national and regional governmental authorities, and implementing corporate practices to try and mitigate its impact through careful planning and extreme diligence. Since the early global news reports surrounding the outbreak, management have implemented new enhanced sterilisation practices in our manufacturing facilities.
We have segregated staff from different work shifts, with facility sterilisation between shifts to avoid unnecessary workforce exposure. Additional protective equipment has also been provided to staff.
This includes laboratory personnel and manufacturing staff who need to be on-site and are therefore unable to work remotely.
Office staff who can work from home to avoid close co-worker contact have, for the near future, been instructed to do so. Non-essential company meetings are being conducted by video conference call, and non-essential employee travel has been prohibited.
Kirchhof (Glatt Ingenieurtechnik): At Glatt Ingenieurtechnik, protecting our employees as well as our customers and business partners is our top priority, and we are strictly following the coronavirus recommendations of government authorities. We have adapted our procedures in line with these, so that personal contact is reduced to a minimum and safe distances can be maintained between people on our business premises. Additionally, video conferences have now replaced on-site visits. Internal meetings are now also held in virtual meeting rooms.
Van Hulle (Kaneka Pharma Europe): Being a company of Japanese origin, safety is, and has always been, our priority.
This applies to dietary supplement ingredients, the manufacture of our products and the day-to-day wellbeing of our employees. Even before the European authorities announced restrictions, we advised employees to travel as safely as possible – for example, use less public transportation, more private car/taxi, etc. – and only to do so if really necessary. In the meantime, we have implemented further measures in line with authority requests – eg working from home where possible, and keeping a safe distance from colleagues on site.
What do you estimate the consequences to be for your industry – in the short and long term?
Lander (Omya International AG): At the moment, we are getting increased orders due to higher demand. Mid-term, we expect a decline as our clients will likely have to cope with prolonged supply chain effects. But this is just a temporary issue and the situation will normalise long term.
Zangara (Euromed): It is early to estimate the long-term consequences for our industry. The negative economic impact from widespread loss of employment is yet to be felt in the natural product industry. Immune system-enhancing dietary supplements are currently in great demand.
Euromed is experiencing increased demand for extracts such as echinacea in response to brisk sales of our customers' immune health formulations.
Gusko (GoodMills Innovation GmbH): Everyone needs to eat, even in a crisis, but we can't all play an equal role in terms of how much we can contribute. Owing to the fact that more food is being eaten at home, the retail trade and its suppliers will certainly benefit. By contrast, as a result of company closures, the traditional hospitality segment will suffer dramatically.
Although bakers are recording rising sales of baked goods, they're missing out on the revenue derived from the high-margin coffee and snack business. The medium-term consequences depend on how long curfews and shutdowns last. A lockdown lasting several months will result in a wave of insolvencies. After that, I doubt that anything will be the same again.
Kirchhof (Glatt Ingenieurtechnik): Meetings with external suppliers and clients are currently taking place via video conference. Our strong IT infrastructure is allowing many of our employees to work predominantly from their own home offices. We all remain highly motivated and continue to provide all of our services in line with the high quality standards that our customers expect and that we have set for ourselves.
We have also enhanced security at our technology centre. In the field of particle design, we are continuing to carry out feasibility tests to determine the optimum conditions for continuous spray calcination, spray granulation, agglomeration and coating/core shell processes. What we cannot do at present, due to the current situation, is have our customers accompany us on these trials. However, we are making sure that all orders for contract production of granules and pellets for our customers are fulfilled.
Gusko (GoodMills Innovation GmbH): Together with our sister companies, the GoodMills mills, we are one of the systemically important suppliers of basic foodstuffs. As such, an international supply of raw materials is guaranteed. Owing to a strong order pipeline, we've actually expanded our regular shift operations. Of course, local restrictions on international border traffic and extremely long waiting times will cause problems, and might mean that not enough truck drivers are available. Here, however, we benefit from the fact that grain delivery to almost all of our nine locations in Germany is trimodal; it can be delivered by truck, rail or ship, which provides additional security of supply.
Van Hulle (Kaneka Pharma Europe): For transportation between our manufacturing plant and our European warehouse, we rely on external partners. We can manage this at the moment, however, both delivery times and costs are increasing. We do not think now is the best time to pass on these extra costs to our customers, and hope that things will level out in a relatively short period.
In your opinion, are there any lessons the industry has to learn from the crisis?
Lander (Omya International AG): Price should not be the only parameter for supply – now, more than ever, continuity, sustainability and contingency planning are key. Trust is vital too.
Gusko (GoodMills Innovation GmbH): The coronavirus crisis shows how vulnerable the global economy is and has exposed weaknesses in our systems and societies. It's possible that the epidemic will put an end to the general carelessness often seen when handling food.
We need to consider the link between the consumption of animal products and the emergence of epidemics and pandemics: intensive farming increases the risk of pandemics. There will always be mutations that spread rapidly in our globalised world and become difficult to contain.
Moreover, intensive animal husbandry threatens the efficacy of antibiotics, which could lead to further serious health risks in the future.
Van Hulle (Kaneka Pharma Europe): For me, the key word is 'origin'. As a consumer, it is good to know where your products and their ingredients are made. Do not look only for the cheapest products!
Moreover, the 'just in time' approach should be reviewed and companies and shops should build some safety supplies to avoid running out of stock.