Dairy Milk announces 30 per cent sugar reduction
The new option is part of a bigger movement for Cadbury's owner, with Boost, Jelly Babies and BelVita expected to see similar reductions.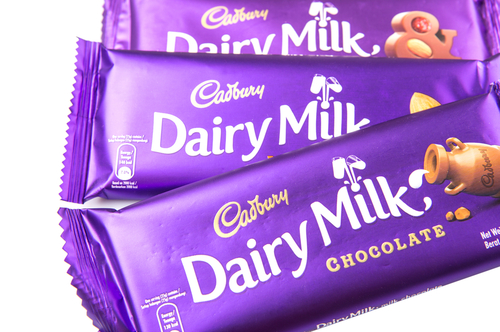 The iconic British chocolate bar, Cadbury Dairy Milk will from next year offer consumers the option of purchasing a bar containing 30 per cent less sugar. Owning company  Mondelez International wants to help consumers 'manage their sugar intake' and will launch the new bars in 2019.
The company reports that a team of 20 scientists has been working together for almost two years to accomplish its goal of delivering 30 per cent less sugar, with no artificial sweeteners, colourings or preservatives, and no increase in calories within the new Dairy Milk offering.
Utilising their understanding of flavour technologies and material science, the scientists, says the company, have successfully replaced the physical functions of sugar in solid chocolate, preserving the structure and texture of the chocolate, along with the original taste of Cadbury.
The new bar will sit alongside standard bars in the UK and Ireland, and comes as part of a bigger innovation to offer other products at reduced sugar levels. Products such as Boost, Jelly Babies and BelVita will see a decrease of up to 40 per cent in sugar content.
"Our brands have been around for hundreds of years…we are working hard to remind people of this; to help them make informed choices by providing clear nutritional information and labelling," said Glenn Caton, President of Northern Europe Mondelez International.
"Taking sugar out of products isn't easy and will take time. Ultimately, they are treats and people expect them to taste great, but we're working hard to find innovative solutions that provide more choice."
Mondelez International states that this is the "most significant innovation in the brand's history" and reflects what it says is its commitment to tackling obesity – and predominantly childhood obesity – in the UK.
Should these products be successful, Cadbury says the change may be rolled out  across other  Dairy Milk products.