British grocers reduce SKU counts in bid to compete with discounters
The UK's biggest grocery retailers are significantly reducing their product ranges to compete with discounter challengers, according to new research.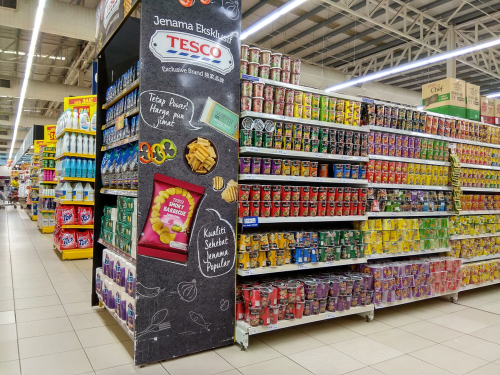 A study by supply chain and logistics consultancy, SCALA, has found that many large retailers are attempting to adopt the simpler and more streamlined approach of discounters.
Currently the typical discount retailer has 7,500 stock keeping units (SKUs), compared to 30,000 for a traditional supermarket.
As a result of streamlined product lines, SKU count will reduce by 10 per cent on average for grocery suppliers, due to instore rationalisation and reduced demand for promotional SKUs.
Tesco has already announced that it will remove as much as 30 per cent of its product lines as part of its Project Reset, begun in 2015 to drive change within the business.
In addition, the Sainsbury's and ASDA merger sees two of the UK's biggest grocery retailers combining their operations to improve efficiencies and increase buying power. The deal is expected to see consolidated operations between the two brands, with one organisation purchasing instead of two, for fewer, larger orders.
Large UK retailers are already taking lessons from the streamlined discounters with regards to order size to maximise network capacity. Average order sizes placed by the UK's largest retailers have increased by an average of 5.6 per cent since 2015, at the same time shoppers continue to move to 'little and often' purchasing of grocery and FMCG products.
John Perry, Managing Director of SCALA, said: "There is a notable drive for innovation by all retailers, small and large, in an attempt to keep shoppers interested and build reputation and loyalty. The large retailers recognise that their market share is being eroded by the expansion of discounters, with customers favouring convenience over range. But now the top retailers want a piece of this approach.
"But, as with many of the changes that have been seen within retail over the past decade or so, it's the logistics sector that has had to be innovative and extremely 'fleet of foot' in order to remain cost-effective and drive efficiencies. The aim by the country's largest supermarkets to remain competitive with the growing discounters will again place considerable pressure on logistics to achieve the required savings. The task then becomes to assess the cost to serve.
"We can see this with the ASDA and Sainsbury's merger – any change to the number, locations or function of distribution points will affect the transport operations of suppliers and it is likely that any scenario will result in winners and losers, depending on location and delivery volumes."