Robots will support, not replace, growers in the future
British growers visiting The Netherlands also learned that automating the more challenging aspects of horticulture, such as harvesting non-uniform crops, is still too far in the future to have a realistic impact on production, despite huge leaps in technological development.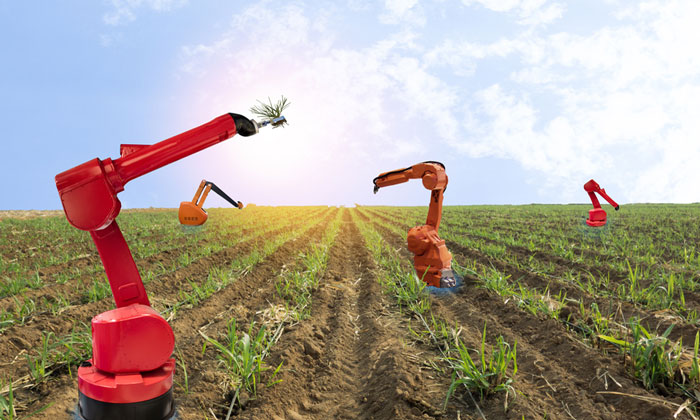 The possibilities of automation in agriculture are wide ranging
Co-robots, robots that work with humans rather than replacing them, are the future of high-tech horticultural production, according to experts at Wageningen University and Research in The Netherlands.
Twenty British growers who attended a three-day study tour in The Netherlands heard how a different generation of robots can improve productivity by lending a hand, eyes, or even extra brain-power to support growers with data and repetitive tasks.
The trip was organised as part of AHDB's new SmartHort campaign, designed in part to identify innovative solutions to address labour challenges in UK horticulture as a result of the lack of available seasonal workers.
Gracie Emeny, AHDB Knowledge Exchange Manager, said: "From visual technology like hyper-spectral cameras that can detect diseases such as botrytis and powdery mildew within the crop before its visible to human eye, to fine mechanics, or 'soft-hands,' that can graft and transplant delicate horticultural crops to help with repetitive tasks, the technology in development in the Netherlands has huge potential to aid UK enterprises."
Erik Pekkeriet, Business Development Manager, Agro Food Robotics, Wageningen University and Research, said: "My belief is that eventually we will fully robotise commercial greenhouses in the future. However, it will be a hard fight and difficult to automate all the heavily manual tasks in greenhouses.
"We are therefore looking at human-robot collaboration, using robots to scan crops, or automating the more repetitive tasks and distribution around the glasshouse, improving conditions to enable human pickers to harvest more quickly and easily."
James Broekhuizen, Anchor Nurseries, who attended the tour, said: "The potential of the innovation in development in the Netherlands is incredible, but I can't envisage a time when you won't need 'greenfingers,' experienced growers with horticultural knowledge, within a crop.
"Automated cucumber harvesters are so far away, if they're ever possible, so this can't help address our current labour needs.
"However, robots that can detect diseases earlier than growers can, or technology that facilitates harvest such as automated trolleys, are some interesting areas that could make a big difference to our business."
The three day trip included: a visit to GreenTech, an exhibition dedicated to technology in horticulture; technical presentations from leading researchers at Wageningen University with a tour of their robotics lab; and a visit to Bezoek Agriport, the world's largest orange pepper glasshouse.