Steak bite study could save meat industry millions
Using a texture analyser that mimics the human jaw, Agriculture & Horticulture Development Board experts have shown that cuts of muscle previously used for slow cooking are tender enough to be sold as fast cooking steaks.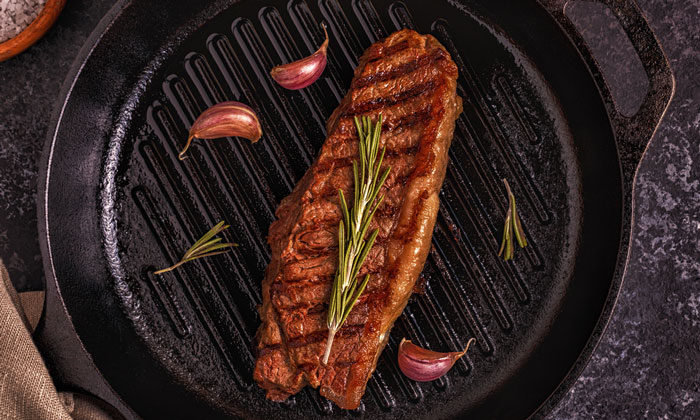 TOUGH OR TENDER: Consumer testing has shown that the label 'thin cut steak' is the best when it comes to naming quick cooking cuts
Electronic bite testing has shown that the meat industry could save more than £7 million by relabelling certain cuts of meat.
The early trials conducted by the Agriculture & Horticulture Development Board (AHDB) have shown that cuts graded as slower cook are tender enough to be turned into thin cut steaks.
As part of its work to increase carcass value, AHDB experts used a texture analyser to measure the force needed to 'bite' through a small sample of meat.
They found that meat from muscle groups often sold as slow cook, such as chuck, are suitable for quick cook thin steaks – thus increasing their value.
Early tests indicate industry could reap more than £5.2 million creating thin cut steaks from chuck and £2.5 million from the leg of mutton cut (LMC). Extensive analysis has also been carried out on beef in the US.
AHDB Beef & Lamb has also identified thin cut steaks as a new means to get consumers to eat more beef. 
Mike Whittemore, Head of Trade and Product Development at AHDB, said: "British pride lies in the quality of the beef that's produced. The 'bite test' uses shear force to measure tenderness, meaning that retailers could quantify quality and charge accordingly. It also helps to ensure consistency and boost consumer confidence in beef steak."
The human jaw is so sensitive it can detect a change in tenderness of just 0.5kgs. Research with UK beef will continue, potentially offering retailers opportunity to label thin cut steaks from good through to premium, on counters across the country. 
Within the AHDB strategy, a target to increase the value of the English beef category by three per cent has been set. Quality is also identified as a key driver of choice for consumers.
Laura Ryan, AHDB Beef & Lamb Strategy Director, said: "This is a strategic move, allowing the wider meat industry to gain more value and improve quality from every beef carcass. The research offers processors opportunity to move cuts needing to go towards lower price options, into the higher value thin cut steak category, as and when they need. 
"Most importantly, thin cut steaks meet consumer needs. Today's busy lifestyle means people are changing their eating habits and demand ease in cooking meat of any kind. These steaks can be cooked quickly, forming part of a wide range of dishes for lunch or dinner, from stir-fries, to beef salads, to fajitas and steak sandwiches. The cut also commands a price, which both generates greater value for the producer and retailer, but remains affordable for the customer."
Currently, there are a number of different names for quick cook steaks, including minute, sizzle and frying steaks, which can cause confusion for shoppers. Using consumer research, the name, 'thin cut steak' has been tested and proven to be the most effective.   
To raise awareness with shoppers, thin cut steaks will now be promoted with consumer marketing campaigns in 2018, including Great British Beef Week organised by Ladies in Beef, which starts on Monday April 23 until April 30.