Ukraine sues Poland, Slovakia and Hungary over food import bans
Ukraine has filed lawsuits to the World Trade Organization regarding its neighbouring countries' agricultural import bans, reports claim.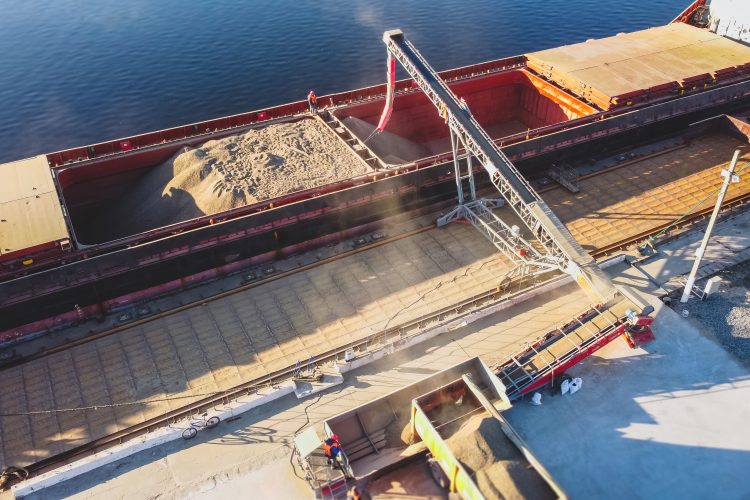 Ukraine has filed lawsuits to the World Trade Organization (WTO) against Poland, Hungary and Slovakia for their food import bans for food from Kyiv, the BBC reports.
New Food has been keeping its readers updated regarding the war in Ukraine over the course of the last year, but now the BBC has found that the country is suing its neighbours, labelling their food import restrictions as a "violation of international obligations by Ukraine's EU neighbours".
The BBC went on to find that Poland, Hungary and Slovakia had claimed the bans "are needed to protect their farmers from cheap imports".
Back in October 2022, Russia exited the Black Sea Grain deal involving Ukraine, something that caused wheat prices to increase and global food security concerns to intensify.
As a result of this, Ukraine had to divert its grain distribution and "find alternative overland routes", something the BBC says "led to large quantities of grain ending up in central Europe".
Consequently, there has been frustration and protests from farmers in various European countries, with them claiming grain shipments from Ukraine have been "undercutting them and distorting local markets".
Temporary measures
In May 2023, the European Commission imposed temporary restrictive measures on a series of Ukrainian foodstuff exports to five Member States that share a boarder with Ukraine. The European Commission also noted that a coordination platform was created, something made to "[bring] together Ukraine, Bulgaria, Hungary, Poland, Romania, Slovakia and the European Commission".
On 15 September 2023, the European Commission declared "thanks to the work of the Coordination Platform and to the temporary measures introduced on 2 May 2023, the market distortions in the five Member States bordering Ukraine have disappeared".
It went on to state that "existing measures" would expire on 15 September, and that Ukraine has "agreed to introduce any legal measures (including, for example, an export licensing system) within 30 days to avoid grain surges".
However, the BBC has found that, on the day of the deadline, governments in Budapest, Warsaw and Bratislava "[announced their] own restrictions". What's more, according to a statement from Yulia Svyrydenko, First Deputy Prime Minister Ukraine, "on September 15, 2023, Slovakia, Poland, and Hungary unilaterally imposed a national ban on the import of agricultural products from Ukraine".
From 16 September 2023, the European Commission said that Ukraine was to put "effective measures" in place as a way to "control the export of four groups of goods in order to prevent any market distortions in the neighbouring Member States". It also highlights that Ukraine would have to submit an Action Plan to the platform "no later than close-of-business on Monday 18 September 2023".
In response to the legal action being taken by Ukraine, Svyrydenko, explained: "For us, it is crucial to demonstrate that certain member states cannot prohibit the import of Ukrainian goods. That is why we are filing lawsuits against them in the WTO.
"At the same time, we hope that these states will lift their restrictions, and we won't have to resolve the matter in courts for too long."
Svyrydenko went on to say that Ukraine "need[s] solidarity" from its neighbouring countries as well as "protection of [its] farmers interests".
 "The steps we have initiated and the pressure from the European Commission and other member states will help restore normal trade between Ukraine and neighbouring countries and demonstrate solidarity among us," concluded Svyrydenko.
Sharing his opinion on the matter, Chris Elliott, Professor of Food Safety at Queen's University Belfast, said: "There is no doubt the grain wars are an important part of the Ukraine war. There has been growing tensions in a number of large grain producing countries in the EU about Ukraine 'dumping' wheat in their territory and causing massive drops in there income for home produced product.
"This has been due to the Russian withdrawal from the Black Sea agreement that allowed passage of cereals out of Ukraine through the sea corridor. They are now using the land corridor which leads directly into neighbouring countries," Elliott stated.
"They are now using the land corridor which leads directly into neighbouring countries. While there is much sympathy and support for the plight of Ukraine across most of the EU this change of supply routes is causing farmers in particular to voice their anger which has led to political responses around protecting home produce and markets. All this is happening at a time when supplies of cereals into the most needed parts of the world have been badly disputed by the Russian invasion," concluded Elliott