Vikan launches flexible hygienic wall bracket solution
Hygienic cleaning tools and systems manufacturer Vikan has announced a range of new storage products which it says will help staff locate utensils even more quickly.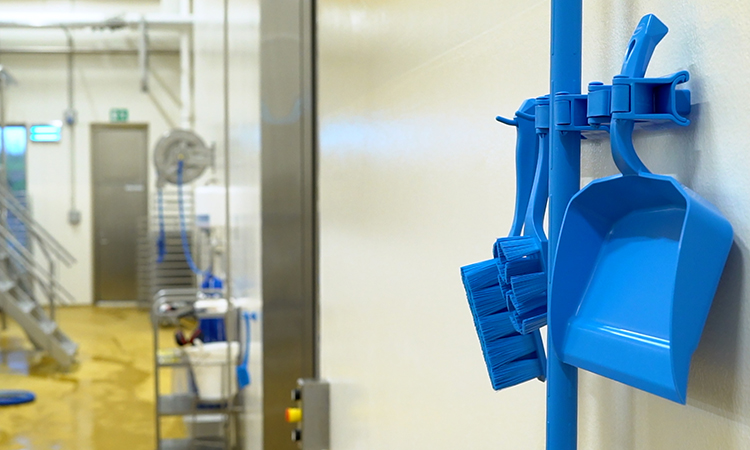 Vikan says its new storage system will make it easier for staff to locate cleaning tools
Vikan, a manufacturer of hygienic cleaning tools and systems, has announced the launch of a new cleaning-tool storage solution – the Hi-Flex Wall Bracket System.
This system, which consists of four separate products, is intended for use in food processing plants, industrial kitchens, supermarkets, restaurants, canteens and other facilities where food and beverages are produced, processed, served or sold.
Conceived as a wall bracket (grip and hook modules are separately available), Vikan says the system is easy to install and provides flexible storage of up to five tools. 
"Proper cleaning tool and utensil storage helps staff locate equipment more quickly and extends the service life of these valuable items," said Jette Fruergaard, Vikan's hygiene product manager.
"This new system helps our customers achieve that, while also ensuring hygiene by reducing the risk of cross-contamination and demonstrating appropriate equipment care and control to auditors."
The four products in the system are:
The Hygienic Hi-Flex Wall Bracket System (1011x), which stores up to five products via attachable hooks and grip bands
The Single Hook module (1012) for storing individual products with hanging holes
The Grip Band module (1013), which stores almost any product with a handle
The Double Hook module (1014x) for storing two products with hanging holes
While the Hi-flex Wall Bracket System is intended for storing several products in the same place, Vikan says the single and double modules will meet the need to store any product even in very small spaces.