Child hunger remains prevalent in UK schools, survey reveals
In a study of UK teachers carried out in this new academic year, almost a third reported an increase in child hunger compared to this time last year.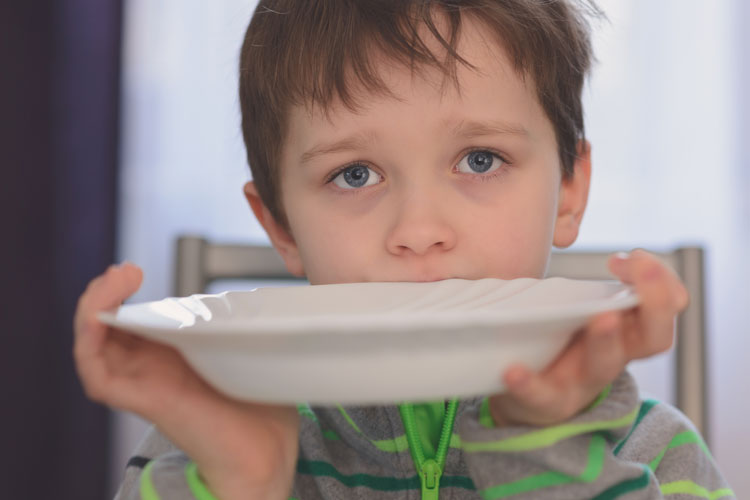 Food giant Heinz conducted an online survey – along with children's charity, Magic Breakfast – of primary and secondary school teachers in the UK to study the issue of child poverty and assess its impact.
Twenty-eight percent of the teachers surveyed, reported that the number of children coming into school without having eaten breakfast has increased, when they compare this to the start of the autumn term in 2019. In schools with above average levels of disadvantaged children, this figure rises to 43 percent.
Worryingly, this situation is compounded by reports from 44 percent of respondents that this new school year has seen a reduction in the number of teaching staff available to assist with the general welfare of children. More than two thirds of the surveyed teachers (69 percent) said they expect that when the Government furlough scheme ends in October, there will be even greater numbers of children coming to school hungry.
Impacts of child hunger 
According to the poll of 529 primary and secondary teachers, almost all agreed that children who don't eat breakfast have reduced productivity levels throughout the morning (93 percent), while 92 percent said children who do not eat breakfast in the mornings are more tired at school. When considering the long-term impact of this, 87 percent of teachers agreed that children who do not regularly eat a substantial breakfast in the morning, before their lessons begin, could fall behind academically compared to those who do eat a substantial breakfast regularly.
Heinz recently joined Marcus Rashford's Child Food Poverty Task Force, which is looking to raise awareness of the extent and impact of child food poverty. This new research aims to not only assess how teachers are adjusting post-lockdown, but also reveal the attitudes of children aged five to 15 from lower income families and their feelings towards eating breakfast. This comes as a reported one in five children are at risk of starting the school day hungry;1 making the issue more pressing than ever before. 
To illustrate this, Heinz has launched a new film 'Silence the Rumble' showing the effect that hunger can have on a child. It forms part of a wider five-year partnership between Heinz and Magic Breakfast, wherein No Added Sugar Beanz is being provided as a nutritious breakfasts for children across the UK so that no child is too hungry to learn.
Matt Mill, Marketing & Brand Build Lead at Heinz Beanz, said, "Our Silence the Rumble research and campaign brings to life the harsh realities that schoolteachers and children from disadvantaged backgrounds are currently facing." 
Alex Cunningham, CEO of Magic Breakfast, added: "Unfortunately, the results of this research show how much more there is left to do to tackle child hunger as a barrier to learning, especially given the greater hardship facing many families in light of the pandemic. 
"As this research highlights, the food we are providing for thousands of children is a vital and immediate response to the hunger in our schools. As well as supplying No Added Sugar Beanz as part of our breakfast provision, Heinz is also helping us to raise awareness and show the extent a child's life can be negatively impacted by missing out on a nutritious breakfast before lessons."
The existence and extent of this plight has been signalled by Marcus Rashford, England International Footballer, who said: "Breakfast Club played an integral part in my life. Not only did it guarantee that I had fuel to sustain the day and really engage in learning, but it is where I formed my life friendships…
"People claim education is the best means of combating poverty, but that formula is only successful if children are able to engage with learning. No child can engage and sustain concentration on an empty stomach." 
"There is a clear link between hunger and educational attainment," added Emma Lewell-Buck, MP for South Shields. "The fact is that no matter how bright or talented a child is they will struggle to concentrate if they are hungry. Yet this survey confirms this is the case for too many children.
 "In one of the richest countries in the world after years of austerity and now the coronavirus pandemic, children are arriving at school hungry and their schools, after repeated funding cuts, are struggling to provide them with that crucial first meal of the day.
"That is why I will be presenting a School Breakfast Bill to Parliament next month. The Bill seeks to ensure schools receive the funding they need to provide a free school breakfast to children who are at risk of hunger."
References
Pereira, A.L., Handa, S. and Holmqvist, G. Prevalence. Correlates of Food Insecurity Among Children Across the Globe, Innocenti Working Paper, UNICEF Office of Research, Florence. 2017