Report claims UK supermarkets failing in fish sustainability responsibilities
A report has suggested UK supermarkets are failing to protect our oceans, with UK shoppers unknowingly consuming 2.5 times more fish than they think.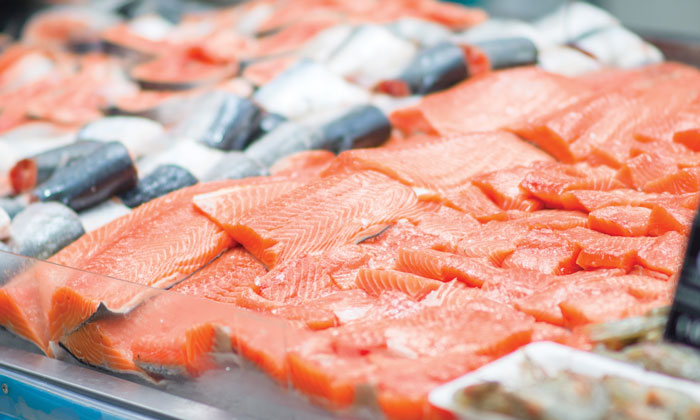 'Caught Out', by the Changing Markets Foundation and Feedback, has suggested that UK supermarkets are failing in their responsibility to protect our oceans, as seven out of the 10 supermarkets received less than 30 percent on the fish feed sustainability scorecard. ALDI finished bottom of the list on 12 percent, Waitrose 22 percent and Tesco was the only store to achieve a score over 50 percent.
The report also found that UK shoppers indirectly and unknowingly consumed 177,000 tonnes of wild fish in 2019 by eating the top six farmed fish species including salmon and prawns, which are fed on fishmeal and fish oil (FMFO). The report claimed that this equates to a 'hidden' 172g of wild fish consumed for every 100g of farmed fish eaten,1 almost all of which could have been eaten directly by people.2
Jessica Sinclair Taylor from Feedback said: "Supermarkets have enormous power over supplier standards and the choices their customers make, and seafood selection is no different.
"By prominently marketing farmed seafood like salmon and prawns which are fed on wild fish and crustaceans, retailers are promoting an extractive industry which is threatening the long-term health of our oceans.
"Behind the blue planet rhetoric, supermarkets need to get real about the impact of aquaculture, and commit to targets to end the use of wild fish in aquaculture feed.
"UK supermarkets make bold claims about the sustainability of the farmed fish that they sell, however, our research has found that these claims are not backed up by the reality of how their farmed fish is produced.
"Our investigations have shown that the UK's leading retailers are linked to highly destructive fishing practices in Africa and Southeast Asia which are devastating marine ecosystems and depriving people of food.
"UK shoppers will be shocked to learn that for every 100g of farmed fish they are eating, they are consuming more than 172g of wild fish as well, which is taking food away from vulnerable communities and causing disastrous environmental impacts.
"By turning a blind eye to this, retailers are both failing in their responsibility to preserve the oceans and misleading their customers by hiding the true impact of their products."
The report has called on supermarkets to:
Phase out the use of FMFO sourced from wild-caught fish in its aquaculture supply chain by 2025 at the latest
Commit to offering a wide range of seafood – including a greater diversity of sustainably caught wild and farmed seafood that doesn't rely on wild fish in feed, such as mussels
Adopt high standards of transparency and corporate policy on their suppliers, including full disclosure of suppliers – from source fisheries upwards
Reduce reliance on certification as a proxy for sustainability by developing their own robust and transparent standards for sustainably produced seafood, including farmed seafood.
The report called on customers to:
Diversify their consumption of seafood to include a wider range of sustainably fished wild species, as well as farmed species (such as mussels) that do not rely on feed containing FMFO
Stop buying farmed salmon and prawns until products are available that incorporate sustainable alternatives to wild marine ingredients.
Show companies they care by contacting retailers requesting higher standards on farmed seafood.
References 
1. See appendix A of 'Caught Out' report.
2. Wild fish is used to produce fish oil and fishmeal. This figure is based on the 103,000 tonnes of the top farmed species (salmon, trout, seabass, seabream, prawns and basa) consumed by the UK population in 2019. It was calculated by quantifying the wild fish needed to produce fish oil required for salmon, trout seabass and sea bream consumed by the UK population. In the model, prawns and basa were fed on fishmeal created in the process of producing fish oil.