"Most realistic" plant-based steak revealed by Spanish company
A Spanish company is calling its new plant-based steak the 'most realistic' to date.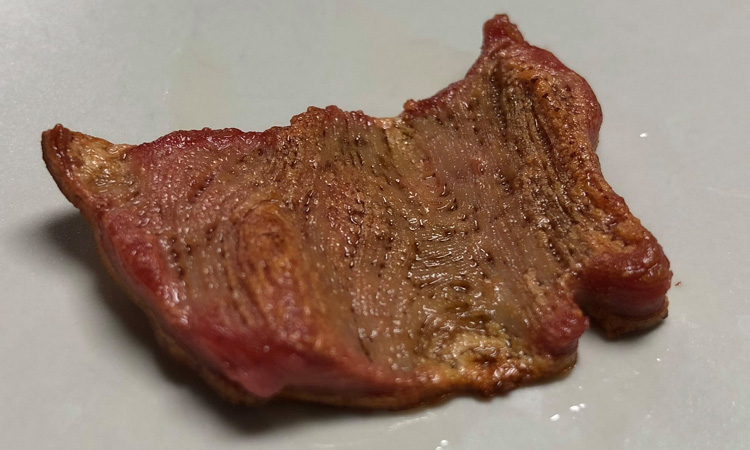 The Novameat steak cooked rare. Credit: Novameat
Novameat, a Spanish company, says it has revealed the 'most realistic' plant-based steak to date, which mimics the texture and appearance of a real cut of meat.
According to The Guardian, its ingredients include pea, seaweed and beetroot juice, which are extruded into fine fibres to recreate muscle tissue. The company has said that the product will be available in restaurants in Spain and Italy in 2020, with plans to scale up into other countries and supermarkets 2021.
"I started with steak because it is the holy grail of plant-based meat," said Giuseppe Scionti, Founder of Novameat. The company also produced a 3D-printed steak in 2018, but this new steak is said to be an improved version with the firm, fibrous texture and meaty appearance of a real steak.
The key to their plant-based steak is patented micro-extrusion technology that produces fibres between 100 and 500 microns in diameter. This allows the structure of real meat to be replicated effectively, with muscle fibres and fat entwined.
The 50g steak currently costs £1.15 produce, but The Guardian report suggests that the cost will drop when the process is scaled up.
Scionti explained that plant-based alternatives do not contain cholesterol, or the hormones and antibiotics often found in meat. Moreover, beneficial ingredients such as omega-3 fatty acids could be added in the future.  
"We believe it is important to provide an alternative," said Scionti. "This will help in the long term to decrease the need for land, water, energy and, of course, reduce the emissions coming from animal agriculture. "We want to be better than the other companies, but we are all in the same boat. We want to be remembered for doing something good at this moment when the planet needs alternatives to meat. "
Related organisations
Related people