"We can't change the chocolate industry on our own"
With ethical ingredient sourcing at the forefront of Tony Chocolonely's mind, Nicola Matthews explains the brand's mission to make 100 percent slave-free the norm in chocolate.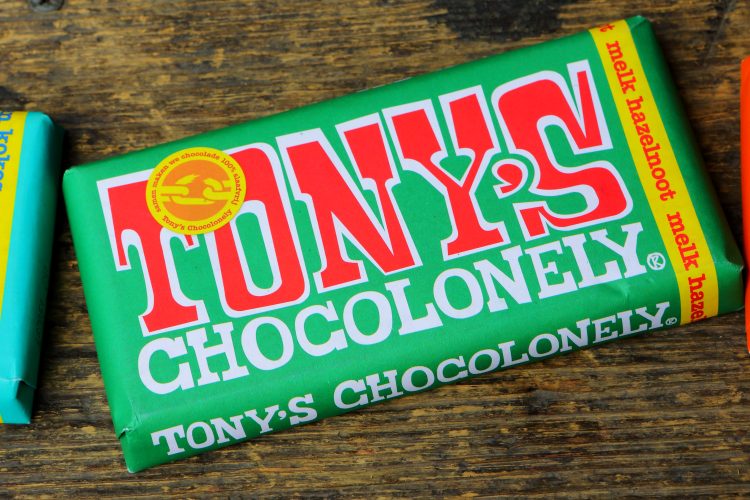 As an impact company that makes chocolate, Tony's Chocolonely puts social impact before profit. Our collective vision is to make chocolate 100 percent slave free. Not just our own chocolate, but all chocolate worldwide. 
Tony's Chocolonely was founded in 2005 by three journalists from the Dutch TV show 'Keuringsdienst van Waarde' after they discovered that the world's largest chocolate manufacturers were buying cocoa from plantations that used child labour and modern slavery.  The root cause of this is poverty – cocoa farmers are not paid enough for their cocoa and some have no choice but to have their children work on the farms.
Since then, Tony's Chocolonely has dedicated its efforts to raising awareness of and eliminating inequality in the chocolate industry. Tony's leads by example, building direct, long-term relationships with cocoa farmers in Ghana and Côte d'Ivoire, paying them a higher price and working together to solve the underlying causes of modern slavery and child labour. 
Standing out for setting standards
When Tony's Chocolonely was founded in 2005 there were no chocolate brands available that used traceable cocoa or paid farmers enough to earn a living income. Even Fairtrade wasn't fully traceable back then.
Over the last 17 years, Tony's has flown the flag for treating cocoa farmers more equally in the value chain and has inspired many brands and companies to do the same.
Not only do the ethically sourced ingredients stand out, but so does the colourful packaging. The original Tony's wrapper was designed by Arjen Klinkenberg (or just Klink to Team Tony's). It was a milk chocolate bar and he chose an alarming red wrapper to draw attention to the alarming issue of modern slavery in the cocoa supply chain.
We are a challenger brand at heart, so our bars are rainbow-coloured to draw attention to them – we never use any brown. Chocolate is inherently an impulse product so it's crucial shoppers notice us on the shelves.
Leading by ethical example
Tony's Chocolonely leads by example by showing the chocolate industry that it is possible to make delicious chocolate, and be a successful mass-market brand, without exploiting those at the start of the supply chain.
We have been developing our five sourcing principles since 2012 which have now been proven to dramatically reduce child labour from the industry average (46.5 percent to 4.3 percent).
The first sourcing principle is having 100 percent traceability. Our cocoa is fully traceable from the cooperative to the final product. Most big chocolate companies trade cocoa as a commodity and have no idea where it comes from or the conditions under which it has been farmed.
We trade directly with 15,000 farmers across nine cooperatives in Ghana and Côte d'Ivoire and treat them as equal business partners. Our beans are tracked at every step of their journey using our bean tracker technology.  Full traceability also allows us to GPS map the farms we source from to ensure there is no illegal deforestation, and to cover 100 percent of the farms with the Child Labour Monitoring and Remediation System.
We don't believe profits should be maximised at the expense of cocoa farmers' livelihoods.
The root cause of illegal labour in the chocolate industry is poverty, so it's essential that all chocolate companies pay a higher price, and this is our second sourcing principle. Tony's pays the Living Income Reference Price, developed in association with Fairtrade for cocoa. We also pay the Fairtrade premium on top of the farmgate price and then the Tony's premium on top to ensure farmers are enabled to earn a living income. That means this chocolate season Tony's are paying between 76 percent and 82 percent more than the farmgate price for our cocoa – this highlights further how little most chocolate brands, who mostly pay only the farmgate price, are paying for their cocoa so they can maximise their profits.
Empowering farmers
Sourcing principles three and four are about working closely with farmer cooperatives to support farmers to become more professional and empowered in the supply chain, and we work with them for at least five years. Long-term partnerships mean cocoa farmers can make long-term plans and invest for the future, for example in planting new cocoa trees or upgrading farming equipment.
Finally, we support farmers with agroforestry practices to enable them to improve the quality and yield of their cocoa which means they can optimise their income from the crop.
All five of these sourcing principles have to be implemented together as they work in a delicate system.
This means no cherry picking. 
These principles are now proven, but we can't change the chocolate industry on our own. We need other companies who buy cocoa to join us, and we have made our five sourcing principles open source via Tony's Open Chain to facilitate this. We've already welcomed incredible mission allies such as Aldi, Albert Heijn and Ben and Jerry's and look forward to welcoming more in the coming years as we collaborate to make all chocolate 100 percent slave free.
Our way or the high way
We are very focussed on our mission to make 100 percent slave-free the norm in chocolate. To do that, we have to become a credible chocolate brand and be taken seriously by the big chocolate companies; they need to see our sourcing model as viable and scalable.
To grow we have to compete in all major chocolate segments, but we will always aim to launch products that are 'only Tony's', we don't want to blend in. So, you can expect to see lots more crazy flavours and delicious Tony's products in lots of new categories in the coming years.
About the author

Nicola Matthews is UK & Ireland Head of Marketing at Tony's Chocolonely. Nicola has 12 years of marketing and innovation experience from time spent at Diageo, startup CocoPro and now Tony's. Her favourite Tony's bar is milk caramel biscuit.