What is next for the meat-free category?
Chris Doe explains why he thinks changing consumer perceptions of meat-free products can be achieved through innovation.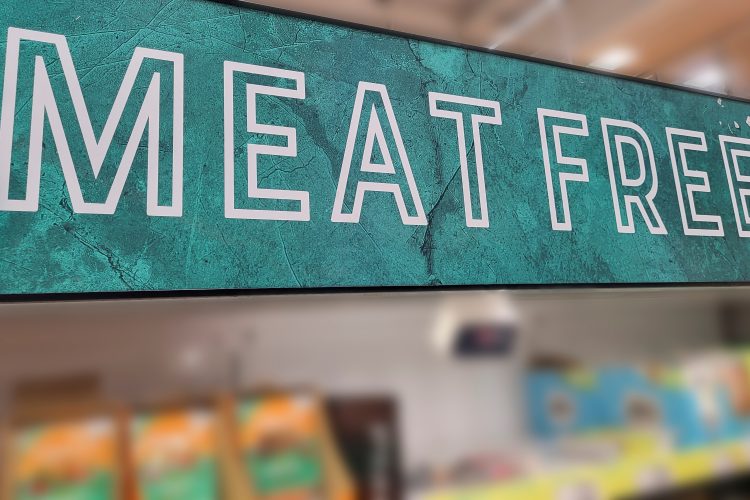 The meat-free category has flourished over the last five years, with more shoppers than ever swapping meat for meat-free alternatives.
Meat-free products have become more mainstream, with household penetration now at an impressive 49.8percent,1 and this has driven the category to be worth a phenomenal £531million.2
The wealth of innovative new product development (NPD) has helped grow visibility and excitement around the category, enabling shoppers unparalleled access to meat-free products in stores across the UK.
What is holding shoppers back from meat-free purchases?
Despite increased awareness and availability, there is still a long way to go before the category gains parity with meat. If NPD and innovation is pushing the category forward, what is holding shoppers back?  
The simple answer is shoppers' perception of meat-free products can be somewhat outdated and inaccurate – that they don't taste as good as their meat counterparts. As an industry, we need to tackle these perceptions head on.
One way to do this is for brands to continue to enhance recipes but the other piece of the puzzle is to reassure shoppers that meat-free products have come a long way in the past few years and empower them to add them to their meals. As the third biggest brand in the meat-free space and the 49th  biggest brand in grocery,3 we know we have a role to play in driving further category awareness.
Ongoing innovations
Reproducing the taste and texture of meat is a huge undertaking but exciting new innovations are happening every day. We're committed to continually improving our recipes and in 2023 we will be debuting new formulations for our top meat-free products, starting with our Meat-Free Mince and the Meat-Free Sausages, which are number one in the category.4  The new Meat-Free Mince recipe is based on pea protein, which looks, cooks, and tastes like beef mince.
In addition to developing meat-free products from a taste perspective, it's the responsibility of big brands to change public perceptions and support the category by generating awareness of meat-free products and their benefits. In a recent poll of UK consumers, commissioned by Pilgrim's Food Masters, 13 percent of respondents said that they never think to shop for meat-free products.5 But it's up to brands to change this.
Big brands which operate in the meat-free and meat space, are in the best position to change public perceptions of the whole meat-free category by leveraging their brand name and showcasing their latest innovations on a large scale.
Will plant-based meat alternatives ever be as popular as meat?
We're a brand that customers already love and trust, having bought into our popular pork sausages for many years. For many customers yet to trial meat-free we are a safe gateway into the category. In fact, Richmond has brought more new shoppers, about 2.5 million, into the meat-free category since the launch of Richmond Meat-Free in September 2019 – more than any of our closest competitors.6
That's why we take the awareness piece very seriously and encourage other brands to do the same. We've redesigned all our packaging to include enticing photography, built exciting influencer collaborations and continue to share meat-free recipes on our website. We're supporting our reinvigorated Meat-Free range with a major marketing campaign, social media, VOD and billboards across the nation, focusing on the great taste and texture of the products. Through showcasing mouth-watering images of meat-free products which look as good as meat, spotlighting lasagne as a classic family favourite, we aim to reassure people that they're in safe hands when choosing meat-free products. It's important that brands tackle negative perceptions of meat-free products in their campaigns, because otherwise it will take much longer for the reputation of the category to change.
In addition to challenging outdated views about the taste of meat-free products, brands need to lead on ensuring there is more education on how to cook meat-free products and meal inspiration to help fill shoppers with confidence when bringing meat-free products into their home-cooked meals. To tackle this, we will be developing recipe cards and showcasing top recipes suggestions on our packaging, so that even the most cautious shopper feels empowered and inspired to cook delicious meat-free meals.
We're now living in a new era where meat-free products are becoming increasingly prevalent, but the public still needs time to catch up. NPD and new updated recipes will help keep shoppers coming back for more but changing perceptions will be key for the future of the category.
Looking to the future, growth will come from shoppers who consume both meat and meat-free products so the reality is that there will always be a comparison between the two.7 This makes it more important than ever for brands to keep improving their meat-free formulations so that consumers gain confidence to choose meat-free options.
References
1.  Kantar, Data Explorer (Penetration percent), Total Meat Free, L52w to 27.11.22
2. IRI, Total Meat Substitutes, Value Sales, L52w to 30.10.22
3. IRI, 12 w/e May 2022
4.  IRI Data to 10.07.2022
5.  Research conducted in partnership with Opinium.  2,000 UK adults were surveyed between 9th December 2022 – 13th December 2022.
6.  Kantar L52 12.06.22
7.  Kantar, Data Explorer (Buyers), Total Meat Free, L52w to 29.11.20 vs L52w to 27.11.22
About the author

Chris Doe is the  GB Marketing Controller at Pilgrim's Food Masters
Related organisations
Related regions