Toasting tariff-free trade
Joshua Minchin reports from the US Embassy as the spirits sector celebrates an end to transatlantic tariffs on products such as whiskey, gin and cognac, which has blighted trade between the three trading partners for nearly four years.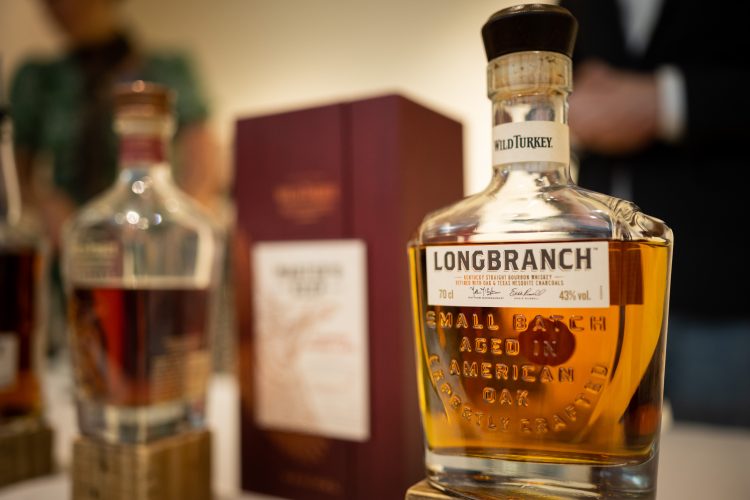 Products such as Wild Turkey's Longbranch have had a hard time over the last four years Credit: Credit: DISCUS
For the last 70 years at least, the relations between the UK, US and EU could only be described as affable. Like all siblings and close friends, there have been squabbles, but nothing that could not be resolved quickly.
That's not true of trade however. For some time, transatlantic trade has become embroiled in a tit-for-tat war of tariffs that has harmed many industries and sectors, but none more than the spirits trade.
But, at the US Embassy on Tuesday 5 July 2022, the Distilled Spirits Council of the United States (DISCUS) celebrated the end of transatlantic tariffs on spirits and other beverages.
In a gathering of the sector, glasses were raised as, what has been described as a "four-year nightmare", came to an end. It was a war this industry should never have been dragged into, and one that has inflicted severe pain on both large and small manufacturers, as they suddenly found themselves paying tariffs for the first time in decades.
Now that peace (in a trade sense) has broken out between the US and the UK, it's perhaps a good time to reflect both on why we found ourselves in the mess that we did, and what the resolution of the dispute means for the whisky and spirits sector.
What are tariffs and why were they imposed?
Tariffs are a charge placed on imported goods, usually to protect domestic products and convince consumers to buy local produce. The importer pays the charge and often passes this on to the consumer via higher retail prices.
In this particular instance however, tariffs were not imposed to protect the domestic whisky of the UK and US respectively – they are very different products and are more than capable of operating in the same space (as they have done successfully for decades).
Instead, punitive tariffs were imposed by the US, UK and EU after a longstanding dispute over subsidies given to Boeing and Airbus, respectively, and steel and aluminium imports. As conflict escalated, naturally more and more products were sucked into the trade war, which eventually encompassed the spirits sector.
Four years of hurt
After two decades of free trade, Scotch, Irish whiskey, American whiskey, gin and cognac retailers all found themselves paying high tariffs. And it hurt.
The Scotch Whisky Association (SWA) claims that between 1997-2017, when there were no tariffs, bilateral trade in whiskies increased 212 percent (from $453 million to $1.41 billion). But during just three years of brutal tariffs, trade decreased by 35 percent, falling from $1.51 billion to $982 million.
"Those are jobs. Those are livelihoods. Those are great American products. Those are great UK products and great EU products," said Chris Swonger, CEO of DISCUS said in his speech on 5 July.
"The impact of the tariffs on us at the Distilled Spirits Council was high anxiety, but it was also a great impact on small businesses and great companies that had been in the UK market for a long time," he added.
"Since tariffs were first imposed on American whiskeys in 2018 and on Scotch whiskey in 2019, we hammered away to say that whatever disputes other sectors find themselves in, whether that's steel, aluminium, aviation between Boeing and Airbus, it is not right that industries like ours have to pay the price," said Tom Sallis, CEO of the Scotch Whisky Association (SWA).
"Our view is a very clear one and it's that whiskey should not be used as leverage or collateral damage for other people's 'beef' [disputes]. Our workers, whether it be in distilleries, marketing, or tourism roles, all deserve more than that, as do their families."
A much-needed ceasefire
A change of regime in the White House has appeared to have softened relations between the US and the EU (and the UK, as the country is negotiating its own deals post-Brexit).
The tariffs were slowly dropped, until finally the last piece in the jigsaw – UK-imposed tariffs on American whiskey – were also suspended.
"This was the end of a four-year longstanding nightmare for our industry," said Swonger. "President Biden committed when he came into office that he was going to reset the relationships between the US, EU and UK – and he's done that, so great credit goes to him."
"Securing the return to zero-for-zero tariffs would not have been possible without the dedication and strong leadership of UK Secretary of State for International Trade, Rt. Hon Anne-Marie Trevelyan MP and her predecessor Rt. Hon Liz Truss MP, US Secretary of Commerce Gina Raimondo, and Ambassador Katherine Tai. We thank them and their teams for their determination to end tariffs on our sectors," said the SWA in a statement.
A return to the good times?
The mood at the embassy during the event was jubilant. Sixteen whiskey manufacturers, including the likes of Beam Suntory, Brown Forman and Wild Turkey (and several smaller, craft distillers), displayed several of their expressions, with whisky cocktails available at the bar.
Speaking with some of those manufacturers, the message was a unified one: tariffs are bad and scrapping them can only be a good thing.
"We are so delighted to be here because we want more people to enjoy our whiskey," said David Miles, representing Beam Suntory. "If you get rid of the tariffs, more people can enjoy our whiskey and can enjoy our neighbours' and colleagues' whiskey. The world is only going to be a better place when more and more people are enjoying more and more good whiskey."
As much as Beam Suntory (which manufactures big brands such as Jim Beam, Maker's Mark and Laphroiag) would have been affected heavily by the tariff war, the devastation wreaked on smaller brands was perhaps more keenly felt.
"The tariffs created a really big hurdle to sell in the UK. Between the exchange rate and the high taxes in Europe and the UK, it's very difficult to take a product that we make and sell in the US and put it on a shelf here [in the UK] where it'll be accessible to the consumer. Then when you add on that extra tariff, it just became untenable," said Dave Schmier, Founder of Proof and Wood, which finishes select whiskies in Indiana and Kentucky.
This sentiment was echoed by Lance Winters, Master Distiller at St George Spirits: "The drop in tariffs is so vitally important, especially for small businesses like ours, because we need to be able to have market access, and we need to be able to dedicate as much of our budget to education as possible."
There is a real optimism among the whiskey sector in particular that this can be a launchpad for the continued growth of a sector that has gone from strength to strength in recent years.
"We look forward to playing our part in growing trade between our two great countries in strengthening the special relationship which exists between the US and the UK," said Swonger. "We've got world class whiskeys on both sides of Atlantic to shoot."
In the end, the final word goes to Chris Dennis, representing Wild Turkey, who summed up the effect of zero-tariff trade rather neatly: "The only good tariff is a tariff that no longer exists. Give whiskey to the people. The easier we can do that, the better it is for everyone."