Alcohol-free – I'll drink to that!
New Food's Editor gets the lowdown on low/no, as she speaks to a selection of leading adult beverage companies about the rise of alcohol-free drinking.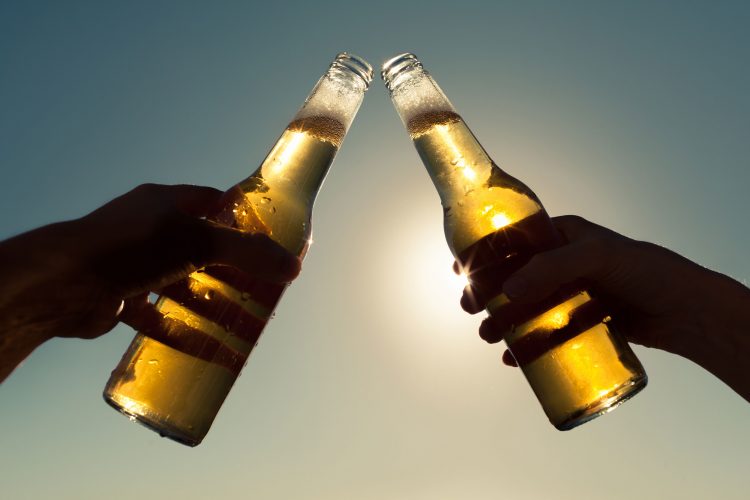 The Dry January challenge was initiated nine years ago with 4,000 people taking part; last year that number reached 130,000.
It's no surprise we're seeing an upward trend for low/no alcohol across the globe as consumers become more health aware. It's estimated that around 45 percent of the world's population are non-drinkers,1 although this can be attributed to other reasons too such as religion and driving responsibilities.
"More people are choosing to moderate their alcohol consumption, and we must adapt to the changing consumer needs," James Crampton, Corporate Affairs Director, Heineken UK, told New Food.
Indeed, just as Veganuary has penetrated other months of the year, Dry Jan may become more a lifestyle choice than a one-off month of abstinence. In 2019, non-alcoholic beer sales grew by 58 percent in the UK.2
"We believe in 'Always a Choice' – whenever a consumer encounters one of our beers or ciders, we want to make sure that there is an alcohol-free option proudly sitting alongside," Crampton explained.
As of 2020, Heineken has over 130 non‑alcoholic line extensions and Crampton informed New Food that it will continue to invest in innovations across its low/no portfolio.
"By 2023, Heineken will ensure two zero-alcohol options are available in the majority of markets. In the UK though, we want to go one better – and by 2025, we are determined that there will be as many Heineken 0.0 Draught taps as Heineken Original taps," he added.
"Unlike other alcohol-free draught dispense systems, Heineken 0.0 Draught doesn't require any preservatives and utilises the existing cellar equipment, which means it can be served alongside alcoholic beers, normalising alcohol-free beer."
Alongside Heineken, many other manufacturers have embraced this new trend including Carlsberg and Diageo.
"We saw sales of our full range grow by 61.1 percent – with San Miguel 0,0 growing an incredible 105.1 percent, and number one alcohol-free speciality beer brand ERDINGER sales up 41.1 percent," John Clements, VP of Marketing at Carlsberg Marston's Brewing Company, commented. "Brooklyn Special Effects is now the number three alcohol‑free craft beer brand, growing volume and value share significantly vs 2019."
In the US, we're even witnessing the launch of 'dry' off-licenses such as Boisson and Spirited Away. In our latest issue of New Food, Christopher Lackner, Co-founder of jeng, explains that the rise of cannabis may be influencing our drinking habits, with many opting for a 'high' rather than the buzz of a tipple.
Similarly in the UK, a number of alcohol‑free pop-ups have emerged; it'll be interesting to see whether the trend of zero-booze permeates into more permanent structures in Britain.
This innovation within zero-alcohol could open up significant opportunities in new markets such as the Middle East, where in many territories the sale of alcohol is prohibited. Certainly, it's a market that beverage manufacturers should be exploring if they want to stay ahead of the curve and expand into new locations, but equally this isn't the end of alcohol – rather it's a new era of adult drinking.
"It would be fair to say that in the past two years, we've developed a new appreciation for non-alcoholic cocktails and authentic botanical beverages," Andrew Jackson, Marketing Director at Fentimans, noted. "We can still drink alcoholic beverages in moderation, and they can be equally enjoyable, but the rise of the sober curious is proving that what constitutes an adult drink doesn't exclude non-alcoholic options."
The volume of alcoholic beverages consumed per capita in the UK fell by 22 percent in 2019-21,3 and although Jackson notes that sales will recover by 2025, he believes "the amount [of alcohol] we drink won't match its pre-pandemic level".
But if the zero or low option tastes just as good and the next day doesn't result in a sore head, then what's not to like?
References
2013 P21. 10. Half the world's adults do not drink alcohol – what should the policy implications be? [Internet]. Frontpage. [cited 2022Feb7]. Available from: http://www.add-resources.org/half-the-worlds-adults-do-not-drink-alcohol-what-should-the-policy-implications-be.5325474-315780.html
The increasing popularity of non-alcoholic beers in the UK and globally [Internet]. Clearmark. [cited 2022Feb7].
Available from: http://www.clearmark.uk/resources/news/the-increasing-popularity-of-non-alcoholic-beers-in-the-uk-and-globally
Published by Statista Research Department, 12 D. Alcoholic beverage per capita volume UK 2012-2025 [Internet]. Statista. 2021 [cited 2022Feb7]. Available from: https://www.statista.com/forecasts/755595/alcohol-consumption-in-liters-per-head-in-the-united-kingdom
You may also like: