For the love of pizza
New Food gains insight into one of the world's favourite pizza brands and the innovative process behind its doughs.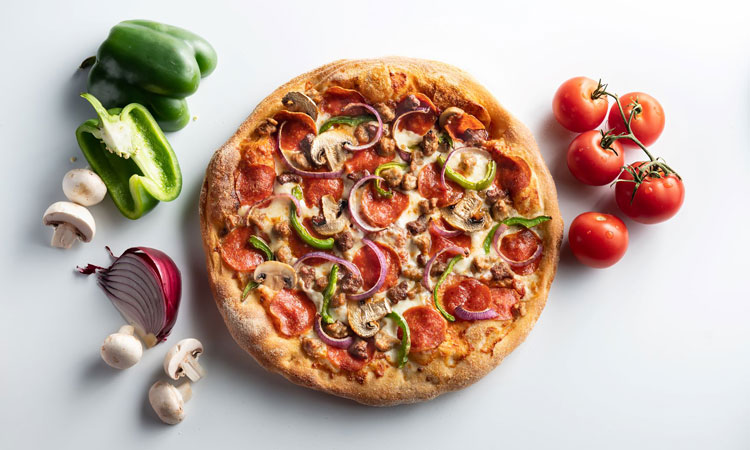 Currently serving its famed products in 110 countries and almost 18,000 restaurants, attention to detail is critical for the Pizza Hut team – whether it's delivering to regulations or expectations. Bethan Grylls hears from Ana Maria Rodriguez, Chief Food Innovation and Quality Officer at Pizza Hut International, and Keith Griffiths, Head of Food, Innovation & Technology UK & Europe, YUM! (the company that operates the Pizza Hut restaurants, KFC and Taco Bell) to learn more about the pizza originally created by the Carney brothers.
Dough it the right way
Known for its variety of bases, including the renowned deep pan, Pizza Hut's method of dough making is very important to the brand.
"Good flour is key," noted Griffiths. "As with anything, if you put good in, you get good out.
"Each base has its own characteristic, which is modified through the formulation. But it all starts with that base – if the flour isn't right, nothing will be."
Each formula and procedure differs slightly to attain the individual taste and textural enjoyment of the brand's range. The San Francisco pizza is "a careful balance of only natural ingredients prepared in a totally unique way to achieve the artisan look and taste experience". The final piece of the puzzle comes together in the restaurant, with the way in which the dough is proof, stretched and baked.
The thinner doughs are stretched by hand, but the pan pizza is shaped in a specially designed pan (hence the name) and left to proof and raise in that container.
"The deep dish pan was developed to manage the dough weight and the number of toppings that were created when we first launched pan pizza," explained Rodriguez. "It took more than two years of R&D work."
Precise training, the Pizza Hut way
There is a huge focus on training; particularly in the development of the restaurant general manager who is responsible for teaching the staff at their restaurant how to deliver the Pizza Hut pizza.
"A lot of what Keith, myself, and our amazing culinary experts around the world do is ensure that the teams have the correct equipment and ingredients, and that standards are met to facilitate and make it easier for employees to execute the perfect pizza with passion and care, regardless of the type of crust."
"We don't only teach staff how to make good pizza, we also demonstrate what can go wrong if the directions aren't followed. This means the restaurant general manager can troubleshoot if they have a new team member and identify where in the proces they may have made an error, demonstrating how they can make it better," added Griffiths. "Passion is key – and we try and put love and passion into the entire process."
What many people don't know is that Pizza Hut has two models when it comes to making dough – one whereby the dough is made fresh in store and one where it is supplied frozen as a raw dough piece. "Both work and deliver the same great quality of pizza, but the equipment and training is totally different."
Typically, it takes more than 20 hours of work with frozen dough and around four with fresh dough before a pizza is served to a consumer. With various bases on the Pizza Hut menu, Rodriguez said the main challenge was developing recipes that could all be baked in the same oven and remain consistent and "great out of the oven and during delivery". To avoid mistakes, each oven is pre-set, with certain times and temperatures that cannot be changed.
"Our ovens are actually pretty standard; it's the dough and design of the pizza where the magic lies," she said. "So our work in culinary innovation is to make sure that thick or thin – or in the middle – stuffed or not stuffed, all our pizzas bake perfectly."
The specifications also help team members to "worry less", Rodriguez said. "The ingredients, the toppings, the dough, the flour, the amount of water, yeast, oil: everything that we use has to be of the best quality and identical in spec."
The doughs also have a good shelf life, which helps ensure each restaurant will have sufficient supply for its customers.
"The restaurant general managers look at week ago sales and year ago sales and examine what is actually happening within the environment in the area; for example, a football game or a special season or day.
"Our recipe also means that the more you ferment the dough and proof it, the better it becomes. So even if you forecast more than you need, you can easily carry that dough over and retain the great quality."
Gluten-free dough
Across the globe, one in 100 people have coeliac disease,1 and in America alone, 18 million suffer with gluten sensitivity.2 Along with delivering a safe option for those that suffer with this autoimmune disease or an intolerance to gluten, businesses cannot afford to ignore the PWAG (people without coeliac disease avoiding gluten) population. Seventy-two percent of the 3.1 million Americans following a gluten-free diet are PWAGs, spurred on by (arguably speculative) health reasons.3 
As such, delivering to the gluten-free market has become a must for most companies, but does it affect the operation process or taste?
"It's very much the same process as the traditional dough," said Griffiths. "We go through the same procedures to set out what that quality standard is, and we review these on a bi-monthly basis to ensure consistency.
"And, of course, we put the safety pieces and policies behind that to make sure that there's no cross-contamination. We have separate procedures to handle the application of the toppings, which in the UK are all gluten free."
Ingredients and regulations
The Pizza Hut brand may have started in the US, but today its enjoyed all over the world. To allow for global expansion, the team had to devise an innovative way of delivering the same tasting pizza across the world, working within the limitations of differing regulations and importation.
"When Pizza Hut first looked at expanding, we knew what it needed to look and taste like overall. Being a US brand, we started by importing from the US, but we very quickly understood that there were cost restrictions, and in many cases, the imported ingredients didn't have the shelf-life longevity we required," said Rodriguez.
To overcome this, the brand implemented a global, regional and local supplier model.
"We have a very strict process of supplier approval; we identify suppliers, visit them, sign confidentiality agreements and share proprietary formulations with them. We then send the benchmark samples of what we want to achieve. Then starts a long process of sample submission and consumer testing and validation, along with a lot of the commercial considerations; for example, price negotiations.
"We have to take into consideration religious, governmental and labelling [regulations] – all the regulations that exist in a particular area. Once that's done then we approve the product, and it goes through the testing stages. If everything goes well, it expands to the particular country or region."
Of course, the aim is for the pizza to have the same great tasting quality wherever you are in the world, but in some cases the business allows for variations in the ingredients. "But we never compromise on taste," added Rodriguez.
"There are slight differences and adaptations that we have allowed over the years because of regulations. For example, the UK has much stricter GMO regulations and sodium targets than the US, and this could change the flavour profile a little.
"Another example is India, where the majority of the populaion don't eat beef. How do you make a 'Meat Lovers' pizza without beef? Simple, you make it using pork pepperoni, chicken and pork toppings, and you still provide the same abundance of meats."
Future plans
The pizza company has been slowly rolling out its new San Francisco-style pizzas over the period of two years. "It's our own artisan, traditional crust. It's not your average pizza," said Rodriquez. 
"We absolutely respect the competition," she added, "we eat their pizzas and monitor them, because we learn from one another. Everything that they do, everything that we do – it's a constant evolution of technology, ingredients and next generation of innovation. The creation of this pizza came from the fact that we wanted to be distinctive."
Unlike its other crusts, this one is made from sourdough which, according to Griffiths, offers a flavour you "can't help but notice", yet is subtle.
"It looks like a wood oven pizza, but the magic is that it's still made in our normal ovens and goes through the same process, so the team members can actually execute it," added Rodriquez. "It's been rolled out in 21 countries and we plan to expand to a lot more. Covid has held us up a bit, but we hope to be back in full force soon, so that it can be available to all our costumers by 2022."
Concluding our conversation, Rodriquez said: "Pizza is a blessing because it glues people, it brings us together. It's magic. We are for the love of pizza."
References
1. https://celiac.org/about-the-foundation/featured-news/2016/08/20-things-you-might-not-know…
2. https://www.beyondceliac.org/celiac-disease/non-celiac-gluten-sensitivity/
3. https://www.statista.com/chart/7639/the-rise-of-the-gluten-free…

Ana Maria Rodriguez
Ana is responsible for leading the Food Innovation agenda for Pizza Hut International. As a key part of the business, she is in charge of ensuring the food menu vision and the innovation growth strategy is alive across the globe. She is also responsible for ensuring that all Pizza Hut core pizzas are front and centre, and all brand standards and ingredient quality is consistently met in every restaurant around the world. She first joined Yum! more than 24 years ago, having worked across all three of the Yum! family of brands in a number of food innovation and quality roles. Ana Maria holds a Bachelor's degree in Food Science and Technology from Universidad de Costa Rica and a Master's degree in Food Engineering from Universidad Politecnica de Valencia in Spain and has held multiple culinary seminars over the years.

Keith Griffiths
Keith is responsible for leading the Food Innovation agenda for UK & Europe that extends to Russia, Israel and Palestine. As a key part of the business, he leads the Regions Innovation calendar promotions, monitoring and ensuring the Brand Standards designs are upheld. Keith's specialist subject is dough technology. He first engaged as a supplier to Pizza Hut in 1994, before joining the Yum Team in 2003 as a Technical Manager and Head of QA for Europe across Pizza Hut, KFC & Taco Bell. In 2012, he took a year away before joining the FIT team in his current role for Pizza Hut.