It's good to talk – communication between labs and customers
Patrick McNamara, Technical Specialist Manager, Intertek, provides a clear and concise overview of what information needs to be shared between labs and their customers.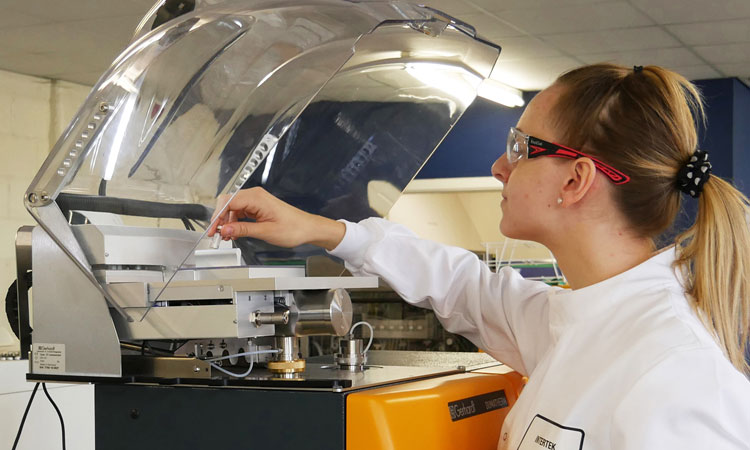 Trying to understand food product test requirements can be difficult – the choice of options can seem confusing, the terminology bewildering and the results occasionally without context. It is possible to overcome much of the confusion arising from product testing with frank, detailed discussion between customer and laboratory prior to performing the analysis; this will ensure the best advice is given and the most suitable tests are performed. This should start with the food operator or manufacturer establishing what information they want from their tests.
Intertek's experts offer advice, testing, inspections and certification services through their end-to-end business protection solutions for customers.
Our risk-based targeted analysis, informed by our global technical expertise, is often key in creating due diligence programmes with real insight and allowing our customers to demonstrate safety, compliance and authenticity. So, in order for us to best support your analytical requirements, what information do we both need to share?
The matrix
The first critical area is the nature of the test material itself – understanding the sample matrix is of real importance. Knowing what it is, how it will be supplied to the laboratory and the sample ingredients is key in choosing the most appropriate analytical method. Some product matrices may interfere with the methodology, while others may not be appropriate for the extraction procedure.
No laboratory I know of has been offered target values and replied, "No, wait a minute, don't tell me…let me guess…
For some, the testing requested may have no relevance in validating the product (eg, performing standard full nutritional analysis on drinks). Products supplied with specifications at the request stage are ideal; as are samples in their finished packaging – ie, complete product information with visibility of ingredients and claims. Even having a clear description – for example, 'feta and beetroot crumble' – is a useful guide. On the other hand, a bag of indeterminate powder labelled 'Line 3, 11/06/20 16:06 RGFST' leaves the laboratory without any indication of special preparation or analytical approaches required. Therefore, when enquiring about testing, providing full, detailed product information will ensure that no inappropriate methodology is applied, and any limitations of the method are advised up front.
The laboratory methods
NMR, PCR, FT-IR, IRMS, GC-MS, HLPC, UHPLC, NGS, AAS, ICP… the jargon associated with laboratory techniques can be confusing and intimidating. If you have a preferred method, mention it at the enquiry stage. If your customer has requested you do the work, it is worthwhile asking for confirmation that they have a specific method that must be employed. Often, they do; possibly because there is a technique that they understand and are comfortable with, they have a product history of results against the method and want to meaningfully compare data, or they are addressing a specific risk and believe a particular method is the best control. Sometimes the required method is based on an international (ISO), American (AOAC) or British (BS) standard. If you quote this, the laboratory will know if they can offer the standard or an equivalent. If you don't have a preference, ask the laboratory to confirm the technique to be used.
Expected values
If there is a target value for the test parameters, sharing this with your laboratory will enable them to check any deviating results before approval and anticipate any questions you might have regarding possible reasons for results variance. No laboratory I know of has been offered target values and replied, "No, wait a minute, don't tell me…let me guess…"
Know your limits
Limits of detection (LODs) are the numbers that follow '<' (ie, should be less than x) and bring comfort to millions. These values are critical to establish at the enquiry stage to ensure that the result is meaningful and of genuine value to the customer. Many laboratory LODs are driven by legal limits set by the EU – in particular, contaminants such as pesticides, where the method LODs tend to mirror the Maximum Residue Levels (MRLs) set by European Food Safety Authority (EFSA). Some limits may not be set in law; for example, not all allergens have a legally binding limit, but could still be requested by a customer or supplier. Laboratories tend to employ LODs based on:
Compliance with specific legislation
Customer requirements
The kit or instrument manufacturer's validation or recommendation
In-house validation.
Therefore, it is likely that the laboratory will be aligned to your requirements – but be clear with them. For certain target analytes, including sulphites and nitrates, multiple methods exist – some to show absence and others to show presence within a specified limit. In each case the LOD will be different, so always ask in advance and supply your own preferred LOD if you have one. Reporting units can also cause confusion. This can occur when customers compare analysed values in, for example, ug/g, with %, IU or ppb, so ask for the method's reporting units and compare with any specific requirements your business may have. If the laboratory reports in different units than those required, they may ask if you will accept the existing units or, in some cases, a comment on a conversion.
Accreditation status
Employing an analytical method accredited by an independent body to an international standard is essential for some customers for brand or legal protection reasons. Always be clear where this is the case. Where laboratories show the test as accredited on their scope, it is possible that the accreditation only applies to certain matrices (eg, meats, fruit and vegetables, edible oils), so any analysis beyond this will not be covered by the accreditation and certificates released for that analysis will state this. Intertek Food Services is accredited in the UK by UKAS to ISO17025 and will always clarify any questions about accredited services and areas where we can offer an unaccredited service. Unaccredited methods are used a) where the test may be indicative to quality rather than safety/compliance, b) where demand is low and infrequent (part of the ISO standard requires frequency of testing for accreditation), or c) where there are currently insufficient reference materials available. It is worth noting that even unaccredited tests involve significant amounts of validation and measurements of repeatability, reproducibility, uncertainty, etc.
International markets
Importing or exporting food (especially from/to non-EU countries) involves considerable work. In most cases, customs approval is linked directly to the performance of key analyses to demonstrate safety or compliance. The exact requirements for successfully clearing customs vary between countries and
may involve an esoteric combination of local legislation, international (ISO) standards and the Codex Alimentarius. Codex standards are government agreements, whereas ISO standards tend to reflect market needs. The different market laws will be detailed by product type and include prescribed methods and defined limits to demonstrate compliance. In addition, some Codex standards and ISOs are based on methodology that has been superseded in commercial laboratories and may not be available routinely. As it is not acceptable in all cases to substitute a method for a more recent equivalent, this can cause problems. If your testing request is relevant to a specific target export market, include that along with as much of the above information as you can. Intertek's breadth and depth of expertise means our global network also covers supporting access to almost any market. Our teams can also advise on requirements and testing to ensure that all documentation required to support certificates of conformity for the target market is in place. It is good to talk and, whatever the nature of your enquiry, we are here to listen.
Patrick McNamara
Patrick has over 24 years of experience working in commercial food laboratories. He worked as a food chemist with Lawlabs and Exova, where clients included some of the UK's largest supermarkets. Patrick was involved in managing retailer due diligence and graduate training until he joined Intertek in 2016. He now works as Intertek's Technical Specialist Manager, advising clients on testing programmes to support their end-to-end business security.
Issue
Related organisations