McDonald's: The Better M initiative towards sustainability
McDonald's has expanded its sustainability efforts with the launch of its new initiative 'Better M'. New Food spoke to Keith Kenny, Vice President of Sustainability at McDonald's, about the launch and the different elements that the project encompasses.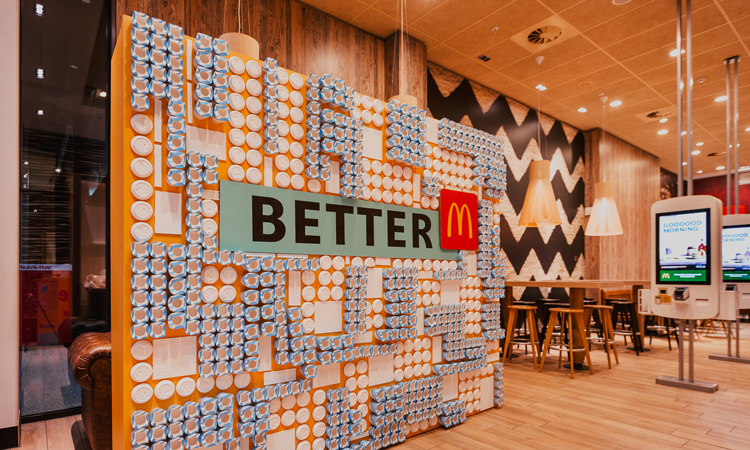 Sustainability is a prime focus of the majority of global industries, with the food and beverage market playing a lead role. Every day, less plastic is being used in food and beverage packaging, and recycling has become a modern norm.
However, as we often hear in the news, more still needs to be done.
New Food spoke to Keith Kenny, Vice President of Sustainability at McDonald's, about its latest venture – the Better M programme – to understand how the restaurant is contributing towards a more sustainable world.    
The Better M programme
Kenny explained to New Food that McDonald's uses five priority areas that were identified during the 2018 re-launch of its sustainability platform. These are: packaging and recycling; climate action; beef sustainability; youth opportunity; and commitment to families.
The areas are said to be key to the business growth of McDonald's, as well as points that customers have highlighted as important.
The McDonald's campaign aims to reduce and remove plastic from its restaurants, and increase the recyclability of its globally-recognised product packaging.
"We have been running tests across many countries around the world," Kenny told New Food, "and the company has now reached a stage (in Europe) where it is starting to scale-up some of these initiatives."
For example, the recently launched fibre McFlurry cup has been rolled out across all European McDonald's restaurants.
The new design has eliminated the need for a plastic lid, saving more than 1,200 tonnes of plastic per year across its European restaurants, said Kenny. The fibre design has four flaps on the top cup that fold in to create a "lid effect". Although a simple concept, the original plastic lid was designed with a functional reason – to prevent the ingredients from leaking as the ice cream is prepared and to mitigate challenges throughout the delivery process. So, of course, the new design had to mimic these functions.
Trials are also being conducted for plastic-free McFlurry spoons. Wooden and paper alternatives are being tested in a bid to find the material that best meets customer preferences, operational functionality and sustainability.
Fibre lids in France
Approximately 1,200 tonnes of plastic per year will be saved through the introduction of a fibre lid for all cold McDonald's drinks in France.
The new fibre lids are not only made from 100 percent certified sustainable sources and recyclable materials, but they remove the need for a straw, be it plastic or paper, as the new lid design enables the customer to sip directly from it.
The ReCup programme
"Another example of a sustainability initiative is our ReCup programme in Germany where consumers can bring in reusable cups to our restaurants," Kenny explained.
"The ReCup programme also allows consumers to re-use the cups in many other participating restaurants alongside McDonald's."
The Next Generation Cup Consortium
McDonald's has been sponsoring The Next Generation Cup Consortium for about 18 months, alongside Starbucks. The aim is not only to stimulate innovation around the next generation of cups that will be sustainable and widely-accepted, but also to provide a significant amount of funding so that innovations can be tested in real-life studies and across large reaching scales.
Edible packaging
McDonald's is also experimenting with the idea of edible packaging as a potential solution to superfluous packaging. Customers in Ukraine can now eat the container their sundae is served in – a waffle cone.
"We have also been testing a similar cone for our sauces in Berlin, in which customers can use the pots for their desired sauce and then consume the pot after use," Kenny added. "Who knows where edible packaging will go, but obviously food safety is our number one priority when considering this." 
The key to partnerships
Kenny explained that the Better M initiative is not a competitive move from McDonald's, but an attempt to represent the need to work in partnerships in order to move the sustainability drive forward. 
"An example of the need for partnerships is the recent rollout of paper straws in the UK – there was simply not enough production capacity globally to supply the nation, so our suppliers bought some production facilities online that now produce paper straws not only for the UK McDonald's market, but for the European McDonald's markets, as well as for other customers around the world," Kenny said.   
Twelve percent of McDonald's packaging in Europe is plastic (20 percent worldwide), Kenny explained, and these innovations hope to further reduce these figures and help reach McDonald's global goals. He added that the goal is for all customer packaging to be either recyclable or certified sustainable by 2025, and every one of the 37,000 global restaurants is to actively recycle by 2025.
"Europe is really pushing for this, partly because we need to find solutions in time for the Single Use Plastic Directive – the European Commission reduction of the impact of certain plastic products on the environment. We are launching solutions that we know are not completely perfect, but from which we will learn from and improve," Kenny said.  
McDonald's, Kenny continued, is uniquely positioned to use its scale and reach to drive positive change beyond its own business and supply chain and across the industry.
"I believe we are the only restaurant chain to have set science-based targets to reduce our emissions in line with the Paris Agreement, not just for our own restaurants and franchise restaurants, but also along our complete supply chain," he added. "The trials we are conducting across Europe are vital in helping us get first-hand feedback from customers on solutions that help them to be conscious consumers, without compromising on quality and the McDonald's experience they love.
"Better M is a powerful platform to allow us to work with our customers and choose the right solutions to scale-up across Europe."
Related organisations
Related people