Chinese Vice-Premier visits UK university to forge economic relations
Cardiff Metropolitan University welcomes Hu Chunhua, Vice-Premier of the People's Republic of China along with other politicians and VIPs.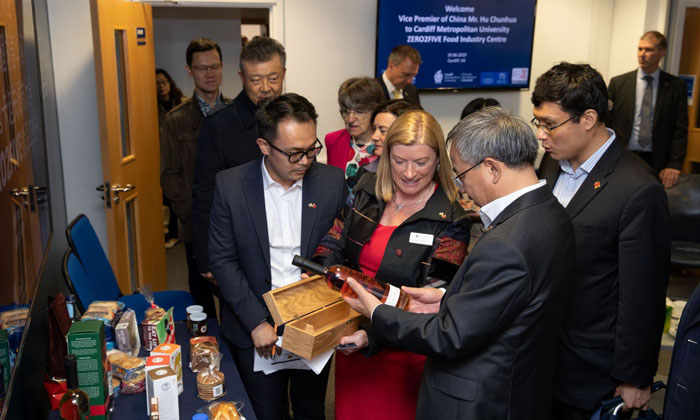 In a visit that is the first of its kind for the university, His Excellency Hu Chunhua, Vice-Premier of the People's Republic of China and other senior politicians and VIPs spent an hour visiting Cardiff Metropolitan University's world-leading ZERO2FIVE Food Industry Centre to find out more about its work in food safety and production as well as the Perceptual Experience Lab (PEL).
The ZERO2FIVE Food Industry Centre has been supporting the Welsh food manufacturing sector for 25 years, notably in food safety and waste reduction, through the £21 million Food Innovation Wales' Project HELIX programme, which is funded by the Welsh Government Regional Development Plan.
"We are delighted to welcome Vice-Premier Hu and his colleagues to Cardiff Metropolitan University given our strong links with China," said Professor Aitchison, President and Vice-Chancellor of Cardiff Metropolitan University. "We are very proud of the work of our ZERO2FIVE Food Industry Centre and this visit is further recognition that the Centre's work is scalable and transferable internationally.
"The future of higher education depends on collaboration and the sharing of expertise. With more than 400 Chinese students enrolled on Cardiff Met programmes, we enjoy fruitful partnerships with China that we are keen to grow, and this visit marks an important milestone in that development."
Cardiff Met's Llandaff campus was chosen as part of Vice-Premier Hu's wider trade mission to the UK, exploring closer strategic and economic partnerships between China and the UK, and specifically examining the Welsh food and drink industry. Food science technology and agriculture are areas under Mr Hu's remit and food production and security are key objectives of the Chinese government.
"Wales is leading the way in food safety and security training. I'm really pleased the Vice-Premier has had the opportunity to visit the Zero2Five Food Innovation Centre today, which is just one example of the academic research and expertise that Wales has to offer China, and in particular Chinese students," added Eluned Morgan AM, the Welsh Government's Minister for International Relations and the Welsh Language.
During his UK visit, Vice-Premier Hu attended the annual UK-China Financial Forum, where he addressed delegates on the opportunities that China's increasing economic and financial importance presents to both countries to generate jobs and growth.