Could phage treatment help tackle foodborne bacteria?
University researchers have conducted experiments testing the possibility of using bacteriophages to inhibit the growth of bacteria.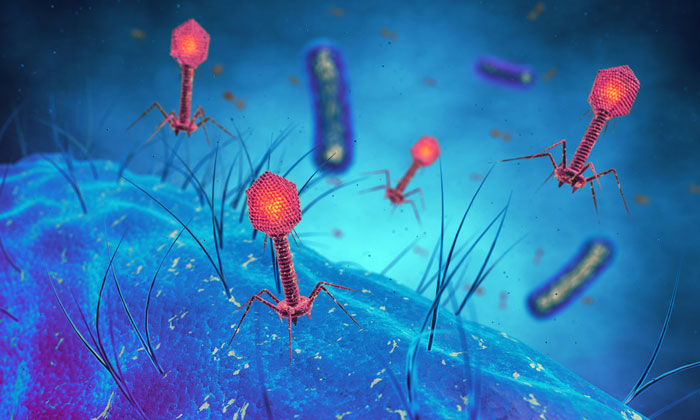 POWERFUL TOOL: Bacteriophages are being investigated as antibacterial agents across industries
With antibiotic resistance becoming a global problem, food scientists are constantly on the look out for novel ways of tackling foodborne disease.
One such method, the use of bacteriophages, viruses that infect and replicate within bacteria, has been examined by researchers at Helsinki University and produced positive results.
Professor Mikael Skurnik, a researcher of bacteriophage and phage therapy, has been working with researchers from South Korea's Seoul National University to investigate whether phages can also be used to eradicate food-borne bacteria and prevent food poisoning.
The investigators targeted Yersinia enterocolitica, which is by far the most common cause of yersinosis, a disease that usually affects rabbit or badly cooked pork. Milk can also be a source of infection, but it is much less common. The infection can be transmitted to humans with kitchenware that has been treated with contaminated foods.
Symptoms of yersinosis include fever, severe abdominal pain and diarrhoea. Symptoms may take up to three weeks. Sometimes illness is the result of up to weeks of arthritis. Yersinosis occurs throughout the world. In Finland there are 500 to 700 cases every year.
The researchers identified four bacteriophages that infect Y. enterocolitica . The most potent fHe-Yen9-01 phage was selected as a tool for the next phase of the study to evaluate the phage's effectiveness in decontaminating bacteria-contaminated food and work equipment.
"We looked at the foods that most commonly cause the infection and the tools that normally treat these foods in kitchens," Skurnik said.
Y. enterocolitica was introduced into products sold in conventional market: raw pork, pre-grilled pork and milk. Subsequently, the contaminated foods received phage treatment, and the number of bacteria and phages in the samples was monitored for three days.
The treatment effectively inhibited the growth of bacteria in food. At the same time, the number of phages increase – even at refrigerator temperatures.
Next, scientists planted bacteria and phage in kitchenware. The number of bacteria and phages on their surface was monitored for two hours. Again the phages effectively prevented bacterial growth.
According to Skurnik, a similar study on the use of phages in food processing has never been done, though it is not an entirely novel idea for food treatment. The United States already has a phage product on the market that is sprayed on crude foods to fight against listeria bacteria.
"There is not a huge need for preventing Yersinia infections at least in Finland, but this research can serve as a model for preventing other, more serious food-borne infections through phagic treatment," Skurnik said.
"A phage blend could be used, which is effective in a variety of bacteria, such as salmonella and campylobacter and other commonly used food poisoning intestinal bacteria. The wood composition could also be used to prevent animals, for example, mixed with drinking water," Skurnik added.