Nestlé becomes first major confectioners to commercialise 'ruby' chocolate
Four months after ruby chocolate joined dark, milk and white as a type of natural chocolate, the first new entry for 80 years, it has been scooped up by chocolate giant Nestlé.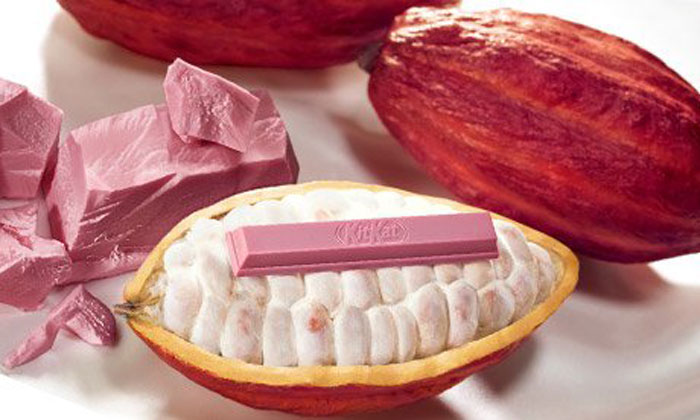 PRETTY AND PINK: Barry Callebaut is the world's largest cocoa processor
The Japanese arm of Nestlé has announced it will begin selling the naturally pink ruby chocolate variety from today.
Ruby chocolate was heralded as the first new type of natural chocolate to be created in 80 years when it was brought out by chocolatiers Barry Callebaut in September. Nestlé SA has reportedly signed a six-month exclusive rights contract with the chocolatiers.
It will distribute the innovation exclusively at the KitKat speciality store, 'KitKat Chocolatory', in the form of a Valentine's Day gift item. 
A top pâtissier Yasumasa Takagi was tasked with turning the ruby chocolate into a Nestlé product, Sublime Ruby. He said: "I am extremely honoured to be part of this landmark moment in the history of chocolate, with which I have worked intimately for over thirty years.
"I have created an especially simple KitKat that allows you to enjoy the characteristic fruity fragrance and subtle acidity of ruby cacao to the fullest. Enjoy wonderful flavors that have never been experienced before."
Antoine de Saint-Affrique, CEO of Barry Callebaut, said: "I am very pleased that our innovative breakthrough ruby chocolate has come to life so quickly through our partnership with Nestle and the pioneering KitKat Brand in Japan.
"Nestle was very quick in spotting the trend and in introducing a ruby chocolate version of KitKat, which will entice consumers across Asia and beyond."
The product that goes on sale today has been priced at ¥400 or £2.61. From February 1, two multipacks of Sublime Ruby will also go on sale.
Related organisations
Related regions