US to import infant formula from Mexico as shortages continue
As families in the US continue to struggle to get hold of infant formula, the FDA has provided an update on its efforts to acquire more supplies.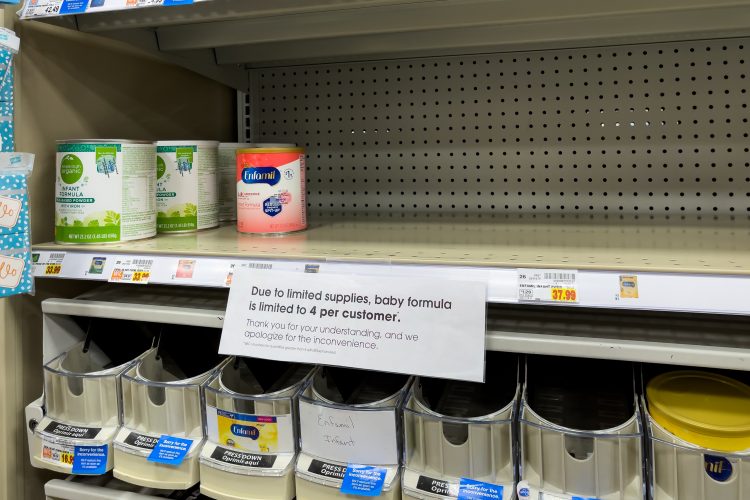 Shortages of infant formula have left many stores limiting purchases
The US Food and Drug Administration has provided a further update for families still struggling to obtain infant formula for their children as the US continues to experience shortages of the product.
"The FDA is working night and day to ensure that parents and caregivers can readily find safe and nutritious formula products for any child who needs it," said FDA Commissioner Robert M. Califf.
"I have personally spoken with infant formula manufacturers over the past several weeks and all have significantly increased their production efforts, which is resulting in more supply that will be available on stores shelves moving forward."
In the past month, the FDA says it has issued enforcement discretion letters for the importation of the infant formula products from six countries, with a total estimated quantity of 17 million cans, or about 365 million full-size, eight-ounce bottles.
This includes several million cans which will make their way from Mexico on trucks in the next few days, while shipments by air from Australia and Europe have been ongoing over the past few weeks.
The FDA has been keen to reassure consumers that the infant formula that is being imported to the US through this process has undergone a thorough review of the information provided by the companies, including details about the product's nutritional adequacy and safety, microbiological testing results, labelling information, and importantly, details about the manufacturing facility's food safety production practices and inspection history.
The shortage has not been helped by a recall initiated by Abbott, one of the US' largest formula manufacturers, after concerns some of its products may be contaminated with bacteria. The FDA says it is investigating the death of an infant in January 2022, though Abbott denies there is any link between the death and its products.
To make matters worse, severe flooding at the manufacturer's facility in Sturgis, Michigan has halted production for now, placing even greater strain on the formula supply chain.