The new expiration date system? Smell-by labels
The food waste initiative Too Good To Go has launched a new campaign designed to train consumers to use their sense of smell – and common sense – to gauge whether food is safe to eat.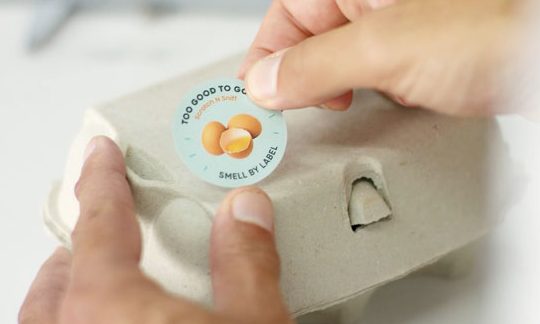 Food waste initiative Too Good To Go has launched its Nose Sense campaign and unveiled new Smell-By labels. This series of scratch-n-sniff stickers aims to help consumers use their own noses to dictate decisions about whether or not to eat food beyond its 'best before' label.
Too Good To Go says that 333,000 tonnes of food is needlessly wasted each year,1 and this number has barely changed since 2012. The food waste initiative believes that much of this waste is caused by a lack of understanding of what different date labels on food mean. Its new campaign aims to encourage the use of our senses to know when food is no longer edible, rather than blithely trusting a label.
Too Good To Go's Smell-By labels are scratch n' sniff – containing the scents that four popular but hugely-wasted1 foods give off when they are no longer edible. The idea is that, by 'nose-training' ourselves on these key smells, consumers will avoid taking 'best before' dates as gospel; thus helping to prevent the costly amount of these four foods alone that are unnecessarily wasted each year.
The labels currently cover these staple fridge and store cupboard ingredients: eggs, juice, beer and oats.
S'Mellier informs Smell-By labels
To help create permanent behaviour change, ensure authority, and add a touch of flair to proceedings, Too Good To Go has partnered with the World's First S'Mellier, Dariush Alavi. With a decade of independent scent expertise, as well as having nostrils insured for £1 million, his valued sense of smell was deployed to help prove when these four foods are still safe to eat.
The intention is for these labels to form part of a broader education initiative by Too Good To Go – firstly to ensure producers use the right food labels on products, but also to encourage greater consumer awareness around what the different food labels mean to help tackle the food waste problem.
Jamie Crummie, Co-Founder of Too Good To Go, says: "Our love for food is stronger than ever since lockdown, but the food waste issue hurts both the environment and our pockets. Our mission is to help everyone fight food waste together.
"We want labelling to be clearer across the board, but also to help consumers better understand when they really must throw food away – and these Smell-By labels are a vital part of that journey," he concluded.
Reference
Total UK food waste in the UK of selected best before foods, according to Too Good To Go:
●      Beer: £150million and 74,000 tonnes of avoidable waste per year
●      Eggs: £75million and 24,000 tonnes of avoidable waste per year
●      Fruit juices: £190 million and 160,000 tonnes of avoidable waste per year
●      Oats: £210million and 75,000 tonnes of avoidable waste per year
TOTAL: £625million and 333,000 tonnes of avoidable waste per year
Related organisations
Related regions
Related people