UK research reveals high salt content in 'healthy' plant-based meals
During Salt Awareness Week, Action on Salt has revealed the 'reality' of many 'healthy sounding' plant-based and vegan meals in the UK, suggesting that high salt content often hides behind 'healthy labels.'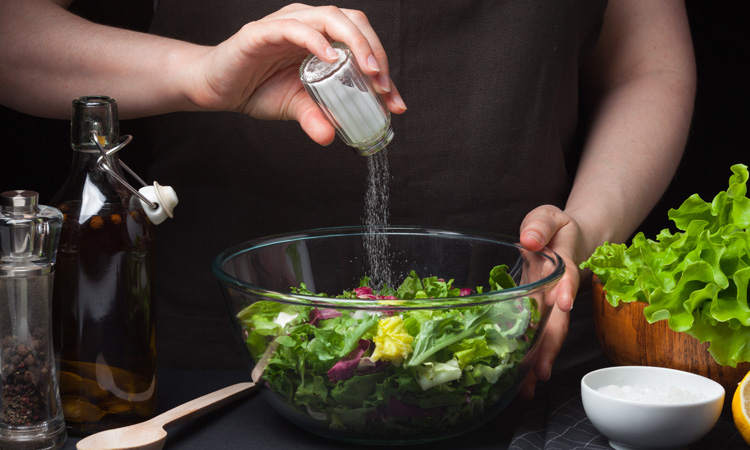 New research by Action on Salt (based at Queen Mary University of London and Bart's Hospital) has revealed the 'reality' of many 'healthy sounding' plant-based and vegan meals1 being served at UK restaurants, fast food and coffee chains.
To mark Salt Awareness Week (9 -15 March 2020), the group of experts has urged the UK Secretary of State for Health, Matt Hancock, to implement more robust salt reduction targets – with proper enforcement – in order to create a fair and level playing field across both the retail and eating out sectors.
Data from a recent public opinion poll to accompany the survey is said to have highlighted that one of the main reasons why people consume plant-based food is that they are perceived to be healthier.2  However, this survey (said to be the largest of its kind) of 290 plant-based and vegan meals collected from a total of 45 restaurant, takeaway, fast food and coffee chains, has highlighted their salt and saturated fat content, and the 'lack of nutritional information available'.
Three out of five plant-based restaurant meals surveyed with nutrition information (96/151) contained three grams or more salt – half of an adult's maximum daily intake of salt, and 19 of these provided six grams or more salt – an adult's entire maximum daily limit.
Examples of salty meals highlighted by the research include:
Papa John's Vegan American Hot Medium Pizza, 9.28g salt – more salt than seven McDonald's Hamburgers3
Loch Fyne Spiced Roasted Cauliflower & Squash Goan Curry, 8.65g salt – saltier than 19 anchovies4
Bella Italia Vegan Cheese Pizza 8.1g salt – saltier than 23 bags of ready salted crisps5
Chiquitos Vegarrito, 7.89g salt
Slug and Lettuce Louisiana Chick'n Vegan Meat-less Burger, 7.6g salt.
If these restaurant chains were to display colour-coded nutrition information on their menus like packaged food in supermarkets, the research suggested that more than four out of five (127/151) plant-based meals would have a red label for high salt content (i.e. >1.8g salt in a meal).6
Two thirds of plant-based meals (82/128) available in fast food and coffee chains would also get a red label for being high in salt (>1.8g salt per portion), according to the research, along with nearly two in five (29/128) meals containing three grams or more salt – half of an adult's maximum daily limit.
Further to these findings, over half of all restaurant meals surveyed would also reportedly qualify for a red label (>six gram/portion) for saturated fat, and more than one in five dishes provide more than half of an adult's maximum daily intake for saturated fat.7 One of the worst offenders was said to be Harvester's The Purist Burger (served with triple cooked chips), containing 54.2g saturated fat in a meal, nearly three times a woman's maximum daily intake.
Sonia Pombo, Campaign Manager for Action on Salt, said: "This survey highlights that some restaurants are always looking for new ways to produce unhealthy dishes, this time hidden under a vegan health halo, but continuing to drown us in salt and saturated fat just the same. Eating a more plant-based diet can and should be beneficial for a number of reasons, but whether you are looking to eat less meat for animal welfare, sustainability or health reasons, it is important to know a 'plant-based' or 'vegan' label does not automatically qualify a product as healthy. It is time for restaurants and cafes to step up and start making food that is healthy for us and better for the planet."  
References 
1. This data was collected by Action on Salt through online research (week commencing 24 February 2020) and updated on 4 March 2020. The data collected by Action on Salt includes plant based or 'vegan friendly' options from different restaurants in the UK. In total, there are 27 restaurants and 18 fast food and coffee chains with nutritional information represented in the data. Data from 290 savoury main dishes we collected, including soups, salads, sandwiches and wraps (starters, sides sharers and desserts were not included); 162 from restaurant chains, and 128 from fast food and coffee shop chains. These are discussed separately as they offer a different meal experience and are therefore not entirely comparable.
2. The research was conducted by Censuswide, with 2,022 Nationally Representative respondents aged 16+ in GB between 15 – 17 January 2020. The survey was conducted from a random sample of UK adults.  Of the 1637 who buy plant based food, 581 reported in doing so for health improvement. Censuswide abide by and employ members of the Market Research Society which is based on the ESOMAR principles.
3. A McDonald's Hamburger contains 1.2g salt per portion https://www.mcdonalds.com/gb/en-gb/product/hamburger.html#collapseOne
4. Two anchovy fillets provide 0.9g salt https://www.tesco.com/groceries/en-GB/products/258452081
5. A 25g bag of Walkers ready salted crisps contains 0.35g salt https://www.tesco.com/groceries/en-GB/products/254926800
6. Government criteria for colour coding on a front of pack label https://assets.publishing.service.gov.uk…. For salt, the criteria for high (red) is >1.8g per portion; for saturated fat, the criteria for high (red) is >6g saturated fat per portion.
7. Women should not have more than 20g of saturated fat a day. NHS https://www.nhs.uk/live-well/eat-well/different-fats-nutrition/