Mushroom on the shelves for functional fungi?
Would you wilfully devour fungus grown on the head of a Himalayan caterpillar?1 If you're a fan of the coveted cordyceps mushroom, aka Cordyceps sinensis, then the answer's yes – and you're not alone.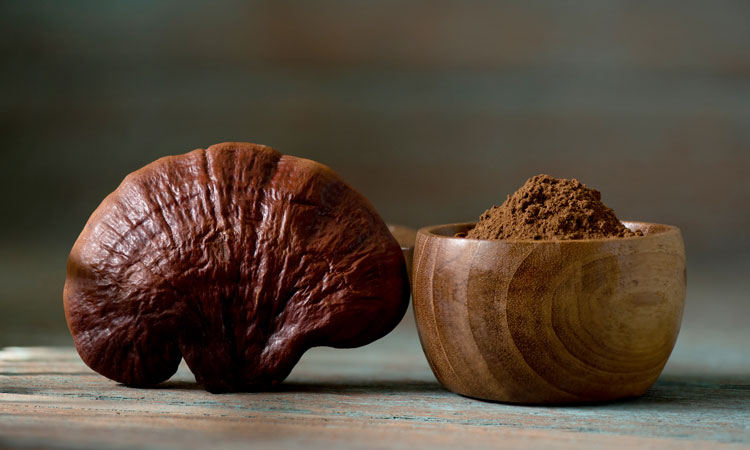 In a market crammed with nutritional supplements, is there room for mushrooms too? According to a market insights report, the global functional mushroom market was valued at $7,981.2 million in 2020, and is projected to reach $19,331.5 million by 2030. Representing a CAGR of nine percent, that's not to be sniffed at.
Functional mushrooms are emerging as big players in the functional foods category, finding their way into an array of health supplements from green smoothie inclusions to powdered coffees; so what's all the fuss about?
Well, obviously the clue is in the name; they're functional – with nutritional value that boasts a range of health benefits from improving the immune system and aiding digestion to preventing cognitive decline.2 But that's not all; some form part of a classification of supplements that are termed adaptogens, meaning they help our bodies to adapt to situations such as stress, anxiety and fatigue, thus promoting overall wellbeing.3 In today's modern world, where we receive daily reminders about the cost-of-living crisis, war and climate disasters, these benefits represent a soothing manna from heaven in our quest for improved wellbeing.   
According to Fruit Bodhi Organics, which specialises in mushroom cultivation, many varieties have specific medicinal properties, with some that "may help lower cholesterol, particularly in overweight adults."4 Beta-glucans are a class of compounds contained in mushrooms that "appear to act as probiotics fuelling the growth of beneficial gut bacteria and promoting a favourable gut environment."4 Given the prevalent discourse about the importance of a healthy gut microbiome, this property is another valued feather in their cap (pun intended).
But of course, functional mushrooms are nothing new; they've been highly prized for centuries, particularly in Asia, where the striking reishi mushroom, or Ganoderma Lucidum, was used in ancient Chinese medicine and is said to be the longest used medicinal fungus.5
Even elsewhere in the world, varieties of mushroom have been held in high esteem, with Hippocrates reportedly prescribing amadou mushroom (Fomes fomentarius) for anti-inflammatory purposes and for cauterising wounds.6 Clearly humans have been well versed in the auspicious properties of various fungi for many years, but as is the Western way, we don't pay attention until science backs it up. Researchers are now coming to recognise the validity of long-held mushroom wisdom7 and thus, they are increasingly making their way onto our plates and into mugs and smoothie glasses.
So, who are some leading lights in functional mushrooms?
Fruit Bodhi Organics4 is a family-run business that specialises in mushroom-growing kits and tinctures, as well as producing a range of other mushroom products. Based in Somerset in the UK, its farm produces the goods 'from spore to fork' in an eco-friendly and sustainable way. They get involved in the nitty gritty, with lab work that involves starting off and nurturing cultures to produce spawn that is then used to inoculate sawdust. They grow all their mushrooms in this way and produce kits for customers to do the same from their windowsills at home.4
Newer to the scene, Space Goods8 is a UK startup that launched its first functional mushroom powder Rainbow Dust last year. Headquartered in London, UK, the colourful brand reported £1.5 million of sales in its first nine months, with revenue projected to reach £2.4 million by its one-year anniversary. Rainbow Dust contains chaga, cordyceps and lion's mane mushrooms, and the brand prides itself on incorporating high doses of the functional fungi with no fillers.
Given the popularity of their product, Space Goods has just launched a second product Dream Dust, which aims to impart relaxation and a 'zen feeling' to aid good sleep. It too features functional mushrooms and adaptogens with a honey and ginger flavour.9
Often combined with other adaptogens, such as rhodiola, functional mushrooms are popular as a healthier coffee drink, with brands such as Rheal Superfoods10 and London Nootropics11 (that make Flow, Zen and Mojo coffees) providing this option, as well as a bedtime beverage to aid sleep and a morning smoothie supplement to give you a boost. Rheal Superfoods has been around since 2017 producing popular drinks including Shroom coffee (which contains chaga, cordyceps and lion's mane mushrooms), Coco Dream (containing reishi mushroom extract) and Magic Matcha (containing lion's mane mushroom).
These brands promote product claims ranging from health benefits, including aiding various bodily functions such as improved sleep, digestion and immunity, to beauty-boosting powers that give radiance to your skin.
Personal experience
The success of these brands can be partly attributed to their founders' personal experience of benefitting from the products. Matt Kelly developed Rainbow Dust following a bipolar diagnosis. He explained, "It was in my lowest moments that I spotted a gap in the market for functional mushrooms as a natural wellness solution. I had experimented with psychedelics when in Amsterdam five years earlier and remembered the positive impact they had on my depression. I knew there was a market for legal mushroom alternatives in the UK."
Analysing the EFSA methological assessment of botanical ingredients safety
After working with a nutrition lab in Surrey, the resulting Rainbow Dust8 provides "increased energy and sharper focus for thousands of customers." 
The Rheal Superfoods brand had a similar genesis with its founders finding relief with their health problems from eating their own functional mushroom products.10 As revealed on their company website, Charlotte Bailey was diagnosed with Coeliac disease after experiencing severe weight loss and fatigue. This prompted their exploration into the realm of superfoods, which they claim had such a positive impact on their health that they wanted to make it accessible for everyone. Rheal Superfoods was the result.10
It seems there is definitely something to the story of magical medicinal mushrooms, especially with various startups appearing in the market over the last few years…have you tried them yet?
References
Beaty J. Functional Mushrooms And Their Benefits. NuLiv Science Blog [Internet]. NuLiv Science. 2019 [cited 2023 Feb 10]. Available from: https://nulivscience.com/functional-mushrooms-and-their-benefits/
Lei Feng, Irwin Kee-Mun Cheah, Maisie Mei-Xi Ng, et al. The Association between Mushroom Consumption and Mild Cognitive Impairment: A Community-based Cross-sectional Study in Singapore. Journal of Alzheimer's Disease, 2019; 1 DOI: 10.3233/JAD-180959
Landon R, Lerryn Korda. Super Herbs: the best adaptogens to reduce stress and improve health, beauty and wellness. London, England: Piatkus; 2017. pXX-XXii
Mushroom Tinctures [Internet]. Fruit Bodhi Organics. [cited 2023 Feb 10]. Available from: https://www.fruitbodhi.co.uk/mushroom-tinctures
Medicinal Mushrooms: History and Usages [Internet]. WorldAtlas. 2017. Available from: https://www.worldatlas.com/articles/medicinal-mushrooms-history-and-usages.html
Stamets P, Zwickey H. Medicinal Mushrooms: Ancient Remedies Meet Modern Science. Integr Med (Encinitas). 2014. Feb;13(1):46-7. PMID: 26770081; PMCID: PMC4684114.
Gaoxing Ma, Wenjian Yang, Liyan Zhao, et al. A critical review on the health promoting effects of mushrooms nutraceuticals. Food Science and Human Wellness, 7;2, 2018, pp125-133
Down [Internet]. Spacegoods.com. 2022 [cited 2023 Feb 10]. Available from: https://spacegoods.com/
Down [Internet]. Spacegoods.com. 2022 [cited 2023 Feb 10]. Available from: https://spacegoods.com/products/dream-dust-v1-0-twin-pack
Our Story – Rheal Superfoods [Internet]. Rheal. [cited 2023 Feb 10]. Available from: https://rhealsuperfoods.com/pages/our-story
About us [Internet]. London Nootropics. [cited 2023 Feb 10]. Available from: https://londonnootropics.com/about/