Pancake Day: from a plain past to protein-packed present
From religious beginnings to a social media craze. How has Shrove Tuesday changed over time? Simon Parker discusses pancake popularity in 2023.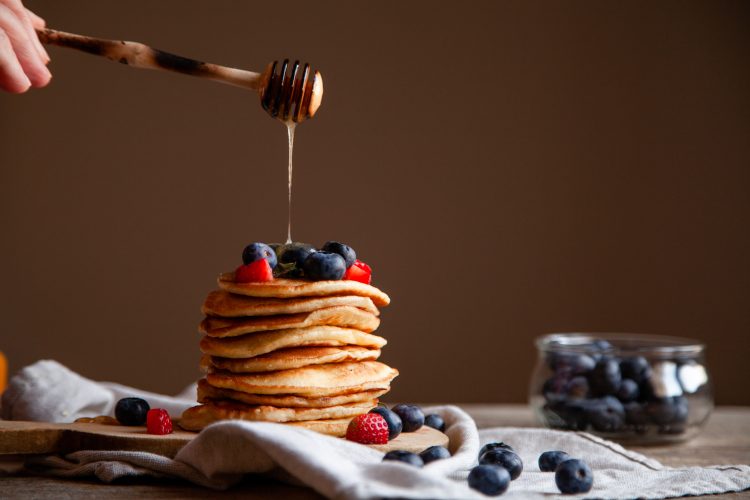 Pancake Day was once the often-forgotten celebratory day of everything pancake. As celebratory events go, it always seemed to get less attention and fanfare than Easter, Christmas or Halloween with it being wedged between Valentine's and Mother's Day. However, year after year its popularity is gaining pace meaning consumer demand is growing.
Pancake Day, or Shrove Tuesday, is a tradition that dates back centuries and is celebrated in many countries around the world. It has a deep religious significance; in the past it was a time for Christians to enjoy a day of feasting before the start of Lent. Now, in 2023 it has less religious importance and is celebrated by many different religions and cultures.
Reportedly starting in the UK, Pancake Day began when Anglo-Saxon Christians when to church for confession to be shriven or absolved of their sins before a time of fasting. Shrove Tuesday was originally a day where households would use up the eggs and fats in their homes before Lent.
Action on Sugar urges food vendors to stop hiding nutrition information
However, pancake making dates back centuries. In fact, according to Kulicks Pancake Recipes, the first recorded mention of a pancake was from 600 BC from a poet in ancient Greece. This version was reportedly made from wheat flour, olive oil, honey, and curdled milk.
Jumping forward to the present day  retailers would have been preparing for consumer demand. Research from the top retailers shows that consumers are quick to get into action when it comes to making their pancakes from scratch, or from ready-made mixes for the greener cooks.
Pancake ingredients sales on the rise
In 2021, on the day before Pancake Day and on the day itself, sales of Co-op Farms 1.5kg Plain White Flour were up 17.7 percent year on year, while sales of its 500g Self-Raising White Flour were up by 112.8 percent. There was also strong growth across the retailer's free-range eggs, with sales of Co-op Large Free-Range Eggs up 9.9 percent and its Organic Eggs nearly trebled, up 170 percent compared to previous years.
What's more, Sainsbury's and Nectar revealed that they saw over 900,000 lemons and two million boxes of eggs purchased in the week leading up to Shrove Tuesday in 2022.
Social media causing a pancake craze
However, with powerful influences on consumers such as TikTok, in 2023 pancakes are becoming more of a regular breakfast staple, rather than just a celebratory food, with many families and individuals eating pancakes far more frequently.
The social channel is also helping cooks move away from the more traditional fluffy American style or classic crepe, with many of its influencers experimenting and flipping up everything from protein-rich alternatives to pancake spaghetti and cereal.
Protein pancakes please
We're also seeing many household-named retail chains jump on the protein-rich pancake action, with social media again helping to amplify their popularity. With Aldi's protein pancakes flying off the shelves, as well as creative home cooks using the Brooklea brand's protein puddings alongside flour,eggs, Greek yoghurt, and baking powder to elevate the delicious puddings into protein-filled treats.
Furthermore, this trend of protein-rich foods is transitioning a once-seen indulgent celebrative treat food into a fitness fan's go-to.
The once quite simple pancake is quite clearly evolving, but so is the cookware that help flips them. Kitchenware brands such as Blackmoor are making the most of the ever-growing number of pancake devotees by creating pots and pans to help ensure every single drop of the mixture turns into pancake perfection.
With many set to be celebrating pancake day this year, retailers could see ingredient sales serge leading up to Shrove Tuesday. However, what will consumers opt for? The traditional pancake recipe and toppings or a more health-driven protein heavy option? Only time (and empty plates) will tell.
About the author
Simon Parker has worked in the food industry for many years across a multitude of roles and disciplines. He's a foodie at heart with a wealth of experience in product development, branding, and marketing and is also a dab hand at pancake making, cooking, and baking and is a pizza enthusiast. Simon is currently the ecommerce specialist at Blackmoor, a new British cookware brand established to offer affordable, high-quality kitchenware for the everyday home cook. 
Related topics
Related organisations
Related regions