Inflation hits hard: why we're losing customers to food banks
The UK inflation rate has risen to its highest in 30 years, and prices of everyday essentials are on the up, so what does this mean for the citizens of the fifth richest country in the world?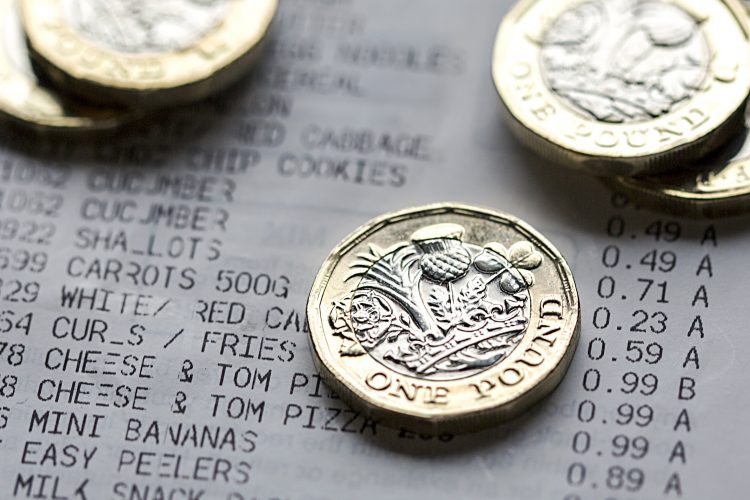 The rate of inflation has risen to its highest level in 30 years, according to the Office for National Statistics (ONS). With fuel, electricity and food costs all on the up, people are struggling to get by; and to make matters worse many basic food items are increasing in price, meaning some have had to turn to food banks or sacrifice necessities such as heating.
Annual inflation rose to 5.4 percent in December; the highest since March 1992 (7.1 percent).
The ONS reported that food and drink prices lifted by 4.2 percent by the end of December; its biggest rise since 2013. Wholemeal bread saw a 3.8 percent price increase alongside many other food staples which were also raised in price. While a range of fruits and vegetables – including onions, tomatoes, cauliflower, lettuce, pears and grapes – were also affected.
"Food producers have been hit hard by significant inflationary pressures[…]producers continue to do what they can to avoid passing these costs on, but the increases in food prices reported shows how hard that is in the current context. These rises will hit families hard, with the cost of oils & fats up 13.1 percent, vegetables up 6.0 percent and meat up 4.4 percent," said Karen Betts, Chief Executive at the Food and Drink Federation.
With the UK suffering significantly with price hikes, static wages and universal credit payments cuts, many are being forced to food banks. Leading charity the Trussell Trust, which works to end hunger in the UK, reported that food banks gave out a record 2.5 million parcels in 2021.
The rate of people being "driven" to food banks is "alarming", stated Richard Walker, Managing Director of Iceland Foods during an interview on Good Morning Britain.
'We're starting to lose some customers to food banks or, not being overly dramatic, to hunger.'

The Managing Director of Iceland says they can already see the effect of price rises on staple foods in their shops. pic.twitter.com/0BRzEx0DLa

— Good Morning Britain (@GMB) January 21, 2022
He explained that Iceland is "starting to lose customers to food banks" and "to hunger". His controversial comments made headlines, but Walker also said that Iceland are committed to freezing its £1 line until the end of the year to help customers "make ends meet[…]and meeting their needs".
Is this enough?
Emma Revie, Chief Executive of Trussell Trust, has publicly expressed her dismay over the heavy reliance food banks are witnessing.  
"No one should face the indignity of needing emergency food," she commented. "Yet our network of food banks has given out record numbers of food parcels as more and more people struggle without enough money for the essentials. This is not right but we know we can build a better future[…]we know when we push for change, united by our desire for justice and compassion, the government has to listen and act."
Someone who has been pushing for a change in food prices for a while is writer, and self-proclaimed former foodbank user, Jack Monroe. In her recent, now viral, Twitter thread, Monroe highlights the stark reality of the cost of living crisis.
This time last year, the cheapest rice at the same supermarket was 45p for a kilogram bag. Today it's £1 for 500g. That's a 344% price increase as it hits the poorest and most vulnerable households.

— Jack Monroe (@BootstrapCook) January 19, 2022
Monroe, who started her writing career sharing cheap recipes she had created as a single mum, is an active campaigner for poverty and hunger relief.
In the Twitter thread, she lists a range of daily food items from her supermarket – which she does not name but states is one of the 'Big Four' – such as baked beans and apples, that have increased in price. She goes on to explain that "making products smaller while keeping them the same price is known in the retail industry as shrinkflation", and described it as "insidious" as it's difficult to spot immediately.
She also wrote that the index measure "grossly underestimates the real cost of inflation" and what it means for people in poverty. Following this, in her interview on Good Morning Britain, Monroe said that the "true cost of inflation is higher" than the calculated percentage, because they are not calculating basic rice, pasta or beans, which "would be an accurate reflection on how prices are affecting people on the lowest income".
She added that since the onset of Covid-19, "food insecurity has stopped being an abstract thing that a handful of the population had to worry about, to something that came into all of our lives and all of our homes".
In her tweets, Monroe also highlighted an upmarket ready meal range sold by another supermarket, which had remained at the price of £7.50 for the past 10 years. "If the price of that [ready meal] had risen at the same rate as the cheapest rice in the supermarket, that £7.50 lasagne would now cost £25.80.
"The margins are always, always calculated to squeeze the belts of those who can least afford it and massage the profits of those who have money to spare."
In a piece wrote this weekend for The Guardian, Monroe said that the Consumer Price Index's measure for inflation only tells "a fragment of the story".
She wrote: "A collection of 700 pre-specified goods that includes a leg of lamb, bedroom furniture, a television and champagne seems a blunt and darkly comical tool for recording the impact of inflated grocery prices in a country where two and a half million citizens were forced by an array of desperate circumstances to use food banks in the last year."
In a BBC interview, Prime Minister Boris Johnson attributed the rising cost of living in the UK to "global price spikes (across commodities) and the economy coming back from COVID-19".
He claimed he is "constantly" discussing this issue of rising living costs and is looking to help those finding it difficult to pay household bills: "It's making life very tough. I understand how difficult it is and we are certainly looking at what we can do. We've got to help people, particularly those with low incomes."
Since we are all affected by this issue one way or another, we can only hope that the UK PM, Government or somebody – anybody – can offer an effective solution that is fair and beneficial to all.