Ruby chocolate: it's about more than colour
With the release of its Ruby Encyclopedia, Bethan Grylls interviewed Chef Dimitri Fayard of Barry Callebaut's Chicago Chocolate Academy, to discuss the importance of flavour and what works well with Callebaut Ruby chocolate.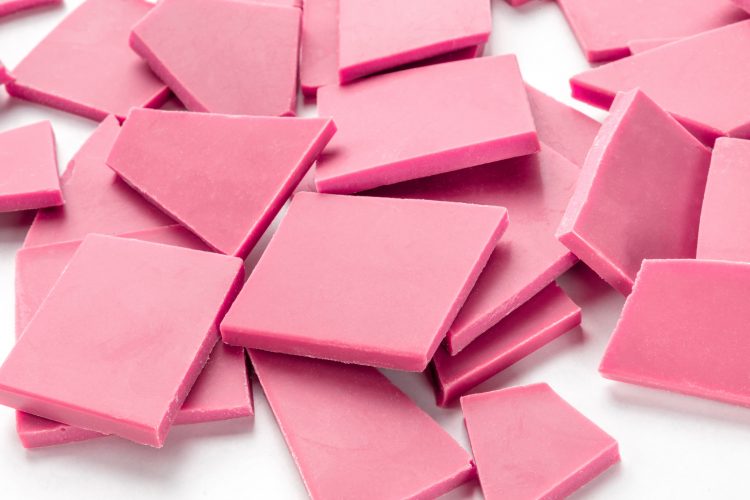 Ruby chocolate made its debut in 2017 after it was discovered by the Belgian-Swiss cocoa company, Barry Callebaut. Now, Callebaut and the North American Chocolate Academies have created a guidebook for chefs – the Ruby Encyclopedia. Essentially, it comprises a comprehensive recipe book designed to inspire chefs and industry artisans on ways to work with ruby.
Tapping into the hedonistic consumer
When it comes to sweet treats, consumers are faced with a choice: premiumisation or value for money. Ruby chocolate offers ample opportunity to explore the premium side and is expected to have an average increase in shelf price of 30-50 percent compared to the standard variant.1 
In the social arena, we're also witnessing a demand for new and exciting food experiences. In fact, research from Barry Callebaut suggests that six in 10 of us want to "share with others" such novel product experiences, while seven in 10 want to try new and exciting products. Its research also revealed that 60 percent of consumers consider "rare, unique or crazy flavours" make the experience more exciting.2
Upon its release in 2017, several brands released ruby chocolate products, but arguably the focus was on its unique pink colour rather than its taste. 
"Everyone was preoccupied with ruby chocolate's colour, but when someone buys chocolate, colour isn't usually something one looks for – ultimately it's flavour," Chef Dimitri Fayard, Barry Callebaut's award-winning, lead chef in the US for its gourmet brands, told New Food. 
As much as consumers are looking for new experiences, taste still matters. In order to appeal to that adventure-seeking market on a continuous basis rather than a one-off, it's imperative that both colour and flavour are considered. 
The pandemic gave Fayard, alongside Chef Megan Bell, time to research and develop a comprehensive collection of recipes focused on flavour combinations for ruby chocolate, putting taste back in the spotlight. 
What is ruby chocolate?
More than 10 years ago, Barry Callebaut discovered that components of particular cocoa beans could produce a unique taste experience – what we know today as ruby chocolate.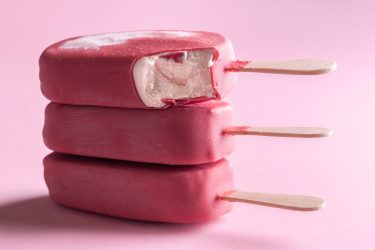 Ruby RB1, as Barry Callebaut calls it, is a blend of cocoa beans from three different countries of origin: Ivory Coast, Ghana and Ecuador. Its composition is approximately 47.3 percent cocoa (2.5 percent fat free cocoa), 26.3 percent milk and 35.9 percent fat. In terms of its cocoa percentage, it falls somewhere between milk and white chocolate. 
Ruby chocolate comes from an existing variety of cocoa bean and, despite its artificial looking appearance, owes its colour completely to nature. It is the fourth kind of chocolate and the first new type of chocolate since white chocolate's introduction almost 80 years ago.
Where can you find ruby chocolate?
Just as with wine, the terroir in which cocoa beans grow has a big impact on taste and consequently the end product. 
"The beans are grown in the traditional cocoa growing countries of Brazil, Ecuador and Ivory Coast. Neither genus nor origin determine the qualification for a cocoa bean to be a ruby bean; it's the inside of the beans that counts," Fayard explained. 
"The natural occurrence of the sought-after precursors determines whether a cocoa bean will yield the typical ruby colour and taste during processing. Exactly those beans are selected to make ruby chocolate. 
"Identifying the ruby cocoa beans – which hold plenty of these precursors – and finding the best way to process the beans during chocolate making has taken years of research between Callebaut's chocolate makers and the Jacobs University in Germany. 
"After more than a decade, Callebaut's chocolate makers and cocoa experts cracked it and finetuned the selection and processing of the right cocoa beans. With ruby RB1, Callebaut composed the first ruby couverture chocolate dedicated to chefs."
The ruby way
Ruby chocolate is processed using Barry Callebaut's proprietary methods; with no colour or other flavours added. "It is an all-natural chocolate with a naturally sour flavour."
The process is very similar to better known chocolate (milk, dark, etc) with the exception of its crytallisation curve, Fayard told New Food.
"In order to achieve that shine and snap that consumers love, chocolate must be tempered. The components that make up chocolate comprise a multitude of different cocoa butter crystals, known as beta crystals. These do not melt, set and shine at the same temperature and this will also differ depending on the type of chocolate due to the amount of cocoa butter in the chocolate.
"For ruby, the chocolate is melted at 40°C to ensure the cocoa butter melts evenly. Once that temperature has been achieved, the chocolate is cooled to around 28°C – this is when it begins to crystalise, stablising the fat. It is then reheated to around 30°C so that it can be worked with. This creates a shiny appearance.   
"It is very different from any other chocolate in the world; it has a fruity, berry-like taste with typical fresh, sour notes. The taste itself comes from the cocoa beans selected to make this chocolate type. Delicate processing of the beans preserves the typical sour flavours," he continued.
Why do I need a Ruby Encyclopedia? 
Officially launched on 1 March this year, the Ruby Encyclopedia is a multi-asset tool to help chefs explore and dive deeper into the possibilities of Ruby chocolate. Volume one comprises eight chapters and 47 innovative recipes that showcase a range of flavour, texture and colour combinations, allowing chefs to explore a new palette of applications never seen before. 
I don't like to be too wild with recipes; it's more a case of finding a balance between the unfamiliar and the familiar.
The encyclopedia focuses on taste rather than colour, although the recipes do try and maintain the chocolate's curious pink hue.
"As ingredients are added, for example cream, milk or sugar, the colour of the mixture will naturally change and obviously your chocolate will not hold its original colour," Fayard said. "The encyclopedia set out to change people's mindsets – that flavour should come first and colour can always be added back in later with a glaze or coating.
By adjusting the pH naturally by adding acidic ingredients such as yuzu, the chefs were also able to stay close to the pH of Ruby and retain its colour.
Keeping it sour
The natural sour taste of ruby was something Fayard and Bell kept at the forefront of their minds when compiling the recipes for the encyclopedia. 
"When devising recipe ideas for ingredients that would complement ruby, we played around with sour fruits and yoghurts." When it comes to flavour, although it may sound like a good idea to balance sour with sweet, Fayard warned that it can overpower ruby's sharp flavours. As such, he recommends complementing it with ingredients with similar notes, such as raspberry or citrus. 
Barry Callebaut works with Francois Chartier, a renowned sommelier in French wines and spirits, and during the R&D stages used his expertise to find flavours that work well with ruby chocolate.
Chartier uses molecular science that he developed to find harmony between wine and food. He does this by evaluating the dominant aromatic molecules found in chocolate and matching these to beverages with the same molecules.
When you combine ingredients with the same molecules you enhance the flavour and create a "third dimension", as Chartier calls it.
In collaboration with Barry Callebaut chefs, Chartier created a flavour card for each chocolate, showing its molecular structure and the ingredients that share similar molecules. With this, chefs have access to original flavour pallets.  
"Sometimes he reveals utterly bizarre flavour combinations, like blue cheese and chocolate, something that a pastry chef or a chocolatier will not think of! As a chef, it's just a question of trying out these combinations as you create – and then balancing the flavours.
"It's great to have someone like Chartier as he reveals new and unique flavours to us and I think this works very well for special occasions and limited offers, but equally, you have to tread with caution. 
"I don't like to be too wild with recipes; it's more a case of finding a balance between the unfamiliar and the familiar. For example, with ruby, you might pair it with something you know will go well, like raspberry, but then you may look at another more unique ingredient such as ginger and incorporate that into the recipe but to a lesser extent. This means the end product has an enhanced flavour that doesn't overwhelm the consumer and it's much more inviting."
It took Fayard, Bell and the Chocolate Academy team three months to put the encyclopedia together and have promised a second volume.
"Volume one focuses on confectionery and pastry and volume two will turn its attention to ice cream and drinks."
Who is eating ruby chocolate?
According to Barry Callebaut, due to ruby chocolate's different taste profile, it appeals to a new audience of centennials and millennials. "They're eager to explore new sensations and love the high Instagram-appeal of Ruby chocolate," Fayard said. 
Following Van Houten's (the cocoa pioneer brand of Barry Callebaut) recent launch of a new powdered chocolate drink made from ruby chocolate, its Vice-President Vending & Beverages EMEA, Freek van der Knaap, commented: "Studies have shown that ruby chocolate, with its characteristic colour and aromas, responds to a consumer need that is not met by dark, milk or white chocolate."
He added: "This chocolate drink has all the flavour and colour of ruby chocolate and the powder dissolves very easily in any type of milk, or hot and cold applications. It's the perfect option for when speed and preparation is important. This is a real innovation for the beverages industry, and we are proud to be the first company to offer this brand-new product."
What's next for chocolate?
'Instagrammable' food will continue to be a trend, but chocolate manufacturers should also be mindful of sustainable dairy alternatives and sugar-free chocolates too.
Barry Callebaut has proven it's a trendsetter, so keeping a close eye on its portfolio is a must. The company is currently working on a project known as 'NXext'; Fayard didn't reveal too much, but he did say that it would be a dairy-free offering. 
The company has also just released its first artisanal WholeFruit chocolate blend, known as Evocao – under Barry Callebaut's Cacao Barry brand. This new type of chocolate, WHOLEFRUIT, is the very first Cacao Barry couverture chocolate made from 100 percent pure cacaofruit. It's sustainably sourced and carries a short, clean label: no refined sugars, no lecithin, no vanilla. This unique identity gives it an unparalleled aromatic profile that unlocks many new flavour possibilities to explore: Evocao being the first signature expression of WHOLEFRUIT chocolate, with others to follow as of 2022.
Commenting on the announcement, Fayard said: "Until now, only about 30 percent of the cocoa bean or the cocoa fruit was used. While the beans were used, the shell and the flesh were discarded. We worked on a process where we could use the flesh as a sweetener, and the shell used later for cocoa butter and such. This means that the chocolate is made entirely from the cocoa pod and nothing is discarded."
It's not only better for the environment, but Fayard said it also allows Barry Callebaut to pay farmers more because it now has a reason to buy the whole bean.
The pandemic saw innovation within chocolate stifle (falling by 25 percent)3 but it appears that creativity is making a comeback. 
References