How takeaways during COVID-19 have solved one problem and created another
Sohrab Kazemahvazi raises concerns over the superfluous use of plastics in some takeaway services and highlights the consumer-led demand for less plastic packaging.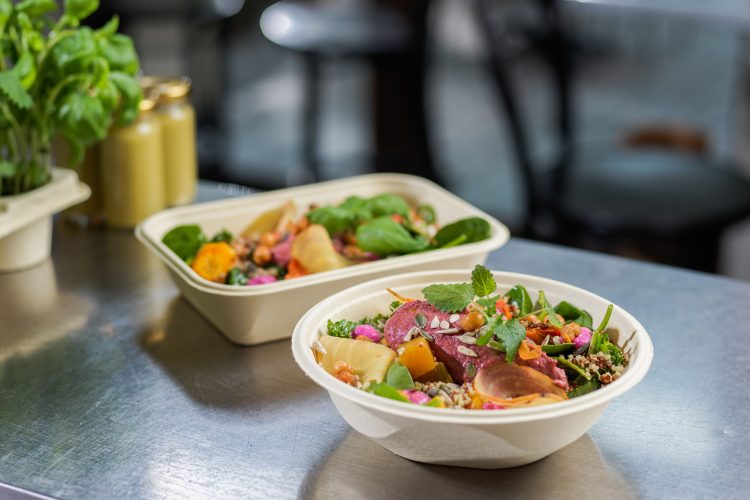 The UK's food and beverages industry remains one of the worst hit by the pandemic. The hospitality sector has seen a 76 percent increase1 in closures, with more than 1,500 branches affected. The catering sector also suffers as major events are postponed and the entire industry is forced to reimagine its business operations in order to adhere to new health and safety regulations, track and trace systems and imposed curfews.
Online food delivery has been one of the only winners during the pandemic, with takeaway services offering a lifeline for many struggling businesses. Over the past 10 months, we have seen thousands of restaurants and stores join forces with delivery services such as Just Eat, Deliveroo and Uber Eats, providing customers with a taste of normality from the comfort of their homes.
The problem is all of this comes dressed up in layers of packaging; of course, this packaging is essential for heat retention and protection when travelling, but does it really have to be plastic?
The plastic waste concern associated with food-to-go and takeaway packaging is no revelation. However, as the takeaway industry thrives throughout the pandemic, it is of the utmost importance that we rethink operations and look to ways of eliminating plastic from our service cycles.
Takeaway order #46400000
Between July and August last year, Just Eat received 46.4 million takeaway2 orders in the UK. An incredible taking despite the governments best efforts to encourage people back into restaurants with the 'Eat Out to Help Out' scheme in August. More recently, the food delivery giant reported a surge in orders by almost 400 percent during its fourth quarter. These are astronomical figures from just one of the UK's major food delivery players.
Even before the pandemic, British consumers ordered around 200 million meals annually from Just Eat, Deliveroo and Uber Eats. The ease of food-to-go and delivery services have been well-loved for their convenience and variety of options, but we can't ignore their concerning use of plastic packaging. In an article from the Sunday Times, its reporters revealed that in an order of 15 takeaways they made, they were served with 103 individual pieces of plastic packaging, even after declining extra cutlery. This excessive amount of plastic waste has only been accelerated by the pandemic, creating an immense contribution to the UK's plastic waste problem.
A moment on the lips, a lifetime in the tips
Plastic waste is widely recognised as a key contributor to the climate crisis. Made from fossil fuels, when plastic ends up in landfills it can take a long as 1,000 years to decompose. With that in mind, using plastic packaging as a means of storing food for a matter of hours seems completely illogical.
The industry has made reasonable progress towards plastic-free packaging alternatives but there is so much more to be done. Paper, formed fiber and bio-mass based materials offer solutions which are free of plastic and PFAS (per- and polyfluoroalkyl substances), allowing for hygienic and convenient packaging for the food and beverage sector.
Skepticism often surrounds such materials as their ability to hold wet items without becoming saturated tends to be questioned. Some paper straws, for example, are known to cause frustration as they often end up soggy and useless before you finish your drink. However, there are now biodegradable solutions that offer fiber-based packaging water-, grease- and oil-resistant barrier properties, allowing for reliable and recyclable products.
There are clear advantages to adopting eco alternatives, such as a lower carbon footprint than fossil-based materials, high recyclability rates and less waste contribution. It's important to note that, unlike its polluting predecessor, these packaging alternatives are renewable and can be sourced from sustainably managed forests, allowing the raw materials to grow back faster than it's consumed.
What's more, switching to renewably sourced packaging will not only benefit the environment, it is also well positioned to benefit your business.
As net-zero targets and climate change is pushed up the agenda, switching to plastic-free, renewably sourced packaging is an attractive move, with many consumers actively seeking more eco-conscious businesses. Packaging, therefore, has the ability to reflect the values and sustainable ambitions of brands.
Appetite for change
Whilst the pandemic has completely changed business as we know it, it has also elevated people's concerns around the climate crisis – putting a 'green recovery' high on the agenda. It's clear that food-to-go and takeaways have been critical for the continuity of business throughout this period. And, as we emerge from lockdowns and return to the buzz of restaurants, bars and cafes, these services will continue to prosper as they did before the pandemic.
Consumers are increasingly willing to hold businesses accountable for their efforts to address environmental concerns. The growing awareness that we must take action to address climate change is prominent. A recent poll by the UN highlights this as 81 percent of consumers in the UK say that climate change is a 'global emergency'.
Switching to renewably sourced packaging alternatives is just one small change for businesses, but a substantial change to our plastic waste contribution. It may seem like one small piece of a very large puzzle, but its impact should not be underestimated. Every change we make toward a cleaner, greener and more sustainable future is a step in the right direction in the fight against climate change.
References
www.theguardian.com/business/2021/jan/04/covid-pandemic-drives-163-rise-in-restaurant-job-losses-in-uk-in-2020
itv.com/news/2020-10-14/covid-lockdown-fuels-uks-appetite-for-takeaways-but-whos-eating-what-and-where
About the author
Sohrab Kazemahvazi, SVP Formed Fiber, Packaging Solutions division, heads up the formed fiber business at Stora Enso. Having joined the company in 2016, Sohrab was previously Head of Innovation for Packaging Solutions.
Related organisations
Related regions