From emergency response to standard protocol
Daniele Sohier, Senior Manager of Global Scientific Affairs at Thermo Fisher Scientific, explains how the food testing sector united around science to develop SARS-CoV-2 solutions.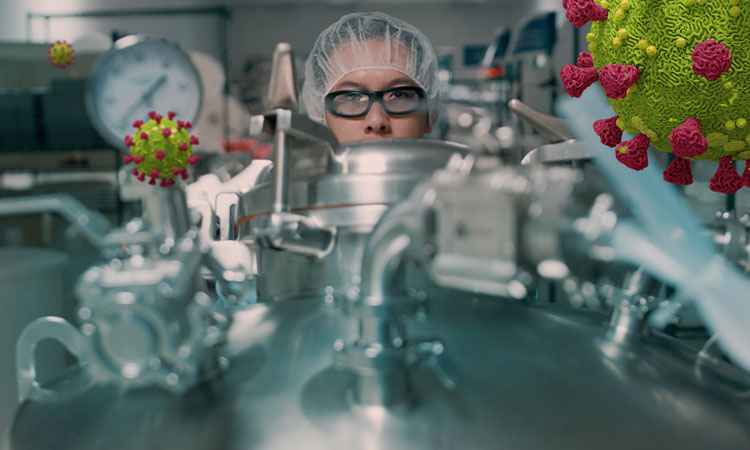 In 2020, food factories became a frontline in the battle against COVID-19. The combination of potential surface transmission and close quarter working conditions has unfortunately contributed to thousands of infections and dozens of deaths in the United States and Europe alike.
But within months of the virus emerging, the testing community had banded together to design and validate a range of testing methods to enable the sector to continue its vital work.
AOAC emergency response validation (ERV) – made possible by international, cross-sector working – represents a major advance in how food processing plants assess, mitigate and respond to risk.
Inbuilt vulnerabilities
As the world retreated into lockdown, the food industry had no choice but to carry on, despite factories being favourable environments for transmission.
The main route of transmission in SARS-CoV-2, the virus that causes COVID-19, is human-to-human, making the crowded workplaces of food facilities a challenging risk factor.
However, the stability of SARS-CoV-2 on various surfaces, including stainless steel and plastic – and transmission of the virus from such contaminated surfaces – may be possible.1,2
Taken together, these risk factors create something of a perfect storm for food facilities and the communities they are part of. For instance, a study conducted in June 2020 looked at an outbreak linked to a meat packing plant in Iowa, US.3 A single infection not only led to "unrestrained spread within the facility", but also seeped out to multiple staff households.
Extrapolate such findings to the wider, global picture, and the potential consequences of COVID-19 transmission in workplaces such as food production facilities are stark.
A report from PIRC published in September 2020 concluded from media reports that there had been at least 1,461 cases of COVID-19 and six fatalities within food manufacturing in the UK.4
In the three months between 1 March and 31 May 2020, a total of 8,978 US food manufacturing and agriculture workers from 30 states had confirmed COVID-19. Of those, 55 died.5
Aside from the human contaminations, such outbreaks result in staff shortages and lost revenues. Factory shutdowns are not only expensive for the affected plant, but they also cause ripple effects in the larger food supply chain.
Keeping food factories safe, facilities open, and the food supply chain running, then, quickly becomes a global priority.
Joint solutions
Joined up thinking and collaboration meant the food testing industry was able to build practical, scientifically robust processes to protect their staff and their businesses within months.
Early on in the pandemic, the US Centers for Disease Control (CDC) provided guidelines on how to control and monitor SARS-CoV-2 infection in meat and poultry processing facilities.6
The body advised plants to install engineering controls, such as social distancing, and implement appropriate cleaning, sanitation and disinfection practices to reduce exposure and shield workers from infection.
At the same time, the testing industry jumped into action, developing methods to detect the virus and evaluate the efficiency of the sanitation processes and control measures.
It was, and in many ways still is, a fast-moving situation, making it essential that the solutions reflected the reality of what was happening on the ground.
A key issue last spring, for example, was a shortage of viral transport media for food business sites. It meant that as well as being sensitive and reliable, testing workflows also needed to be flexible enough to utilise alternative solutions, such as phosphate-buffered saline, when necessary.
Tests also needed to fit within existing workflows and require limited additional training or resource to perform or analyse. All of this was achieved thanks to close working relationships between manufacturers and testing suppliers.
By July 2020, the Association of Official Analytical Chemists (AOAC) INTERNATIONAL had opened it SARS-CoV-2 Emergency Response Program.7
It invited the newly developed environmental surface test kits to be validated by the AOAC Research Institute's Performance Tested Methods Program, which provides independent, third-party expert review.
The validation process itself was a collaborative effort, developed with the support of experts from the US Food and Drug Administration, US Environmental Protection Agency, the CDC, Wayne State University, and the Qingdao Customs District of China.
The globally recognised AOAC certification mark, which was presented to five of the nine methods submitted, was the final piece in an international, cross-sector effort to take SARS-CoV-2 surface testing from emergency response to standard protocol. 
Embedding the solution
Food facilities across the globe have now adopted SARS-CoV-2 food packaging and environmental monitoring workflows.
COVID-19 is not food-borne, so testing is primarily about protecting the workforce and avoiding supply-chain continuation.
It means that the interpretation of PCR results is linked to risk analysis and management. A strongly positive signal will trigger a full hygiene intervention strategy. A weak positive result, however, precedes a risk assessment on the most appropriate hygiene intervention strategy to employ.
From emergency response to standard protocol
This time last year, COVID-19 was an unknown quantity threatening staff safety and food security across the globe.
At the start of the pandemic, food processing plant outbreaks and shutdowns were common headlines. Yet within a matter of months, the industry had banded together to create the processes, methods and protocols it needed to protect staff, consumers and the wider public. 
The AOAC Performance Tested MethodSM certificate (Reference 012103) of the Thermo Scientific™ SARS-CoV-2 RT-PCR Detection Workflow for the Detection of SARS-CoV-2 from Stainless Steel Environmental Surface Swabs is available on https://members.aoac.org/AOAC_Docs/RI/21PTM/21C_012103_ERV_ThermoSARS_ver2.pdf
If you would like to find out more about testing for SARS-CoV-2 on food packing and surfaces please visit www.thermofisher.com/food-sars-cov-2.
References
https://doi.org/10.1016/j.tifs.2020.08.020
https://www.forbes.com/sites/robertglatter/2020/08/23/covid-19-coronavirus-can-survive-on-frozen-meat-and-fish-for-up-to-3-weeks-study-finds/#1e8975128877
https://doi.org/10.1101/2020.06.08.20125534
http://www.pirc.co.uk/wp-content/uploads/2020/09/PIRC_sector_food_processing.pdf
https://wwwnc.cdc.gov/eid/article/27/1/20-3821_article
https://www.cdc.gov/coronavirus/2019-ncov/community/organizations/meat-poultry-processing-workers-employers.html
https://www.aoac.org/news/aoac-international-now-accepting-applications-for-emergency-response-validation-of-novel-coronavirus-test-kits/
About Thermo Fisher Scientific
Thermo Fisher Scientific Inc. is the world leader in serving science, with annual revenue exceeding $30 billion. Our Mission is to enable our customers to make the world healthier, cleaner and safer. Whether our customers are accelerating life sciences research, solving complex analytical challenges, improving patient diagnostics and therapies or increasing productivity in their laboratories, we are here to support them. Our global team of more than 80,000 colleagues delivers an unrivaled combination of innovative technologies, purchasing convenience and pharmaceutical services through our industry-leading brands, including Thermo Scientific, Applied Biosystems, Invitrogen, Fisher Scientific, Unity Lab Services and Patheon.
For more information, please visit www.thermofisher.com.