Malibu adds communication content into its caps with NFC technology
300,000 bottles with with a pioneering smart bottle cap full of content for consumers will be rolled out for the first time in the US.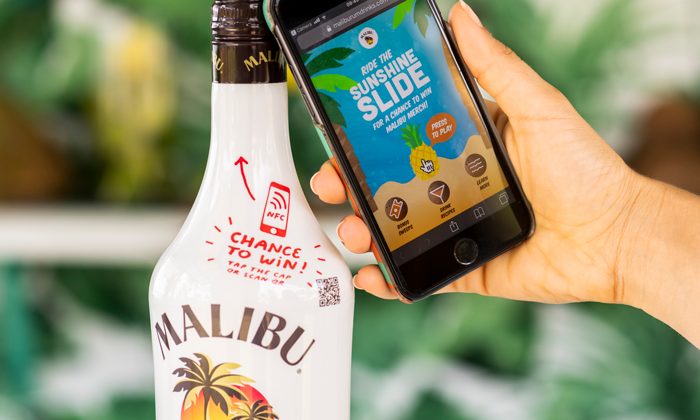 The new, innovative connected bottles are as a result of Pernod Ricard partnering with Guala Closures to support The Malibu Games 2019. The new Malibu limited-edition connected bottles will be circulated in the states of Ohio and Texas in the US and will feature a pioneering smart bottle cap containing connected closures, which will give consumers access to value-added extras including drinks recipes and sweepstake competitions. 
"It's been exhilarating working with Malibu to develop truly smart connected closures that enable the brand to get closer than ever to its consumers," said Piero Cavigliasso, Group Innovation Technology Director at Guala Closures. "It's an on-going journey – smart tech for wine and spirits closures isn't going to stand still and our dedicated smart tech research centre in Luxembourg continues to innovate cutting-edge solutions to help brands engage with consumers at the most intimate point of purchase – the bottle in their hands."
The innovative range of NFC connected closures developed allows producers and companies to establish one-to-one relationships with consumers, thanks to its intelligent technology. The IoT-enabled smart cap developed for Malibu will unlock exclusive Malibu Games content for consumers with one tap of their mobile phones. Consumers will then be able to join The Malibu Games via a mobile game for the chance to win prizes.
"Malibu has transformed its bottles into media touch-points through the adoption of Guala Closures' IoT solution, allowing conversation in a space that is notoriously saturated," added Caitriona Murphy, Malibu's Global Brand Manager. "Our bottles with connected closures help keep the brand relevant post purchase, providing services and experiences to the consumer beyond the liquid itself.
"By transforming the one asset Malibu knows its consumers come into contact with, we're able to connect with our target audiences on a much deeper level, through the experiences we offer."
Related organisations
Related people