Best measuring results with 80GHz
In 2016, VEGA Grieshaber KG introduced to the market the first radar level gauge for liquids that operates at a frequency of 80 GHz. With its amazingly small antenna system, the new VEGAPULS 64 has proven to be ideal for use in vessels with small process connections, such as those used in the food industry. The new sensor is also particularly suitable for use in this industry due to its hygienic materials and design.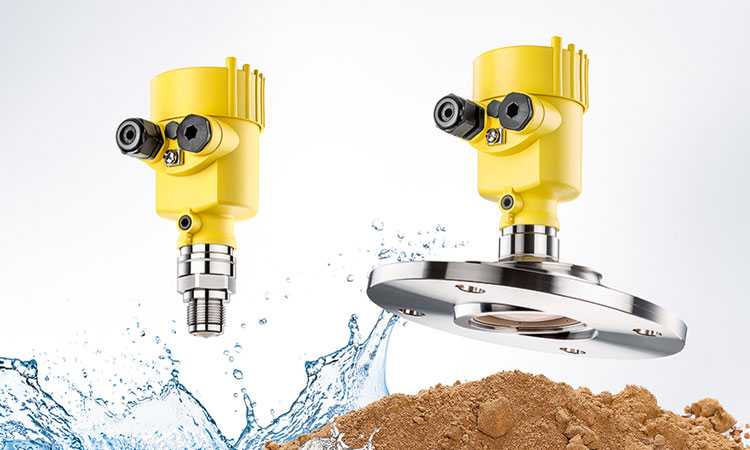 In use in over 100,000 applications worldwide: 80-GHz radar sensors from VEGA: VEGAPULS 64 for liquids (left) and its counterpart for bulk solids, VEGAPULS 69 (right).
The focusing properties of a radar measuring instrument depends on the transmission frequency and the effective antenna surface. By using a transmission frequency over three times higher (26GHz was common until now), the antennas can be three times smaller and still
achieve nearly the same signal focusing. This allows considerably smaller process fittings with an antenna size of only ¾" – a significant advantage, especially for use in small vessels.
This frequency also considerably reduces interfering signals generated at close range. This is crucial for the industry, because the antenna size and blocking distance (the dead band – ie, the minimum distance between the antenna and the liquid surface) of radar instruments was far too large for
small containers. Now, the medium can be measured with much higher accuracy, both right up to the process fitting and down to the very bottom of the container.
Another plus for this highly regulated industry: since existing process connections can be used, the new sensor can be easily installed without costly equipment modifications. Aseptic process fittings will be available at the market launch – in these, only PTFE serves as the wetted material. These process fittings meet the requirements of 3A, FDA and EHEDG. Since radar signals pass right through viewing windows and glass containers, the sensor can also be mounted outside the container in some cases. This method, too, has become much easier thanks to the higher transmission frequency – and this solution will be especially interesting for the food industry.
More information is available here.
Related topics
Related organisations