Asda and Sainsbury's in £10bn merger – what does it mean for suppliers?
It might be the biggest supermarket shake up for decades, promising a potential 10 per cent price drop over popular brands, but is Asda and Sainsbury's merger a cause for celebration among suppliers?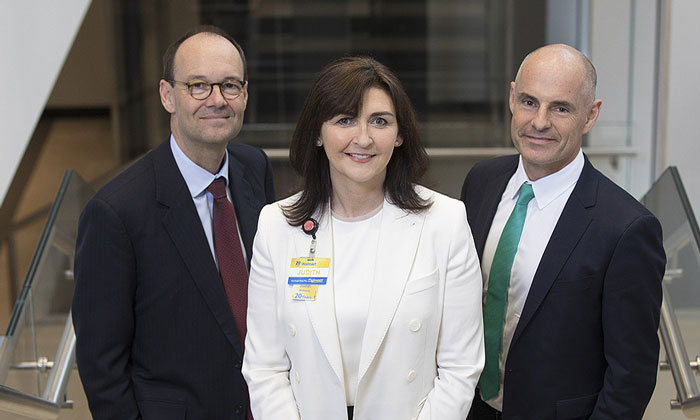 NEW GIANT: Left to right: Sainsbury's CEO Mike Coupe, President and Chief Executive Officer of Walmart International Judith McKenna, Chief Executive Officer of Asda Roger Burnley
Asda and Sainsbury's, the UK's third and second largest supermarket chains respectively, have announced a £10bn merger that will see them leap over Tesco to become the top dog in the food retail sector.
The pair agreed to the terms of the proposed union on Saturday (April 28). It will see Walmart, Asda's owner, take a 42 per cent stake in the combined business whilst Sainsbury's will have the remainder and see its representatives in senior positions such as CEO, CFO and Chairman.
Markets have responded to the news with a 20 per cent surge in the value of Sainsbury's shares. Interestingly, Tesco saw a significant drop in the price of theirs when trading began this morning, perhaps a reflection of the new challenge it faces, but has since recovered.
Naeem Aslam of Think Markets wrote this morning: "With this merger, the combined entity would not only be in a better position to fight the German discounters such as ALDI and Lidl but also Amazon's recent move in the grocery space. The entity's combined value of £5.9 billion also threatens the UK's largest market shareholder firm in this space called Tesco, which is far larger than the Teso Plc."
In announcing the merger, Sainsbury's claimed it would enable investment in areas that benefit customers such as price, quality and range. It expects prices to drop by around 10 per cent on popular products.
But if it's good news for shareholders and customers, what does it mean for suppliers?
Sainsbury's claim it would create significant opportunities "for suppliers to develop differentiated product ranges, become more streamlined and to grow their businesses as the combined business grows".
NFU Scotland Chief Executive Scott Walker said: "If allowed to proceed, this merger will concentrate a lot of retailer power into the hands of one company. 
"In a statement from the retailers on the merger, it was made clear that a primary objective will be to lower prices by "around 10 per cent on many of the products customers buy regularly".  That will set alarm bells ringing, not just for primary producers, but for other parts of the supply chain as well.
"If the merger goes ahead, there is an opportunity here for potentially the biggest player in the UK's retail sector to put in place a system of responsible sourcing and to end the spectre of Unfair Trading Practices (UTPs) by supermarkets that blights the sector by delivering a fair share of risk and reward all the way back to the farm gate.
"If it goes ahead, then farmers and shoppers will also want to see the strongest commitment from the new retailer to sourcing more Scottish and UK produced food than they currently do.  NFU Scotland's Shelfwatch work in 2017 and 2018, where secret shoppers looked at supermarket offerings of lamb, pork and bacon, showed that both Asda and Sainsbury's could be doing much more to support the nation's primary producers."
The food and farming campaign group Sustain was far more sceptical of the deal.
Vicki Hird, its Farm Campaign Coordinator, said: "The Asda Sainsbury's merger will create more grief for farmers trying to get a fair deal from an ever shrinking set of buyers – lower prices and few market options is the last thing they need with the uncertainties of Brexit ahead.
"In the long run, it will mean reduced choice for consumers with farmers squeezed and fewer outlets as the mega corporation combines its stores and high streets go into further decline.
"It is also bad news for many of the 360,000 staff working for the two companies as jobs will certainly go. We need the Competition and Markets Authority to kick out this merger and curb any further concentration of power into fewer corporate hands.
"Instead we need national and local government to plan, support and invest in a new decentralised model for the food retail sector: giving sustainable, ethical farmers and consumers the opportunity to connect far more so the food pound reaches where it is needed."