Blockchain, waste and nutrigenomics: the rising trends of 2018
A not-for-profit organisation aimed at providing food information to consumers has put together a list of its top trends for 2018.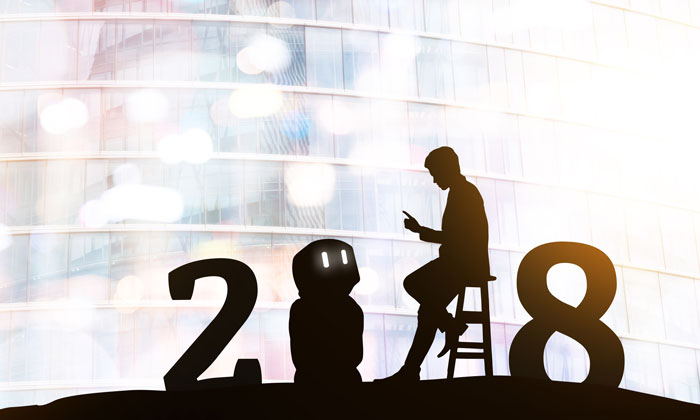 MORE BLOCKCHAIN: 2018 will see a continuation of many of the trends which began gaining momentum last year
In this new year blockchain will continue to dominate headlines and food waste awareness will boom.
This is according to the International Food Information Council (IFIC), a not-for-profit organisation which aims to communicate "science-based information on health, nutrition and food safety for the public good".
The ICFC foundation has announced what it thinks will be the biggest consumer trends in 2018, drawing on an in-house survey and health professional expertise.
It expects food waste, virtual shopping, blockchain, nutrigenomics, exotic flavours and clean labels and clean packaging to do the rounds over the coming months in the US consumer market.
"The rise of the connected consumer and technological advances will help redraw the food landscape in 2018," said Joseph Clayton, CEO of the IFIC Foundation. "As our values move to the forefront in our decisions about what to purchase and consume, we will find a marketplace that is enhanced by innovation and is more aligned with our individual needs and desires."
Waste
IFIC Foundation research suggests that food waste is both an educational challenge and opportunity among consumers that more players in the food system appear poised to embrace, with food purveyors stepping up their own commitments to address the problem.
Growing awareness and concern about sustainability in general and the impacts of food waste in particular — environmental, economic, humanitarian — are indicative of broader interest in food values.
Seafood sustainability is a specific area of concern, as consumers better appreciate the health benefits of seafood but also want it to be produced responsibly and sustainably.
Virtual shopping
While the food sector as a whole notes relatively modest gains year over year, business is booming online. There are more ways than ever before to buy groceries.
New players and familiar retailers are rushing to meet the demand. Vertical integration and consolidation, along with the startup culture and a strong economy, will yield new choices and added convenience for consumers, according to the IFIC.
Some of the key trends include more diversity and continued evolution in home-delivered meal kits; the use of connected, voice-controlled digital assistants to facilitate consumer decisions and purchases; the increasing speed of food deliveries with a wider variety of options from packaged to perishable; and even recipes on demand.
Blockchain
In 2017, New Food Magazine ran a number of news articles revealing how businesses were using blockchain to bolster their consumer trust and defend against food fraud. The IFIC thinks this trend shows no signs of slowing down and that this year will see yet more momentum swell behind the comparatively new technology.
"The technology leverages data to improve business efficiencies and supply chains," the foundation said. "And it holds great promise for the food system, especially food safety."
Nutrigenomics
If you haven't heard of nutrigenomics, you may be able to guess what it means. Nutrigenomics, broadly speaking, studies how our diets influence our genes. A growing body of evidence and scientific interest in the field have put us on the brink of revolutionary advances in personalised nutrition. It has begun giving us answers about why people respond differently to different diets — especially why some people and not others become obese — which are factors that have long bedeviled nutrition research.
Clean labels and clean packaging
The IFIC expects the clean label movement to reach 'new heights' in 2018, leaving the food industry to grapple with what the term means and how it will affect claims being made about foods. In a possible backlash to label clutter, including the proliferation of certifications, as well as marketing and health claims, some food producers are developing minimalist packaging to help set them apart and reduce consumer confusion.