A virtual picnic: VR boosts the taste experience
Researchers have found that plugging consumers into virtual reality significantly changes the brain's response to their food – but how can it be marketed to alter consumers' thoughts on healthy food?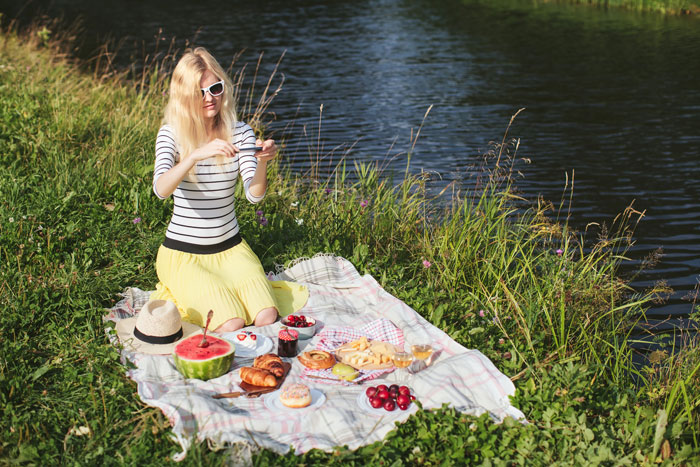 VIRTUAL PICNIC: The digital revolution is altering how consumers interact with food.
In a digital world, a trend is gaining momentum: multisensory emersion. Consumers, an increasingly demanding bunch, are chasing immersive experiences and are losing patience with boredom. They want to have all their senses excited. One study suggests that people would rather administer electric shocks to themselves than sit quietly for 15 minutes. To keep abreast with the changing mind of the public, innovators have developed 3D cinema, vibrating handsets for video games and panoramic video. Entertainment has been the spear head of monetising the demands of the consumer.
Now the door has been opened for food manufacturers to step into this brave new world.
Researchers at the VTT Technical Research Centre of Finland have used virtual reality (VR) to amplify the eating experience.
By immersing a group of 67 consumers in three environments using virtual reality headsets the scientists showed that their self-recorded evaluations and their brain signals responded to healthy (rye nachos) and unhealthy (milk chocolate) products in different ways depending on their perceived surroundings.
It showed that consumers were more peaceful and cheerful during a virtual sunny picnic than a rainy picnic. In contrast, they felt more lonely and worried during the rainy picnic. Based on the brain responses, it seems that the consumers were less certain about the rye nachos, but found chocolate more appealing, particularly during the rainy picnic.
VR itself induced high activity in the participants' visual processing pathways, as expected; the onset of rain and wind caused particular agitation. No differences between the conditions were observed in consumers' sensory evaluations of snack products.
"Now is the time to integrate these technologies with food, nutrition and human responses. New digital business across traditional sectoral boundaries will lead to novel opportunities for the digital and food industries," says Principal Investigator Nesli Sözer of VTT.
The AR and VR immersed food experience approach is raising interest in both the food and health industry. AR and VR technologies markets are developing rapidly. Grand View Research Inc. has estimated that the markets will be worth EUR 96 billion by 2024.
The driver of the project was the idea that health-supporting foods could be made more appealing by using digital tools to enhance consumers' eating environments and consequently their eating experience. The aim was to test how VR immersion affects consumers' sensory evaluations of snacks with a healthy and unhealthy image. Pleasantness and emotional responses to eating situations were also studied. The experiment was carried out in collaboration with Professor Roope Raisamo, in the CAVE environment at the University of Tampere.
Related organisations
Related people