Ocado announce The Garlic Farm as Britain's Next Top Supplier
Ocado has crowned family-owned business, The Garlic Farm, as the winner of Britain's Next Top Supplier 2017.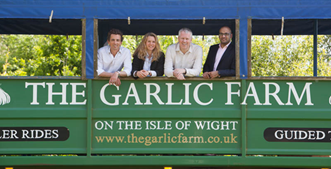 As the winner, the garlic specialist will receive a number of listings in Ocado and will also collect a £20,000 marketing package to promote its products. The Isle of Wight-based family producer has been growing garlic on the island for over 50 years, producing a vast range of garlic-inspired produce, ranging from chutneys through to beer.
Now in its third year, the Britain's Next Top Supplier competition saw an abundance of unusual foodie entrants which were whittled down to six finalists. As well as The Garlic Farm, the contenders included Field & Flower (meatballs for kids), Coconuts Naturally (coconut vegan ice cream), Axiom Brands (vermouth), Raw & Wild (pili nuts) and Dash Water (wonky veg water) – each finalist bringing its own unique story to the table.
An expert panel made up of Lawrence Hene, Marketing and Commercial Director at Ocado; Rose Price, Head of Buying at Ocado; Rosie Birkett, food journalist and blogger at A Lot on Her Plate; and Kayleigh Rattle, Deputy Editor at Great British Food, selected The Garlic Farm as the ultimate winner.
Natasha Edwards, Managing Director at The Garlic Farm, commented: "To win Britain's Next Top Supplier 2017 is an incredible accolade for us. We've been innovating with garlic for over 50 years and we are so excited to bring the results of our labour to Ocado customers. We are after all a nation of garlic lovers – and our unusual products will bring that familiar taste to people in ways they have never experienced before."
Related topics
Related organisations
Related regions